Eclectic entertainment featured at RIT's Performing Arts Challenge
A dozen acts featured dance, comedy skits, ukuleles and classical music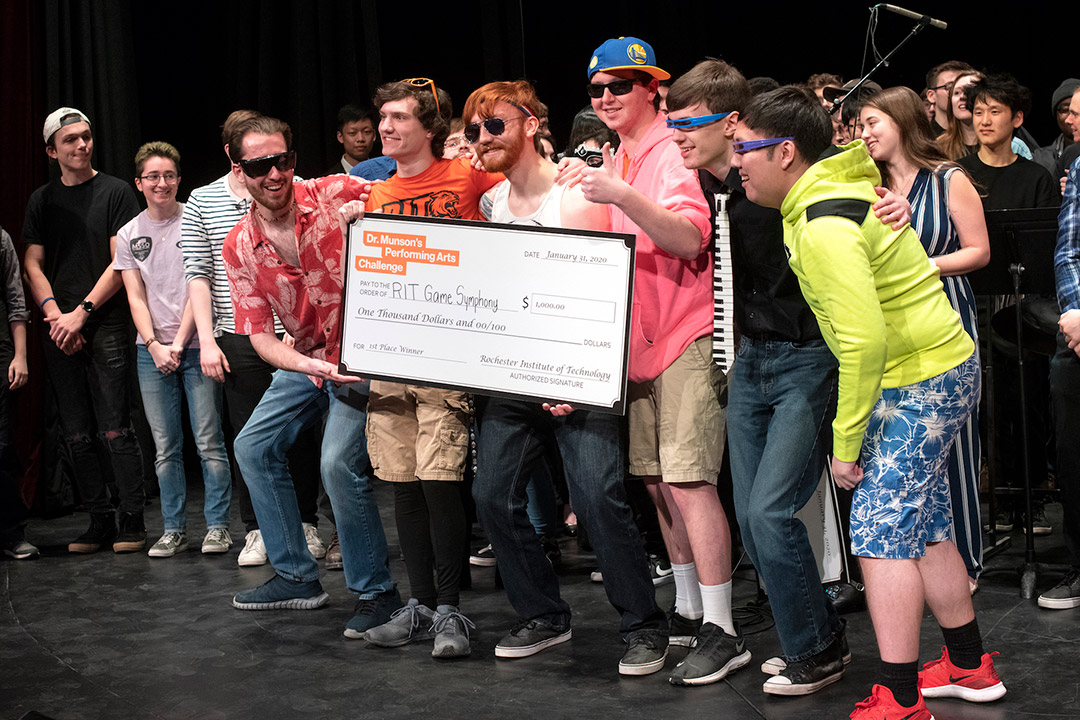 A. Sue Weisler
Six members of the RIT Game Symphony Orchestra took top honors and a $1,000 prize in the third annual Dr. Munson's Performing Arts Challenge, sponsored by Rochester Regional Health and held Friday in Ingle Auditorium on the Rochester Institute of Technology campus.
"I thought we had an awesome evening of eclectic entertainment," said RIT President David Munson, who emceed the event with his wife, Nancy. "Everything from conventional classical music, to comedy sketches to Irish dancing."
Student performances also included Latin dance, a capella groups and the RIT Ukulele Club, whose members sang, played kazoos and wore sunglasses while strumming.

"That's so RIT," Munson said after that performance.
The RIT Steelband Ensemble played as the nine judges from RIT and the community selected winners. Then Munson invited all of the dozens of contestants on stage.
"This is fantastic to see so much talent," he said.
Dean Nguyen, a fifth-year computer engineering technology major from Stormville, N.Y., spoke on behalf of the first-place group after they were presented an oversized check with their prize.
He said they saw their competition and were surprised they took first place.
"We wanted to showcase we're not just engineers and members of the RIT Game Symphony Orchestra. We wanted to show our raw talent and skills in performing arts and we wanted to give the audience a fun time," Nguyen said.
The members played saxophones, drums, piano and bass guitar performing "Big Blue," a song from a video game that was rearranged for funk jazz featuring several solos. Nguyen played a keyboard-guitar and banged a cowbell encouraging the enthusiastic audience to clap along.
"The first-place winners were the RIT Game Symphony Orchestra, but it wasn't the whole orchestra," Munson said. "They have 80 or 90 members and they play conventional instruments, with a lot of strings and what have you. These guys came out of left field and surprised us."
Nguyen said the $1,000 prize will go into the RIT Game Symphony Orchestra bank account.
Other members of the group were Evan Capella, a fifth-year software engineering major from Chittenango, N.Y.; Tim Coon, a fifth-year software engineering major from Brockport, N.Y.; Erik Olafson, a second-year electrical engineering major from Birdsboro, Pa.; David Patch, a third-year game design and development major from Mechanicsburg, Pa.; and David Sylvester, a third-year mechanical engineering major from Old Saybrook, Conn.
Second place, and a check for $500, was awarded to the Red Brick String Trio, which played the "Dvorak Opus 74 Finale." Its members are Brendan Cappon, a first-year biomedical and mechanical engineering major from Fayetteville, N.Y.; Lauren Drake, a third-year physician assistant major from Fairport, N.Y.; and Chenyang Lin, a first-year computer science major from Pittsfield, Mass.
And third place, and a check for $250, was awarded to Kelly Frost, a first-year medical illustration student from Cazenovia, N.Y. who performed "The Vanishing Line" in Irish Dance.
While Munson was impressed with the caliber of the students' talent, he said he wasn't particularly surprised.
"I know there's so much talent among our student body and it's just a matter of displaying it, and boy did that happen tonight," he said. "We have so many students that are involved in performing arts. All we're doing is acknowledging it and bringing it out from behind the curtain."
The acts in the competition, as well as other performing artists on campus, are encouraged to participate at this year's Imagine RIT: Creativity and Innovation Festival at various venues on April 25.