End of presidential era
Destler, Johnson leverage RIT's unique strengths and leave solid legacy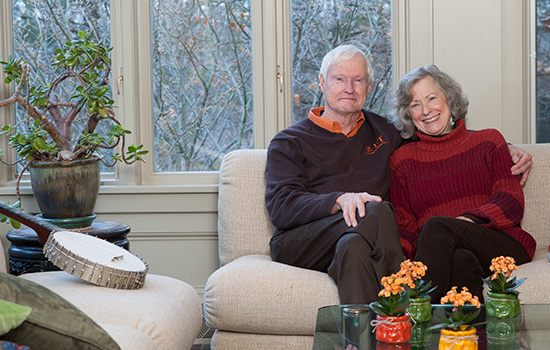 A. Sue Weisler
Student Government President Andrea Shaver was returning to Rochester from an RIT function on the West Coast last summer when her flight out of Chicago was canceled because of weather.
Stuck in the airport at 1 a.m. with Shaver were RIT President Bill Destler; his spouse, Rebecca Johnson; and RIT Trustee Steve Schultz '89 (computer science).
"He goes to the Syracuse gate and the Buffalo gate and neither of those flights have seats," said Shaver about Destler. "So he's like, 'I guess we're driving.' I could have stayed in Chicago and got on an 8:30 a.m. flight. But I was like, this is a really good story, so I decided to go with them."
No one was surprised that Shaver '17 (graphic design) chose to spend nine hours driving across the Midwest in the middle of the night with the university president. In his decade at RIT, Destler has made it a priority to be approachable. He eats lunch regularly with students, attends club events, friends thousands of students on Facebook, delivers his annual commencement speech in American Sign Language, rarely misses a hockey game and has become almost infamous for posing for selfies.
"A lot of students at other schools don't know the president of their university because they are a lot more external facing," Shaver said. "But Dr. Destler has been an internal president. I think that's what RIT needed at the time 10 years ago when he started. I think he really grew the community, and students really love him."
Under Destler's leadership, RIT's enrollment has reached record levels, selectivity and diversity have improved concurrently, the value of research awards has skyrocketed and geographic draw continues to widen across the United States and overseas.
But as Destler prepares to retire June 30, his strong relationship with students is the key piece of his legacy. It's also the main component of the legacy of Johnson, who has been Destler's No. 1 supporter and has become a huge behind-the-scenes resource on campus.
Every RIT achievement in the past decade—from sustainability to innovation to increasing the number of Ph.D. programs—puts students first. Even Destler's catch-phrase of RIT having the greatest collection of geeks and artists honors students.
"All presidents have to decide how they are going to spend their time," Destler said. "I decided to spend more of my time than some presidents would have on campus with the students. I wanted to be known to the students. I wanted to support them, be seen as supportive of them."
"You wouldn't have had fun if you didn't do that," added Johnson.
"Yes," he said. "That's what I wanted to do."
Coming to RIT
About a year before RIT began searching for its ninth president, Destler asked Johnson if she would like to spend a "romantic weekend" in Rochester.
Destler, an accomplished musician on the side who was then senior vice president for academic affairs and provost at the University of Maryland at College Park, actually wanted to visit a vintage banjo store where he had made a deal with the owner to trade some instruments, Johnson said laughing.
So when Destler got a call a year later from Chance Glenn, a professor in the College of Applied Science and Technology and a member of the RIT presidential search committee, the two were already familiar with Rochester.
Destler also knew Glenn, who had taken two courses from Destler in the late 1980s while getting his undergraduate degree in electrical engineering at the University of Maryland. Glenn said the search committee was so impressed with Destler's résumé that they asked him to visit Destler in person to sell RIT.
"I told him he was responsible for me being successful in my education. I wouldn't have made it through without him," said Glenn, now dean of the College of Engineering, Technology and Physical Sciences at Alabama A&M University in Huntsville, Ala. "I told him I thought at RIT he could do more of that for many, many people."
Leaving Maryland was not an easy decision. Destler had worked at the University of Maryland for 34 years, moving up the ranks. Johnson, a clinical psychologist who was homeschooling their two sons, was active in the community and had deep roots there.
But during the interviewing process, Destler said, he became interested in the right-brain, left-brain nature of RIT. RIT seemed like a place where he and Johnson could add value. It felt different from other presidencies they had flirted with.
"I began to think that having the fine arts programs, having the design programs and the technology, science, engineering and business programs was kind of an unfair advantage," he said. "I got more and more interested in RIT and its possibilities. I think that is what finally convinced me to come."
He was installed as RIT's ninth president on Nov. 9, 2007. In his inaugural address, Destler encouraged the RIT community to take the university to the next level by capitalizing on its unusual strengths, including the "creative juices" of the student body.
"How do we encourage the development of their minds, their hearts and their souls in such a way that we ensure that the next generation of humans can grow and flourish on this planet?" Destler said during the 2007 event. "As we work to make RIT a real 'innovation university,' we will have to come up with good answers."
Lasting legacy
Destler got right to work on making RIT an innovation university by creating the Imagine RIT: Innovation and Creativity Festival, which will celebrate its 10th year on May 6. The festival attracts more than 30,000 visitors to campus annually.
Greg Pollock '12 (professional and technical communication), who started studying at RIT the same year Destler became president, said that from the beginning, Destler looked at RIT as one big opportunity.
"It was a brilliant move in my opinion to take advantage of the left-brain, right-brain capabilities of the school and turn RIT into a hotbed of innovation," said Pollock, who was Student Government president from 2010-12. "He was a change agent in every sense of the term."
Destler said when he proposed the festival, he did so thinking more about the public relations benefits in the community. He didn't know how meaningful it would become internally.
The Rochester City Scholars initiative, a scholarship program available to all Rochester School District students who are accepted to RIT and whose families make less than $66,000 a year, also exceeded expectations.
In Maryland, Destler and Johnson had supported a similar program aimed at encouraging kids from urban high schools to enroll in college. Their goal at RIT was to get Rochester students—as early as middle school—to begin to see college as a possibility.
They announced the Rochester City Scholars program in 2009 and RIT admitted the first class a year later. Destler and Johnson provided the initial funding for the scholarships.
"We thought and hoped we were doing a good thing for the students and doing a good thing for the Rochester city school system," Johnson said. "Low and behold, we did an amazingly good thing for RIT because the Rochester City Scholars are extraordinary people. They are incredible assets to the university."
Angel Rivera '16 (mechanical engineering technology) is one of 39 City Scholars who have graduated. Another 76 students are currently enrolled.
Rivera, who was first in his immediate family to go to college, is now working on a master's degree in automotive engineering at Clemson University.
The high school valedictorian said he wouldn't be where he is today without the City Scholars program. "It didn't just open a door, it opened a hallway for every single one of us," Rivera said.
Becoming a team
The Rochester City Scholars program turned into a happy milestone for Destler and Johnson as well. The two, who met at a Contra dance, were long-time marriage partners and co-parents, but had never worked together professionally until they arrived in Rochester.
When they got to RIT, Johnson had to carve out her role, which she said involved trial and error.
"I wanted to spend my time in ways that were meaningful and rewarding," she said. "And it also needed to be clear at all times that Bill was the president. It felt important to work behind the scenes. It was important for people to understand that I was not trying to be a co-president. That's not where my interests or talents lie."
Johnson's support in the background made a difference in many areas across campus, particularly when it came to talking about difficult topics.
In 2009, Colette Shaw and others attended a discussion spurred by the visit of Amiri Baraka, a poet, playwright and leading figure in the Black Arts theatrical and literary movement of the 1960s. The discussion was an open invitation to talk about whether controversial speakers should be invited to an academic setting like RIT.
Shaw, who is currently assistant director of student conduct and conflict resolution, said several attendees, including Johnson, were so inspired by the dialogue that they thought it would be productive to have regular discussions on important but controversial topics.
"I was getting some feedback that there were concerns that there was this group that was trying to stir up controversy or shock people for the sake of shocking them," Shaw said. "For me, this is more like a book club where you read about something controversial and then have intellectual discourse about it."
Without Johnson's support and ongoing active participation, she said, she isn't sure the Gray Matter series would have started six years ago. Now the monthly series on provocative topics such as the cost of tuition, sexuality, racism and drugs is expected and celebrated.
When there is discomfort on campus, students want to talk about it and explore their different opinions, Shaw said, noting that more than 100 people gathered three days after the presidential election to respectively share their feelings and listen to others.
Shaw worked at six different college campuses in Pennsylvania, Indiana, South Carolina and Ohio before coming to RIT. She said Destler is the president most open with such honest discussions on campus and attends the most controversial conversations.
Johnson co-facilitates several discussions each year and attends nearly all of them.
"We got that two-for-one special with them that no one would have ever known," Shaw said about Johnson. "She is the conscience and the soul of our administration."
Sustainability improvements
Johnson's behind-the-scenes role is also evident when it comes to sustainability, which has been a hallmark of Destler's tenure.
During her initial tours of RIT, Johnson became engrossed in conversations with people across campus about sustainability. She began gathering these people together to talk about the issue.
"I would say Rebecca drove a lot of our early efforts to focus on sustainability and to realize we have the potential to become a natural leader in this area," Destler said.
The gatherings turned into a push to hire someone who could focus on the issue. Enid Cardinal arrived in 2011 from Illinois State University. Cardinal said she was and still is one of a handful of sustainability officers at universities who report directly to the president.
Not surprisingly, her charge included a focus on student engagement. One of her first assignments was to enact a policy restricting bottled water on campus. "That is one of the hardest initiatives to normally push forward on a college campus," Cardinal said. "I know of campuses that have been trying for five to 10 years to eliminate bottled water."
Cardinal worked with Student Affairs to hand out reusable water bottles. Hydration stations are being installed across campus, and bottled water is slowly being removed. "It is when you have that top-level support you can move things a lot faster," she said.
Two other big sustainability projects were also focused on students: Goodbye, Goodbuy! and RIT FoodShare, which both launched in 2014.
In Goodbye, Goodbuy!, RIT students can donate items they no longer want at the end of the spring semester that are then sold to returning students in the fall. The recycling program saved 70,000 pounds from landfills last year.
RIT's FoodShare Center helps combat food waste while helping members of the RIT community who may be struggling to pay for food. The program is two-pronged: A Facebook group where members receive notifications from other members who post about free food available on campus and a no-questions-asked food-sharing center created for any RIT community member.
Sharon Kompalla-Porter, associate director in the Center for Residence Life, said the notification system was started after Johnson and others began brainstorming ways to reduce food waste across campus. Key leaders on campus, including a Campaign Management and Planning class taught by Kelly Martin, pulled together to begin to address the problem.
Kompalla-Porter and others got involved and the notification campaign morphed into a FoodShare Center as well, which opened in April 2015 in the Riverknoll apartment complex on campus.
Last semester, 428 people made more than 1,870 visits to the FoodShare Center. That's more than double the number of visits from the fall of 2015.
"She was able to take an issue that she saw and then tap some very passionate people at RIT and connect them to really see this idea through," Kompalla-Porter said of Johnson. "She was the glue."
Feeling like home
Johnson said she hopes to remain involved on campus after Destler's retirement. The two purchased a house and they plan to stay in Rochester.
Destler said he will be available to provide guidance to the next president but he will do so only when asked. He would like to spend his retirement working on his music, continuing his membership on public and private boards of trustees and perhaps getting involved with anti-poverty initiatives in Rochester.
Christine Whitman, chairman of the RIT Board of Trustees, said Destler has positioned RIT well for the future and that growth will continue as the 2015-2025 strategic plan is deployed.
"Under Dr. Destler's leadership, every measurable indicator is up," Whitman said. "RIT is having high impact and is recognized both nationally and internationally."
Destler said he is most proud of the fact that RIT has not only grown in enrollment during his tenure, but has grown in the quality of students enrolled and in the diversity of students.
"That's considered a trifecta," he said. "It's very hard to do. And we did all three."
Students say the most important piece of Destler's legacy involves change in the RIT culture, which only happened because of his focus on students.
Pollock, who is now diversity inclusion lead for North America at the Dow Chemical Co. in Midland, Mich., said there was a time when more students would wear shirts with logos from other universities than RIT.
There wasn't a sense of school spirit like there is today.
"I think his legacy is making RIT a place people wanted to be," Pollock said. "Dr. Destler made RIT feel like home."
Shaver agreed.
"He really gave RIT its personality," she said. "He helped us find who we are. Now the next person has a really solid foundation to build off of to help continue RIT on a great trajectory."
Say thank you
Submit your own photo or message thanking Bill Destler and Rebecca Johnson at rit.edu/president/farewell. Or make a gift in their honor in one of three areas: Destler/Johnson Rochester City Scholars Program, Dr. Rebecca Johnson Endowed Sustainability Champion Award or an area of importance to you. Go to rit.edu/giving/tributegift.
Join the celebration
"Imagine a Legacy," a tribute dinner honoring Bill Destler and Rebecca Johnson, will be held at 6 p.m. June 10 in the Gordon Field House. For more information, contact Deborah Stendardi at dmsgrl@rit.edu. Registration details will be available soon.
10 Years of Imagine RIT
Imagine RIT: Innovation and Creativity Festival has evolved since the first one in 2008. Read more.
Meet RIT's 10th President
David C. Munson Jr. will become RIT's 10th president on July 1. Read more.
RIT Sports Information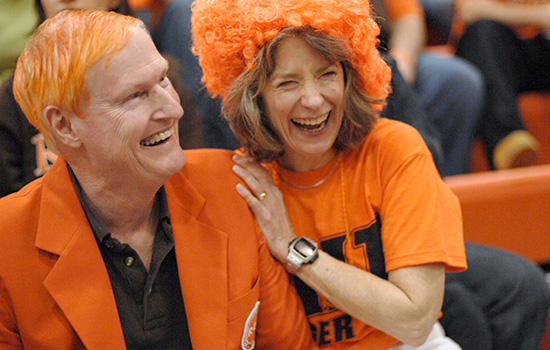 A. Sue Weisler