Engineering students take top honors at conference
Students recognized for research work in microscale separations and microfluidics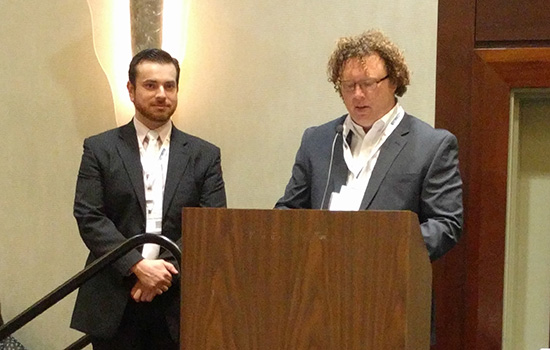 Student-researchers from Rochester Institute of Technology took top honors at the annual 2016 SciX Conference in Minneapolis, Minn., in October for work in microscale separations and microfluidics—technologies used in biomedical analysis devices.
Mario Saucedo-Espinosa, a microsystems engineering doctoral student, received the 2016 Tomas A. Hirschfeld Scholar Award, given by the Federation of Analytical Chemistry and Spectroscopy. Maria Romero-Creel, a fifth-year biomedical engineering student, received first place for her poster on "Assessment of complex biological samples with insulator-based dielectrophoresis."
Both students are part of the engineering college's Microscale BioSeparations Laboratory led by Blanca Lapizco-Encinas, associate professor of biomedical engineering in RIT's Kate Gleason College of Engineering.
"There were more than 150 posters and presentations given, mostly by graduate students from top universities worldwide. It is very impressive for Maria, an undergraduate student, to obtain first place among graduate students. And for Mario, the Hirschfeld award is one of the most prestigious given to student-researchers. Theirs is remarkable work," said Lapizco-Encinas, who mentors both students in her lab developing techniques in microfluidics to separate cells so that scientists and clinicians can better analyze diseases through technology such as lab-on-a-chip devices—highly sophisticated laboratories on microchips. This work is part of her National Science Foundation grant-funded project "Rapid and Dynamic Cell Assessments in Dielectrophoresis-based Microfluidic Devices."
Both students have also co-authored several research papers about these topics and had work published this year in the peer-reviewed journals Biomicrofluidics and Electrophoresis. In 2015, Romero-Creel and Saucedo-Espinosa were also recognized for work in the area of microfluidics at the American Institute of Chemical Engineering annual meeting and conference, taking top placements in undergraduate and graduate research categories.
The SciX conference, also called the Great Scientific Exchange, is a joint conference and national meeting of researchers, faculty and student members of societies such as the American Chemical Society, American Society for Mass Spectrometry and AES Electrophoresis Society. Research is presented in the fields of analytical chemistry and allied fields. More than 300 research projects by undergraduate students from universities across the country participated and were judged by university professors and researchers from these disciplines.