Engineers group plays big role in student's success
Student Spotlight Kayla Davis, fourth-year software engineering student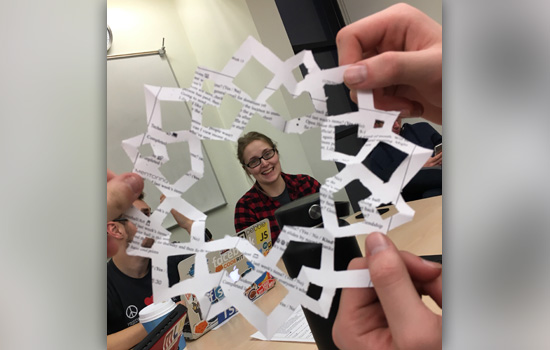 Kayla Davis, a fourth-year software engineering major, is the current president of RIT's Society of Software Engineers (SSE). Davis, from Middlebury, Vt., is also a member of Women in Computing at RIT. In her time away from the classroom, Davis enjoys soccer, hockey and good coffee.
SSE is a student-run organization with nearly 100 members. Founded in 2002, SSE serves as a social and academic hub for students interested in fields relating to software engineering and development. The social community is open to all students, regardless of major, and focuses on scholarly excellence, networking and extracurricular projects.
Question: What brought you to RIT?
Answer: I had never actually programmed before getting to RIT, but I've always loved problem solving, so pursuing a degree in computing seemed like the right idea. What sold me on RIT was talking to the department head of the software engineering department as well as talking to a member of the SSE.
Q: What does it mean to be a woman pursuing work in a STEM field?
A: It means that one day I hope this isn't a question that needs to be asked. Code is code and I write software just like anyone else in the field. Hopefully it's the products that I build that are focused on, not the fact that I'm a woman.
Q: How did you become involved with SSE, and what has it added to your experience at RIT?
A: I became involved with the SSE when I stopped in as a first-year for mentoring help on my computer science homework. The mentors were awesome and they ran cool events, so I decided to get involved. The SSE has been one of the most important parts of my RIT experience. I learned so much in my first year just by sitting in the lab and talking to other members. The friends I made there also connected me with companies like Microsoft, which helped me to get my first co-op.
Q: What are your responsibilities as president, and how often do you have meetings and events?
A: I keep the SSE running! We have a mentoring lab, run review sessions, help out at open houses, plan events for our members and do projects. Keeping all of this going requires managing my committee heads and working with the department to get things done. I help to ensure things are happening, but it's really my committee members that play a big role in organizing. We run about one event each week and hold general meetings every Thursday.
Q: What co-op experiences have you had during your time at RIT?
A: My first co-op was at Microsoft; I was put on the PowerShell Core team and worked on PowerShell developer tools. Immediately after that, I had a fall co-op at a company called Inkling that creates a platform for creating and publishing pretty and interactive content for other companies to use. Last summer I worked at Microsoft again, on a team in Azure, and I'll be going back to Microsoft for my last internship on the Microsoft Health team.
Q: What was your favorite part of your co-ops?
A: So far, I think that my favorite part of any co-op was when I was on the PowerShell team. I helped to create a platform for PowerShell development support in any editor. At the end of my internship I demoed what I made to about 50 of my closest coworkers, and it was received really well. One of my coworkers even interrupted my presentation to ask when he could use the tool that I had made. It was released in November 2015.
Q: What are your professional goals following your graduation from RIT?
A: I plan to be a software engineer somewhere in the Seattle area. Thinking a little further into the future, I'm interested in being a developer lead.