Exhibit highlights 10 years of WALL\THERAPY and 1975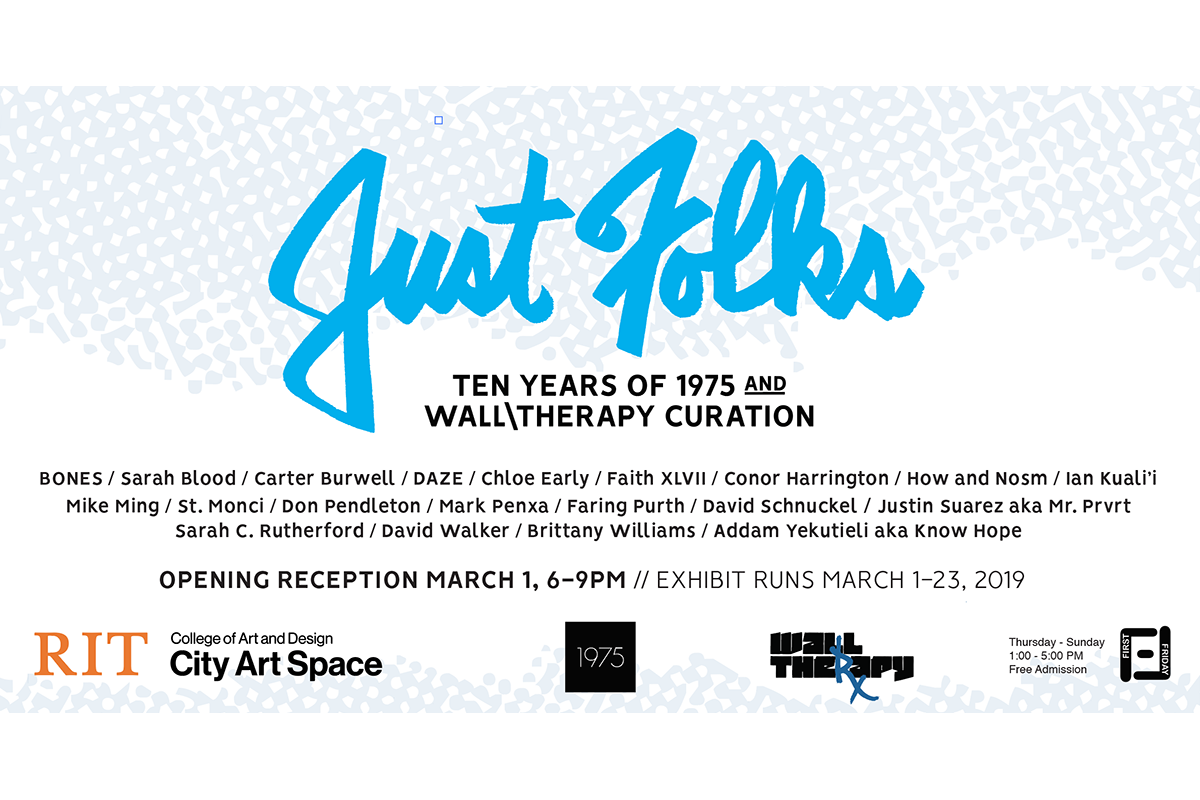 Over the last 10 years, curator and RIT College of Art and Design staff member Erich Lehman has developed a grassroots community of artists from the Rochester region and around the world.
Through Lehman's ventures in owning 1975 Gallery and co-curation of WALL\THERAPY (in partnership with Dr. Ian Wilson), more than 275 artists have exhibited their work in Rochester, advancing their own careers while leaving a lasting mark on the Rochester art landscape.
For a new exhibition at the recently debuted RIT City Art Space, called "Just Folks," Lehman has curated a selection of artists to highlight 10 years of 1975 and WALL\THERAPY curation. The show runs from March 1 to 23. An opening reception will be held from 6-9 p.m. Friday, March 1, at City Art Space (280 East Main St., Rochester, in the Sibley Tower Building).
WALL\THERAPY is an art and community intervention project that has dressed dozens of buildings across the city of Rochester in murals by known artists around the world.
Artists included in the exhibit can be found in the above poster.
Statement from Erich Lehman, curator:
A companion exhibition to "Dearly Departed - 10 Years of 1975" in October 2018, "Just Folks" is a more formal retrospective of the influence of 1975 Gallery on Rochester, N.Y.'s art scene since its inception in 2008. Among the selected artists is a group who grew/came of age with the gallery and emerged as names in their own right in Rochester and beyond.
Overlapping with this is a selection of artists who participated in the WALL\THERAPY mural project, whose impact on Rochester is seen on a daily basis. The artists selected represent important elements of 1975 curation over the last 10 years.
"Just Folks" is a phrase coined between the curators of WALL\THERAPY to describe the power of the average person to make an incredible difference in their community. We are living in a time when it is essential to realize the common vein between us all and the capacity for great change that we share. 
A percentage of all artwork sales will be donated to the WALL\THERAPY project.
Topics