Exhibits highlight 50 years of deaf art and history
Exhibits coincide with the college's 50th anniversary celebration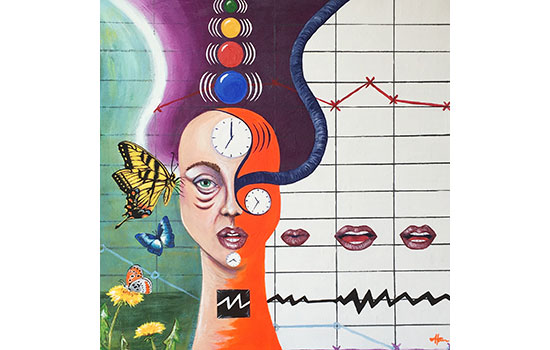 As part of its 50th anniversary activities, Rochester Institute of Technology's National Technical Institute for the Deaf will host a "50 Artists 50 Years" exhibition in the college's Joseph F. and Helen C. Dyer Arts Center. The exhibition runs through Oct. 20, with an artists' reception 4 p.m. Friday, Oct. 19.
NTID, the world's first and largest technological college for deaf and hard-of-hearing students, has graduated many talented artists throughout its 50-year history. The exhibition showcases 50 alumni artists, displaying more than 100 works of art, including media such as painting, photography, mixed media, wood, textile, watercolors and more. 
Works by well-known artists such as the late Chuck Baird, along with local artists like Laural Hartman and many others, are included in the exhibition.
Along with the "50 Artists 50 Years" exhibition, the center will host an NTID's History exhibition in the Milton H. and Ray B. Ohringher Gallery, displaying a variety of memorabilia and highlighting the contributions made by RIT/NTID alumni, faculty, staff and students.
On Friday, June 29, as part of the 50th anniversary reunion festivities, a triptych—or three-paneled work—by deaf artist Susan Dupor will be unveiled. NTID commissioned Dupor, who attended the college, to create this triptych to mark the college's 50th anniversary.  
According to Dupor, the piece, titled Together, visualizes NTID's 50-year journey.
"Together honors the people of our past who have aspired to create a better future for us; we now take the time to look back and give appreciation and gratitude for their efforts," Dupor said.
Together portrays the flourishing life and history of NTID over 50 years. In the painting, 50 people are gathered together on the Frisina Quad, which is central to NTID. Surrounded by the Dining Commons, Lyndon Baines Johnson Hall and Tower A, figures from five decades are juxtaposed by a color scheme and fashion trends of their eras.
"NTID is a palette of people from all walks of life, which makes it an extraordinarily global community," Dupor said. "Figures are conversing in sign language; each signed word has a special connection and meaning representing NTID. The figures symbolize everyday people who elicit long-lost memories of people we have known in the past who have been buried in the deepest recesses of our minds."
For more information, visit https://www.rit.edu/ntid/dyerarts/alumni-art-show.
Topics