Expert discusses digital restoration of antiquities
Brent Sears is the John Wiley Jones Distinguished Lecturer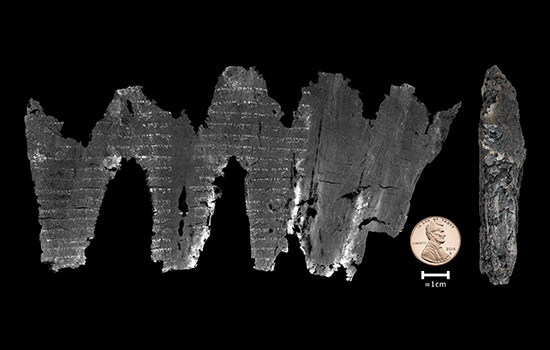 Seales et al. Sci. Adv. 2016; 2: e1601247
A leading expert on digital restoration of historical documents will talk about his research and new methods for digitally preserving manuscripts, scrolls and other cultural artifacts at an upcoming talk at Rochester Institute of Technology.
Computer scientist Brent Seales will deliver the RIT College of Science John Wiley Jones Distinguished Lecture on "Digital Unwrapping: Homer, Herculaneum and the Scroll from En-Gedi" at 7 p.m. on March 6 in Ingle Auditorium in the RIT's Student Alumni Union. The event is free and open to the public.
Seales is professor and chairman of computer science and director of the Center for Visualization and Virtual Environments at the University of Kentucky. His research uses medical imaging techniques, computer vision and data visualization in the digital restoration of manuscripts and printed texts. In 2015, Seales and his team made a significant contribution to biblical archaeology when they reconstructed passages from the oldest known copy of the Book of Leviticus. The text was recovered from the charred and unrolled Ein Gedi Scroll discovered in Israel in 1970. Leviticus is the third book of the Old Testament.
Seales has a personal connection with RIT through Roger Easton, professor in the Chester F. Carlson Center for Imaging Science. Easton is director of RIT's Laboratory for Imaging of Historical Artifacts and a co-founder of the Rochester Cultural Heritage Imaging, Visualization, and Education, or RCHIVE, a new collaborative group, with David Messinger, director of RIT's Center for Imaging Science, and Gregory Heyworth, associate professor of English and textual science at the University of Rochester.
Easton, Heyworth and Seales collaborated last year on the digital restoration of damaged documents from World War II in Chartres, France.
Seales' visit to RIT is supported by the John Wiley Jones Science Endowment Fund. The late John Wiley Jones, founder and chairman of the board of Jones Chemical Inc. in Caledonia, was an avid proponent of science education.