'Famous funnies' given to Cary Graphic Arts
Stephen Neil Cooper Collection features 202 comic books from April 1956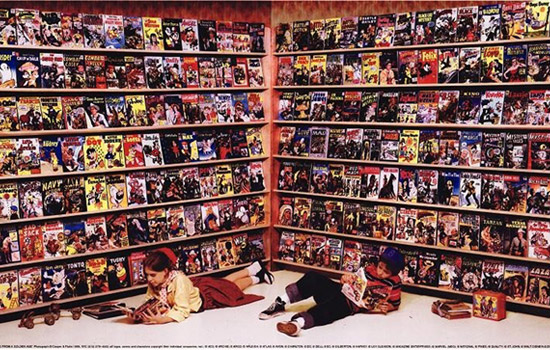 Archie, Jungle Jim, Uncle $crooge, Nancy and Sluggo, Adventures of Mighty Mouse, MAD, The Lone Ranger, The Legends of Daniel Boone, Little Iodine.
We don't need a superhero to tell us comic books are still a child's best imaginary friend. And for one Rochester Institute of Technology alumnus, collecting comic books became more than a hobby—it became a "cosmic-sized vision."
"I became a comic book collector because of a boyhood memory of a science-fiction story that inflamed my imagination—about a colossal guy who kept getting so stretched out that planets could pass through him," explains Stephen Cooper, who now lives in Manhattan. "The story was called Search for a Lost World and originally was published in Strange Adventures #67, April 1956."
Cooper's initial quest resulted in amassing a synchronized collection to include all 202 comic books that were on candy store racks and newsstands in April 1956. The RIT alumnus—who graduated in 1966 with a fine arts degree in illustration photography—recently donated The Stephen Neil Cooper Comic Book Collection to the RIT Cary Graphic Arts Collection.
According to David Pankow, curator of the Cary Graphic Arts Collection, the value of the collection is conservatively estimated at $20,000.
"The Cary Collection is absolutely delighted to receive this fascinating synchronic collection, and we anticipate that it will become an important resource for a variety of programs and courses at RIT, including Illustration, Book Design, Film and Animation, Museum Studies, Social Studies and Anthropology, and Popular Culture," Pankow says. "The comic books in the Cooper Collection are in 'as-published' condition and for that reason make a breathtaking impression on everyone who sees them."
Cooper, who is the owner of Sybille Gallery, a creative framing store in New York City, says comic books continue to bring back a sense of boyhood nostalgia but they also have appeal as a challenging educational project—"insofar as it encompasses an entire niche of anthropological study," he says.
"Through the years I saw the academic value of this collection because it provides a comprehensive window into the graphic design, printing technology and popular culture zeitgeist of mid-20th century America."
The RIT Cary Graphic Arts Collection will be hosting an exhibition of The Stephen Neil Cooper Comic Book Collection next spring and Stephen Cooper will be accessible for media interviews. In the interim, the collection is available for viewing by calling 585-475-2408.
Note: The Cary Collection was originally established at RIT in 1969 as a small but choice library based on Melbert B. Cary Jr.'s personal collection of books on printing history and the graphic arts. The present-day collection includes some 40,000 volumes as well as manuscript material and historic printing artifacts. Holdings on bookbinding, papermaking, type design, calligraphy, book illustration and typographic exemplars are also part of the collection.
Topics