Father and son build a winning combination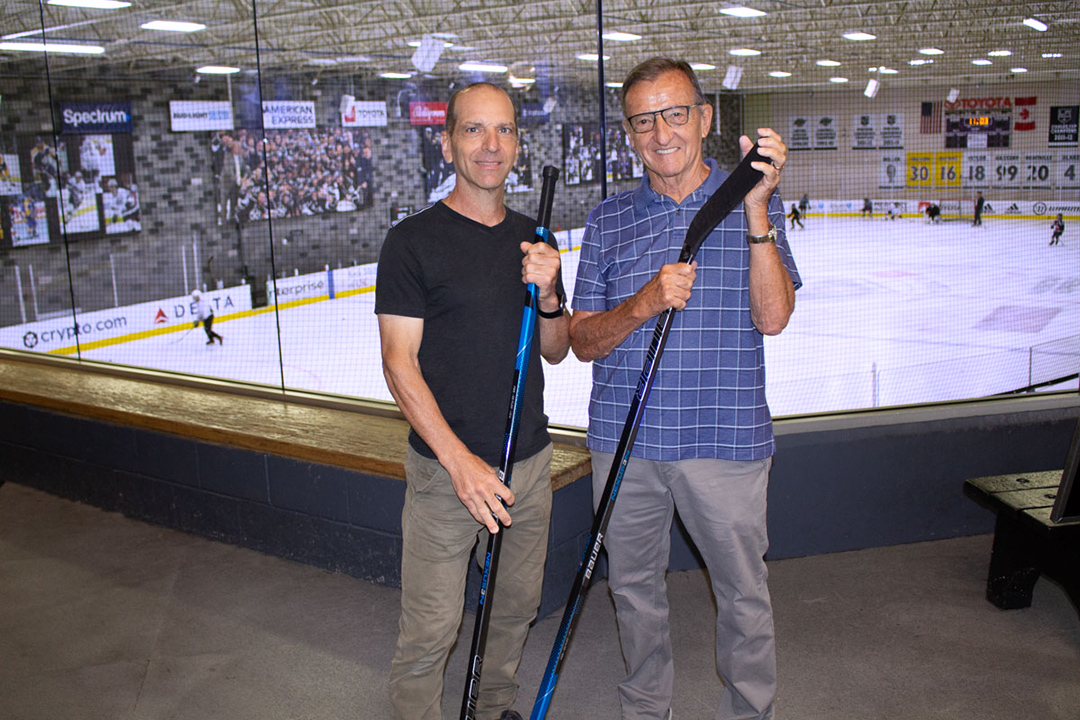 Hockey has been a cornerstone in the lives of Allan Shepard '62 (printing) and his son Bryan '89 (motion picture science), even as they have both excelled in their careers.
Allan grew up with ice hockey in his hometown of Buffalo, N.Y. When he arrived at RIT, which was still in downtown Rochester at the time, he assumed he could continue playing. But the ice rink was occupied primarily by the figure skating program.
Allan wasn't deterred. He and a small group of students banded together to create an unofficial hockey team. They bargained for time on the rink late at night and were told to use a roll of tape as a puck for safety reasons. Soon the team was playing freshman teams in the area.
"The turning point that put the hockey team on the map was the confrontation with the University of Rochester," Allan said. "Nearly 1,000 students banded together and rallied and marched down the street with flags and banners and went to that hockey game, which we were fortunate enough to win."
According to the Nov. 21, 1961, issue of Reporter, RIT won 3-0 and Allan scored the first—and winning—goal in the first six seconds. Allan credits Reporter for creating momentum to help the team grow. Hockey achieved Division III status in 1964. Ritter Arena opened four years later on the new Henrietta campus.
In 2003, Allan became the first student to be inducted into the RIT Sports Hall of Fame as a team founder.
Allan married his wife, JoAnn, in his junior year at RIT, and they had two sons, Bryan and Scott.
After graduating, Allan began his career in management in the book printing industry. He worked at Western Publishing Company in Wisconsin and Maryland, where he became plant manager. He finished his career working for a small printing company in Baltimore. 
Allan and JoAnn are retired and currently live in Los Angeles.
Bryan said he decided to come to RIT because RIT had both hockey and a film and television major.
"I was a pretty creative kid," he said. "When I had to pick a career, I was looking through catalogs for what was available. And then I saw this film and television major, and I was just flabbergasted."
At first, Bryan practiced with the hockey team as a goaltender. But his studies became his lifelong passion. After graduating, Bryan moved to Los Angeles to work in entertainment. He has continued to play hockey since.
Inspired by a wildlife refuge near his home in Cambridge, Md., he founded the production company EagleVision Entertainment Corp. He has worked in broadcast news, sports, and entertainment for the past 33 years and has won three Emmy Awards.
For Bryan, the creative and athletic passions that he and his father pursued complement each other.
"There's this creative portion that comes along with ice hockey that you don't really get in any other sport," he said. "The creativity behind hockey also gave me this mindset that if you can summon up the ambition, courage, and strength, you can become part of a winning team, and the art of filmmaking is a team-oriented thing."
Topics