Field trip to Nigeria gives RIT students a new perspective on global health
College of Health Sciences and Technology provides new study abroad experiences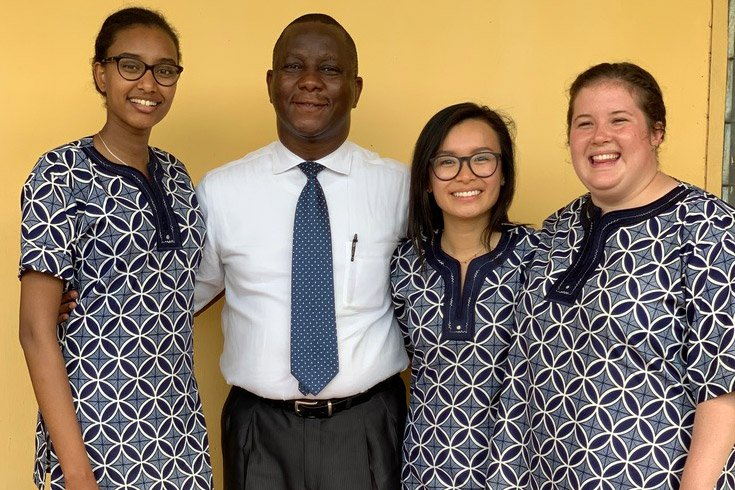 Three students from the biomedical sciences program traveled with RIT Professor Bolaji Thomas to his native Nigeria to understand the impact tropical diseases such as malaria have on the population and the medical protocols used in treatment.
Anna Capria '19 (biomedical sciences), Janice Fung and Abigail Melake, fourth-year biomedical science majors, spent from May 24 to June 7 in the sub-Saharan African country and drew upon concepts from Thomas' Parasitology, Immunology and Epidemiology classes. The students gained a perspective on malaria missing from their textbooks and observed the personal impact of the disease on patients, medical personnel and researchers from Oyo, Osun and Lagos regions in southwestern Nigeria.
Malaria and other tropical diseases such as schistosomiasis ("Snail Fever") are especially common in rural Nigeria and are on the rise in colder climates due to international travel, population shifts and the warming climate.
"We're so scared of malaria here, but for them it's like the common cold," said Melake, who was surprised to learn that not everyone with malaria is on death's door.
Student experiences in global health research are an important growth area in the College of Health Sciences and Technology. Recent projects have included a research trip to Ghana, a new class in Global Health, the Global Health @ RIT Association and a related symposium held last spring. "Study-abroad field trips give students a direct understanding of public health issues in another country," Thomas said.
"I believe being exposed to different cultures from oversea experiences or from having a different background can open one's eyes to different perspectives," said Fung, from New York City, who studies biomedical sciences and biotechnology. "My peers and I had first-hand experience seeing patients dealing with infectious diseases and the effect on hospital structures."
Thomas' colleagues and connections with university leaders in Nigeria gave the group a crash course in medical science in a developing country. They spent time in a teaching hospital, a primary care facility, clinics and research labs at Ladoke Akintola University of Technology (LAUTECH) and the University of Lagos, in one of the most populated cities on the continent.
"They observed patients with malaria symptoms and the protocols medical staff follow to diagnose and treat the disease," said Thomas, professor of biomedical sciences in RIT's College of Health Sciences and Technology. "They gained hands-on training in preparing blood-films—the 'gold standard' for diagnosis of malaria that uses a stain to identify and quantify the parasites."
Melake, born in Morris Plains, N.J., but raised in Eritrea in East Africa, was surprised by the different research techniques and methodologies used in the hospital and university labs they visited. "I was really excited to see the labs," said Melake, who wants to pursue a career in immunology research.
One lab, powered by solar panels, frequently experienced unreliable electricity and Wi-Fi. Melake's initial reaction—"How do they deal with that?"—turned into admiration shared by the RIT students for the unfazed researchers.
"We witnessed the level of science that is done in situations that aren't always ideal, or what we consider ideal, like always having power," said Capria, from Baldwinsville, N.Y., "and we saw how, out of necessity, good work is done."
Capria wants to be a physician/research scientist in infectious disease. She graduated a year early and, this fall, started a master's degree in medical research at Uppsala University in Sweden. As a result of the trip to Nigeria, she and Thomas' collaborator Olusola Ojurongbe, professor of medical parasitology at LAUTECH, are working on a plan to do her thesis work together on malaria.
Malaria-infected blood is not readily available for study in the United States. The National Malaria Eradication Program eliminated the disease in the United States in 1951, and with it, a familiarity with the disease and strategies for identifying parasites in blood samples. According to Thomas, gaps in medical school curriculum have contributed to an increase in malaria-related fatalities in U.S. travelers.
"I can demonstrate what malaria looks like in the lab for my students, but there is no parasite in the blood for them to see," Thomas said. Instead, he shows his students stained slides prepared by his LAUTECH collaborators that show parasites in varying states of decay. 
"All of the samples we use in Dr. Thomas' lab come through a lab we visited," Capria said. "That's where they get their initial clinical parameters met and differential diagnosis met. To see that whole process was different and really cool. I would gladly go back."
Participating in study abroad programs that focus on global-health experiences has influenced Fung's time at RIT and her future direction. "I was able to surround myself with peers with similar career goals and interest," she said. "Being in this community of similarly driven people helped me come to the decision of pursuing medical school."
The Nigeria trip was made possible through a grant from the Miller Chair in International Education. The funding also facilitated Thomas' collaboration with the College of Medicine at LAUTECH on infectious and sickle cell disease. Thomas is working with the Global Office to offer a three-credit trip to Nigeria as part for students in biomedical sciences, biotechnology, biology and environmental science.
The grant also furthered Thomas' collaboration with his colleagues and graduate students at LAUTECH, and facilitated his public lecture, "Genetic and systems dissection of malaria immunity" at the medical school.
Intersections: The RIT Podcast
Abigail Melake, a biomedical science major, and Janice Fung, a biomedical science and biotechnology major, talk about what they learned about themselves and their future professions during their trip to Nigeria in this episode of Intersections: The RIT Podcast.
Topics