December 9, 2020
by Luke Auburn
Former South Carolina Representative Bakari Sellers to keynote RIT's Expressions of King's Legacy
The 'New York Times' bestselling author will headline the virtual event on Jan. 28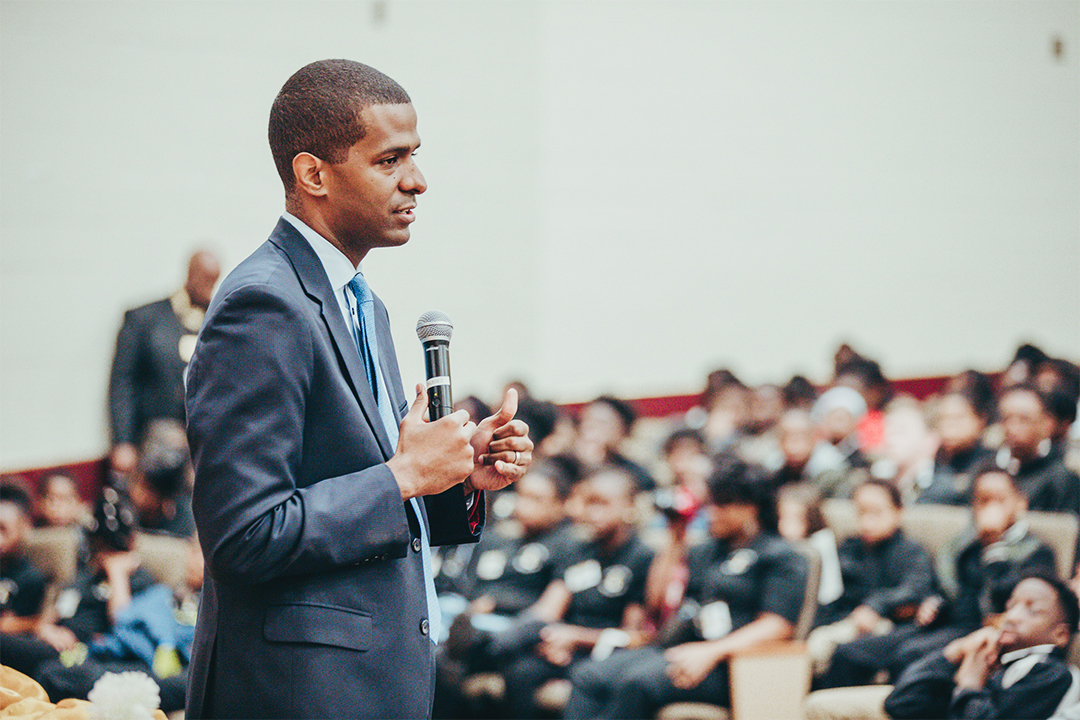 A New York Times bestselling author, who was once the youngest African-American elected official in the nation, will serve as the keynote speaker at Rochester Institute of Technology's annual celebration of the life and work of Martin Luther King Jr. Bakari Sellers will deliver a talk titled "Education, Civil Rights and Equality: Cornerstones for Our Future" at the 39th Expressions of King's Legacy. The virtual event is free and open to the public, taking place on Zoom from noon to 1:30 p.m. on Thursday, Jan. 28.
Sellers made history in 2006 when, at just 22 years old, he defeated a 26-year incumbent state representative to become the youngest member of the South Carolina state legislature and the youngest African American elected official in the nation. In 2014, he was the Democratic nominee for lieutenant governor in the state of South Carolina. His accolades include being named to TIME Magazine's 40 Under 40 in 2010, as well as the 2014 and 2015 "The Root 100" list of the nation's most influential African Americans. Sellers has provided commentary and analysis to CNN and MSNBC including multiple appearances on Hardball with Chris Matthews and Morning Joe.  
Earlier this year, he released his bestselling book, My Vanishing Country: A Memoir. The book largely focuses on Sellers' hometown of Denmark, S.C., and reflects on his father Cleveland Sellers' path to become a friend to Stokely Carmichael and Martin Luther King, a member of the Student Non-Violent Coordinating Committee (SNCC), and a civil rights hero.
"Bakari Sellers' calling is to be a voice for the voiceless and we are excited to feature him as our keynote speaker for Expressions of King's Legacy this year," said Keith Jenkins, RIT's vice president and associate provost for diversity and inclusion. "Many of the issues his father Cleveland Sellars and Dr. Martin Luther King Jr. wrestled with in the '60s are issues we continue to grapple with today. He will serve as an excellent bridge between past and present."
Sellers earned his undergraduate degree from Morehouse College, where he served as student body president, and his law degree from the University of South Carolina. He has followed in his father's footsteps, championing progressive policies to address issues ranging from education and poverty to preventing domestic violence and childhood obesity.
Jemieshaw Pierre-Louis, a fifth-year civil engineering technology student from Binghamton, N.Y., will serve as emcee for the event. She currently serves as president of RIT's Black Awareness Coordinating Committee.
ASL interpreters will be provided. To register for the event, visit the RIT Events website.
Topics