February 13, 2020
by Ava Gervan
Four RIT faculty and staff alumni acknowledged with the Golden Brick Award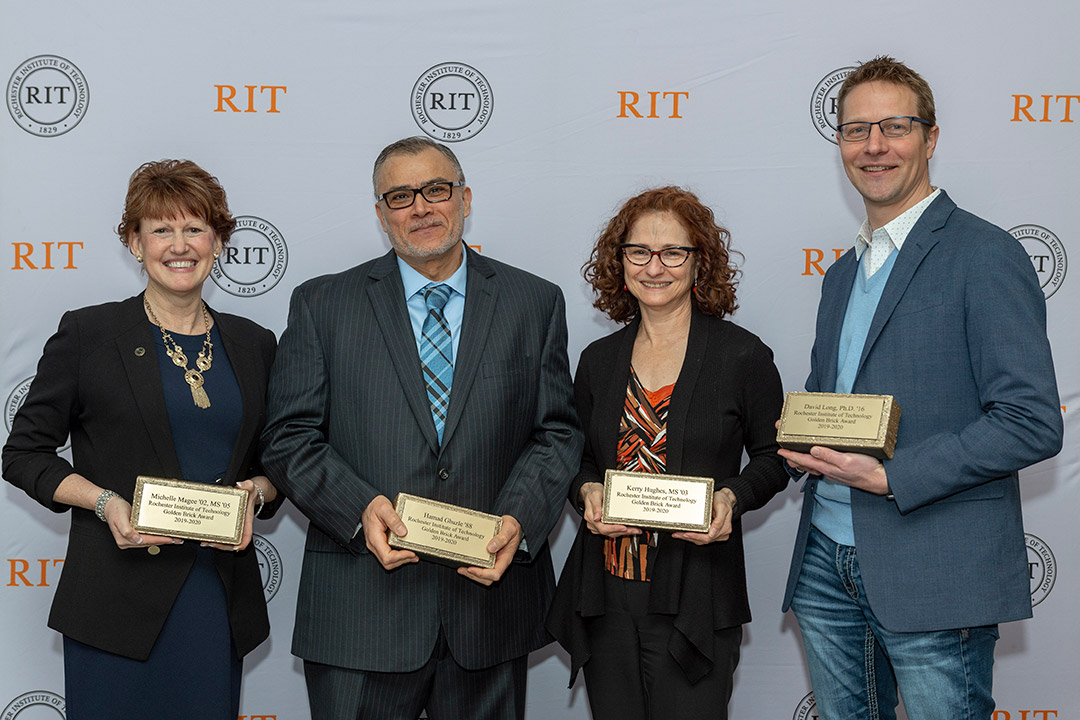 Four faculty and staff alumni received the Golden Brick Award at a ceremony on Feb. 13.
Those awarded at the Golden Brick Ceremony have gone above and beyond their duties to volunteer or serve in leadership roles at RIT, said Jon Rodibaugh '12 (MBA), executive director of Alumni Relations.
"Our faculty and staff alumni represent a very special part of the alumni family. They have a unique bond—not only do they get to celebrate their RIT pride as alumni but also as daily contributors to the university," Rodibaugh said. "No one is better suited to prepare our students to be successful alumni than our faculty and staff that can share in that experience."
The four alumni being recognized this year are:
Hamad Ghazle '88 (diagnostic medical sonography), director of the diagnostic medical sonography program: Ghazle has been instrumental in the university's acquisition of more than $1.25 million for outfitting of the program's ultrasound lab. He has used his industry connections to cultivate relationships with Carestream Health, URMC and other organizations to ensure the lab is outfitted with the latest equipment. His dedication to these development efforts have ensured that sonography students leave prepared for a career using the latest technologies. Ghazle has served on the Academic Senate multiple times. He has also been on committees both inside and outside his home college, including Future Faculty Task Force, Chair Faculty Grievance Committee, Faculty Affairs Committee, Institute Council, Institute Strategic Planning Steering Committee, the Student Success Task Force and others.
Kerry Hughes '03 MS (training and instructional design), project and events manager, Office of the Provost and Senior Vice President for Academic Affairs: Hughes is a strong supporter of student activities, volunteering many hours for events on campus, including orientation activities, Lighting the Way, Rock the Vote and the Q Center. She serves on numerous university committees, has been a member of Staff Council and participated in university initiatives such as the SIS implementation team.
David Long '16 Ph.D. (color science), director of RIT MAGIC Center: Long is an active member of the university community. He has served for 10 years as the inaugural program chair for the motion picture sciences program. He has advised, mentored and supported each and every student in that program. He continues to support several students through his continued teaching in the program and the advisement of several independent studies and thesis projects. Long has been the adviser to several student clubs and organizations and each year takes students to two major conferences: SMPTE and NAB. He has played a key role in the establishment of the Entertainment Advisory Board (EAB) and has been a design principal for MAGIC Spell Studios. In addition, Long has chaired the Frameless Labs initiative and has served as a member of the Light and Sound Interactive Conference committee. He is also an active board member at WXXI and the Little Theatre, representing RIT. 
Michelle Magee '05 MS (information technology), senior associate director for Employment Engagement, Office of Career Services and Cooperative Education: Magee has continued to serve in support of the Alumni Association with a level and balanced presence. She has identified, created and nurtured relationships with hundreds of corporations, not only to have them hire students for co-ops, but expanding the relationship to include support of the university as a whole. Magee offers her time and talent to mentor students. In particular, she has created sustainable and substantive programming for women in computing. She is a First Friend, supporting the Lobozzo Alumni House.
Topics