Galleries to honor Norman Ives
Yale artist and designer's work on display at University and Bevier galleries Nov. 18 to Jan. 6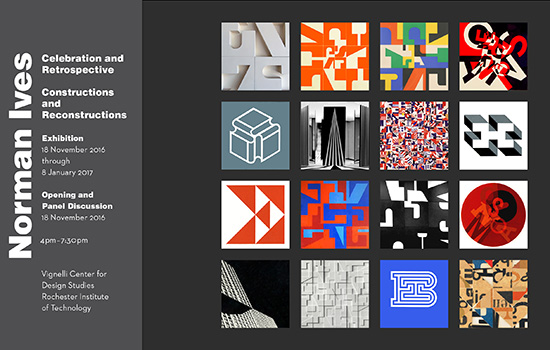 A major retrospective exhibition highlighting the work of Norman Ives—a renowned Yale University artist and designer—will be on display at both Rochester Institute of Technology's University and Bevier Galleries from Nov. 18 to Jan. 6.
The exhibit, titled "Constructions and Reconstructions," is curated by John T. Hill and sponsored by the Vignelli Center for Design Studies. Immediately following the show's opening reception at 4 p.m. on Nov. 18, a panel discussion about Ives and his work, titled "Legacy and Influence," will take place in University Gallery on Level 2 inside RIT's Booth Hall at 5 p.m. Both events are free and open to the public. Visitors are expected from across the country.
"One of our aims in hosting this exhibit is to show today's students that the kind of graphic design that Norman Ives was renowned still has relevance," said R. Roger Remington, the Vignelli Distinguished Professor of Design at RIT. "They need to know about it because there are a lot of college faculty in schools all over the world who didn't have the luxury of exposure to Ives' work like a number of us here at RIT. He's a legend."
"One of our missions at the Vignelli Center is to continue exposing new and upcoming students and designers to the value of this kind of work," added Bruce Meader, associate professor of graphic design in RIT's School of Design. "Otherwise, this amazing work will get buried and lost."
Ives (1923-78) was an artist, designer, Yale professor and publisher. The focus of his artistic work included paintings, collages, prints, bas-reliefs and murals based on fragmented, layered and cropped letterforms. His professional design work featured logos, symbols, book jackets, magazines and posters as well as collaborations with Herbert Matter for Knoll International and the New Haven Railroad.
Ives was a member of the first class of students to receive graduate degrees in graphic design from Yale in 1952. Alvin Eisenman, the program's chair, brought to the curriculum a rigorous study of classic type design plus the tradition of fine book design and printing.
Josef Albers, one of Ives' professors and mentors at Yale, brought exercises that examined letterforms as shapes and negative spaces from his teaching at the Bauhaus—widely recognized as the most influential modernist art school of the 20th century and whose approach to teaching and understanding art's relationship to society and technology had a major impact both in Europe and the United States long after it closed.
"These investigations turned out to inspire Ives' work for decades," Remington said.
Ives' careful consideration of the spaces within and around forms extended from his artistic work through his design work. His book, Eight Symbols, analyzed and explained the figure ground relationships of his trademarks and symbols.
The collages Ives began working on in the late 1950s were initially made from same-sized triangles meticulously cut from the letters and words of posters and broadsides. These evolved into shapes reminiscent of letterforms painted directly onto canvas. Mural-size compositions contrasted with the intimate detail of the collages. Both, however, used a formal language that integrated abstracted letterforms and sensitive color compositions.
Ives and classmate Sewell Sillman formed Ives-Sillman in 1958 to publish impeccable screen prints and limited edition portfolios. They published portfolios of work by Walker Evans, Ad Reinhardt and Herbert Matter, among others. Ives also designed two major publications by Albers: the classic, Interaction of Color in 1963, and Formulation: Articulation in 1972.
Ives' work was subsequently recognized in "Word and Image: Posters from the Collection of the Museum of Modern Art" in 1968. It also was included in exhibitions at the University of Kansas at Topeka; the Walker Art Center in Minneapolis; the University of Hawaii; and at the Neuberger Museum in Purchase, N.Y.
His work was described by critics as mid-Modernist. Ives-Sillman later published Evans' first limited edition portfolio in 1971. Subsequently, John T. Hill became the executor of the Walker Evans estate. Hill was a Yale professor who worked with Norman Ives for decades and has curated the exhibition at RIT.
Walker Evans predicted that Ives—who became a close friend and colleague—would in time be rightly recognized as a major artist.
"This retrospective will confirm Evans' prediction," Remington said.
Topics