Game design student wins Intel Award
Juliann Internicola will network, meet one-on-one with professional mentor at San Francisco event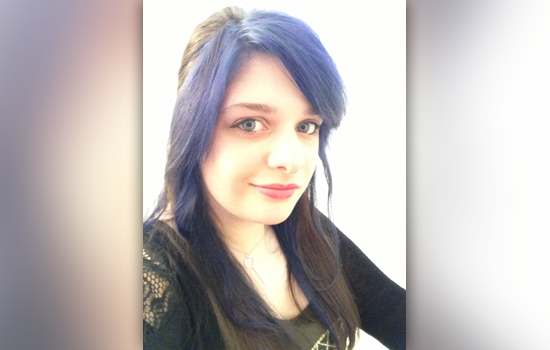 Juliann Internicola, a fourth-year game design and development major from Buffalo, N.Y., has been selected for an Intel Scholars award at the 2016 Game Developers Conference, March 14–18, in San Francisco. GDC is the world's largest professional gaming industry event of the year.
The Intel Scholars award is presented to female or underrepresented minority students who are assigned to a gaming industry mentor for one-on-one professional development sessions. Scholars are also invited to attend a private diversity reception during the conference to network with other scholars and mentors.
During the conference, Internicola will be paired with her mentor, Kelly Zmak, CEO and founder of Performance Ahead Consulting Group. Zmak is a seasoned game development executive with expertise in studio management and product development. Internicola will also help staff the MAGIC Spell Studios booth at GDC and promote RIT's programs and student-created games.
Internicola said that she is most looking forward to networking opportunities that will be available throughout the week and she is excited to meet other students with similar interests and experiences.
"This award presents me with an awesome opportunity to connect with industry giants and others who have a wealth of knowledge and who have been in the business for a really long time," she said. "Although I'm learning a lot in my classes, I know that I can learn so much more on the job. That real-world experience is invaluable."
According to Intel, "we have found that these mentoring and networking activities can make a substantial impact on the early careers of talented students. In fact, one of last year's scholars reported that she landed her job through a connection made through our GDC activities."
Internicola—who only applied to RIT when considering colleges—always wanted to be a game developer and credits her sisters' game playing for allowing her to realize her career path at a young age.
"My sisters would play Super Mario and I would just watch them for hours," she said. "I never really wanted to play the game myself—I always begged them to play so that I could watch. I was fascinated by their interaction with the game."
At RIT, Internicola has enjoyed her coursework and has appreciated her professors for including her in research opportunities.
"So many courses and professors have made an impact on my collegiate career," she added. "They have helped me take my love for playing games and transformed it into a love for creating them."
Internicola—a student ambassador for RIT's School of Interactive Games and Media and the Center for Media, Arts, Games, Interaction and Creativity (MAGIC)—is currently conducting research on augmented reality and location-based gaming and is also a producer/programmer on another soon-to-be-announced MAGIC project. When she graduates in December, she hopes to land a job as a technical designer, someone who is able to meld the work of game designers and programmers.
"It's exciting to be a young woman in this field," she added. "Sure, there is room for improvement with the integration of diversity in the games industry, but it's important that we aren't discouraged or intimidated. Diversity makes us stronger, and it's those unique points of view that make developing a game even better."
More than 100 RIT students, faculty, alumni and staff are traveling to San Francisco this week to attend GDC. The conference is a key learning and networking opportunity for both aspiring and professional game developers. Students attending the event will have access to hundreds of lectures, panels, tutorials and discussions by gaming industry leaders. In addition, GDC's bustling expo floor features recruiters from virtually every major gaming company and provides developers with their first look at emerging industry software and technology.
RIT's game design and development program was ranked third at the undergraduate level and seventh at the graduate level according to the new 2016 international rankings from The Princeton Review. In 2015, RIT ranked sixth at both levels.