GCCIS faculty and students present research
Researchers use computing strategies and computational thinking to solve problems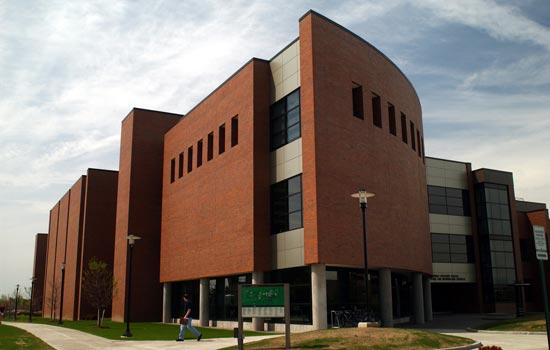 Researchers at RIT will showcase how they use computing to solve real-world problems in all aspects of life—from helping to diagnosis heart disease to preventing security breaches.
Faculty and students from RIT's B. Thomas Golisano College of Computing and Information Sciences will exhibit their work at the GCCIS Research Showcase from 1 to 4 p.m. April 28 in the Golisano Hall atrium and auditorium, room 1400. The free event will feature speeches, posters and demos.
From 1 to 3 p.m., eight presenters will give brief lightning talks with highlights on their research. From 3 to 4 p.m., more than 50 researchers will showcase posters of their work.
"Computing strategies and computational thinking can be used to advance knowledge in any area of study," said Pengcheng Shi, associate dean for research and scholarship and Ph.D. program director in GCCIS. "We hope the research showcase will help to foster further collaborative opportunities for RIT and Rochester communities in computing-related research, innovation and training."
During the event, Matthew Fluet, associate professor of computer science, will discuss his National Science Foundation-funded work with parallel functional programming languages. Matt Huenerfauth, associate professor of information sciences and technologies, will show how he's using state-of-the-art computational linguistic technologies to benefit people who are deaf or hard-of-hearing.
Lightning talks will also touch on GCCIS research in the areas of computing education, cybersecurity, health IT and machine learning.
"The college is proud of how our research endeavors have grown, as well as the real-world impact our research has," said Anne Haake, dean of GCCIS. "We hope this showcase demonstrates to the greater community the ways in which Golisano College researchers are making advances in myriad fields, from accessibility to cybersecurity."
The showcase celebrates the 10th anniversary of GCCIS's Ph.D. program in computing and information sciences. Since its inception, the doctorate program has grown to include more than 60 faculty researchers from across the RIT campus. It has also produced 26 Ph.D. graduates who are now working with academia and industry from Washington, D.C., to Silicon Valley.
For more information on the GCCIS Research Showcase, go to rit.edu/gccis/gccis-research-showcase.