Glass Pumpkin Patch ready for picking on Sept. 30
Traditional fall fundraiser features unique hand-blown favorites for picking at Polisseni Center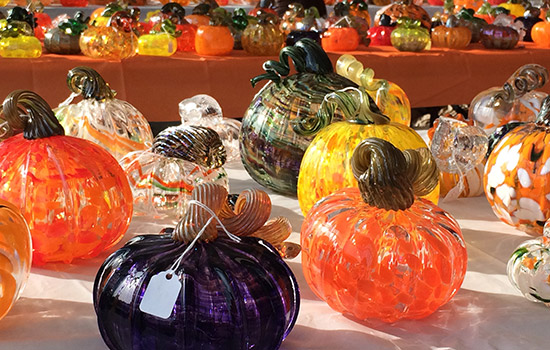 An annual fall tradition returns to Rochester Institute of Technology in late September when this year's fall crop of one-of-a-kind glass pumpkins and other favorites are ready to be picked on the university's campus.
The School for American Crafts' (SAC) glass program in RIT's College of Imaging Arts and Sciences will sell its unique, hand-blown glass pumpkins and gourds during the 13th annual Glass Pumpkin Patch fundraiser. This year's sale will take place from 10 a.m. to 2 p.m. on Saturday, Sept. 30, in RIT's Gene Polisseni Center, located on the south side of campus.
Students from SAC's glass program have created the colorful hand-blown glass pieces under the guidance of world-renowned faculty Michael Rogers and David Schnuckel. Cash, checks and major credit card payments will be accepted.
All proceeds from the sale will benefit the RIT Women's Council Scholarships, Bridging the Gap Fund, and the Visiting Artists Series for the RIT glass program. According to Marianne Goff, sale attendees are being asked to "support the green effort and bring their own bag."
For information, contact Goff at 585-872-3570.
Topics