Global Health Association holds donation drive for Ukraine with InterVol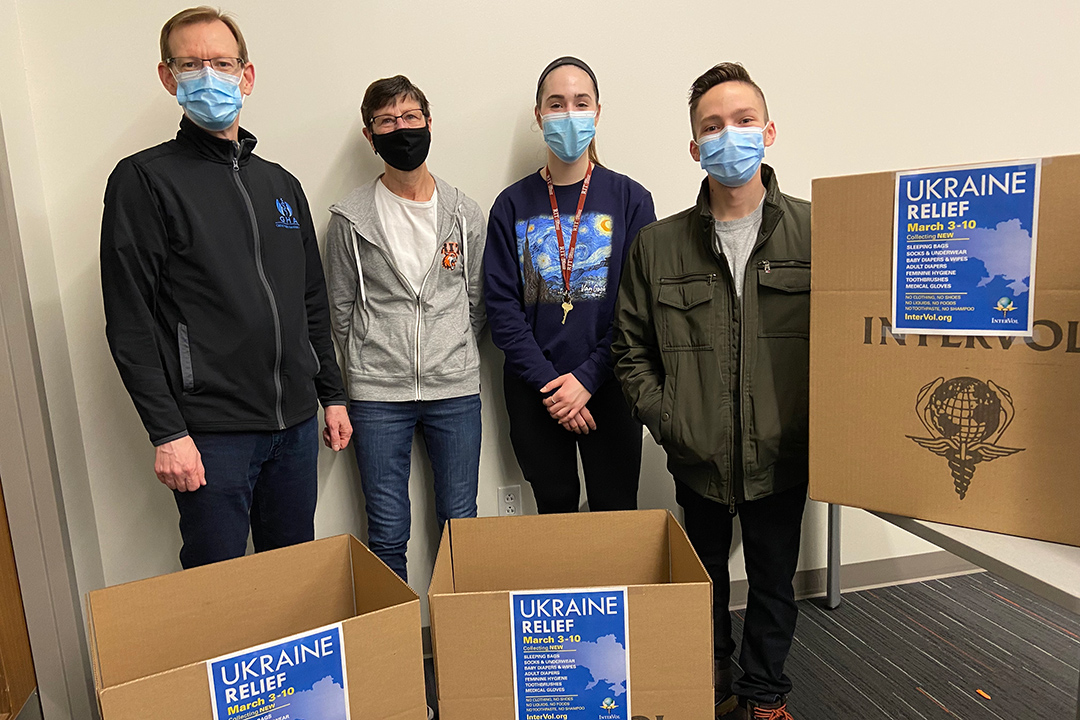 RIT and the Global Health Association @ RIT are partnering with humanitarian organization InterVol in an urgent donation drive to aid the people of Ukraine affected by the Russian invasion.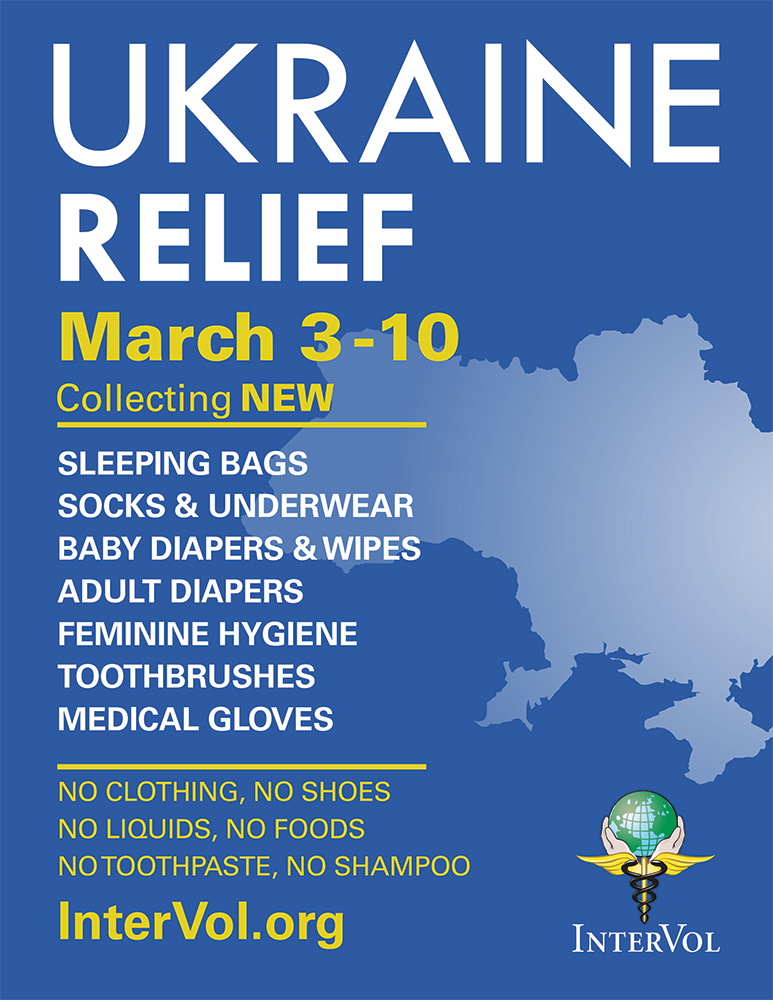 InterVol's Ukraine Relief campaign is accepting donations through Thursday, March 10. Items collected from the RIT community will go to the Ukrainians fleeing the Russian invasion, according to John Oliphant, associate professor in the physician assistant program. Oliphant is working with InterVol staff on the donation campaign and is the faculty adviser for the Global Health Association @ RIT student club. His "Introduction to Global Health" course had just started a unit on "complex humanitarian emergencies," when the Russians invaded Ukraine and the refugees began streaming out of the country, Oliphant noted. "It was horrible to see what we were studying in class actually happening right now in Ukraine."
Students from his class and the Global Health Association @ RIT wanted to help, and Oliphant learned about the opportunity with InterVol.
Abby Giacoman, a first-year physician assistant major from Penfield, N.Y., helped assemble donation boxes from InterVol, set up collections stations on campus, and posted fliers about specific donation requests. Giacoman, who is treasurer for the Global Health Association @ RIT, encourages others to contribute to the cause in whatever way they can to ease the hardship of so many people.
"It has been difficult to see what is going on, on the news," Giacoman said. "My hope is that everything will be resolved and people will be able to return to their lives and be safe. It's heartbreaking to watch, and there's new information all the time. It's a lot."
InterVol is collecting the following items:
​Sleeping bags
Socks and underwear
Baby diapers and wipes
Adult diapers
Feminine hygiene products
Toothbrushes
Medical gloves
InterVol is not accepting clothing, shoes, liquids, food, toothpaste, or shampoo.
Donations can be left in InterVol boxes placed at various locations on campus until March 10:
Eastman Hall
Crossroads west entrance
Crossroads east entrance
Clinical Health Sciences Center across from the Rochester Regional Health Family Practice
Campus Center–Fireside Lounge
Grace Watson Hall
Gosnell Hall
Student Alumni Union/Monroe Hall–Artesano Bakery & Café
Apex main lobby
Golisano College of Computing and Information Sciences main lobby
Oliphant learned from Nicole Jones Senftleben, InterVol executive director, that supplies will be sent to Warsaw, Poland, and distributed along the way to Lviv, a western Ukrainian city, about 40 miles from the Polish border. Hundreds of thousands of Ukrainians fled to Lviv when the conflict began Feb. 24. The United Nations estimates that 2 million people have left Ukraine and are in need.
InterVol is a worldwide humanitarian organization founded by Dr. Ralph Pennino, senior vice president of the Rochester Regional Health Specialty Medical and Surgery Group, chair of Surgery at Rochester Regional Health, and chief of Surgical Services at Rochester General Hospital, and co-founder Dr. Timothy O'Connor, chief of Plastic Surgery at Rochester General Hospital.
For more information about the donation drive at RIT, reach out to John Oliphant at jboscl@rit.edu.
For more information about InterVol's efforts, go to InterVol: Ukraine Relief Drive.
Topics