Grad builds system for International Space Station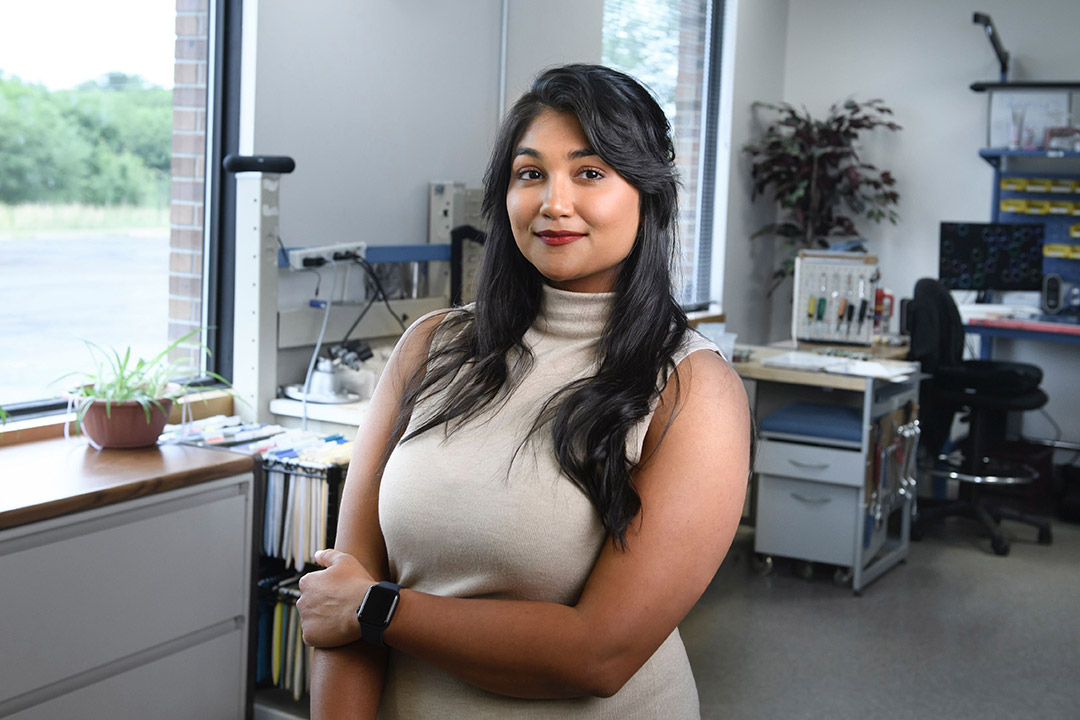 When NASA's Cygnus spacecraft launched in spring 2022, technology built by an RIT engineering alumna made its way to the International Space Station.
Snehal Ravindra Ingle '19 (electrical engineering) helped develop the Radio Frequency (RF) Amplifier system being used to test human cells' behavior under microgravity.
As a design and applications engineer working for Electronics & Innovation Ltd. (E&I), Ingle integrated technology needed to support complex experiments where scientists can observe changes affecting health conditions and body functions.
The development of drug delivery systems, for example, is underway on the ISS and aligns with the focused ultrasound work done at E&I.
"We make RF equipment for any experiment based on three functions—signal generation, modification of the signal, and the utilization of that signal based on the application," Ingle said. "Modification is where we do the amplification; this is where our amplifiers shine with their rugged­ness, ability to work into any load, and broader frequency ranges."
Before taking flight, work began on the ground. University of Mississippi researchers sought out E&I because of its RF systems expertise for an experiment they developed for the 2022 payload to the ISS.
Before launch, it needed to be certified for both the researchers and NASA—for robustness, resistance to electromagnetic interference, and advanced signal processing capabilities.
"We got Snehal involved right away to work with the researcher because it was going to require some of her engineering and customer skills to figure out exactly what they needed," said Jeff Keller, vice president of sales at E&I.
Working with NASA was a first for the company and Ingle. Their RF amplifier has been incorporated into the glovebox—a sealed, safe, and contained environment with built-in gloves to facilitate investigations conducted by the space crew with fluids, flames, particles, and fumes in low-gravity, or microgravity.
Without the glovebox, many types of hands-on investigations would be impossible or severely restricted, said Ingle, who began working at the company after graduation and was inspired by how her work could impact healthcare.
"When we interviewed her, we thought she was wonderful. But the time it took her to come up to speed was phenomenal," said Tony Harris, E&I president. Ingle left the company in June after her visa expired and began a management science and engineering degree program in the fall at Columbia University in New York City.
 "I worked in literally every sector of this company which gave me such a unique blend of experience," said Ingle. "The mentorship provided and just general support is unmatched."