Graduate takes unique path to become a well-rounded engineer
Emma Sarles is first person with fine arts degree to enter RIT's engineering Ph.D. program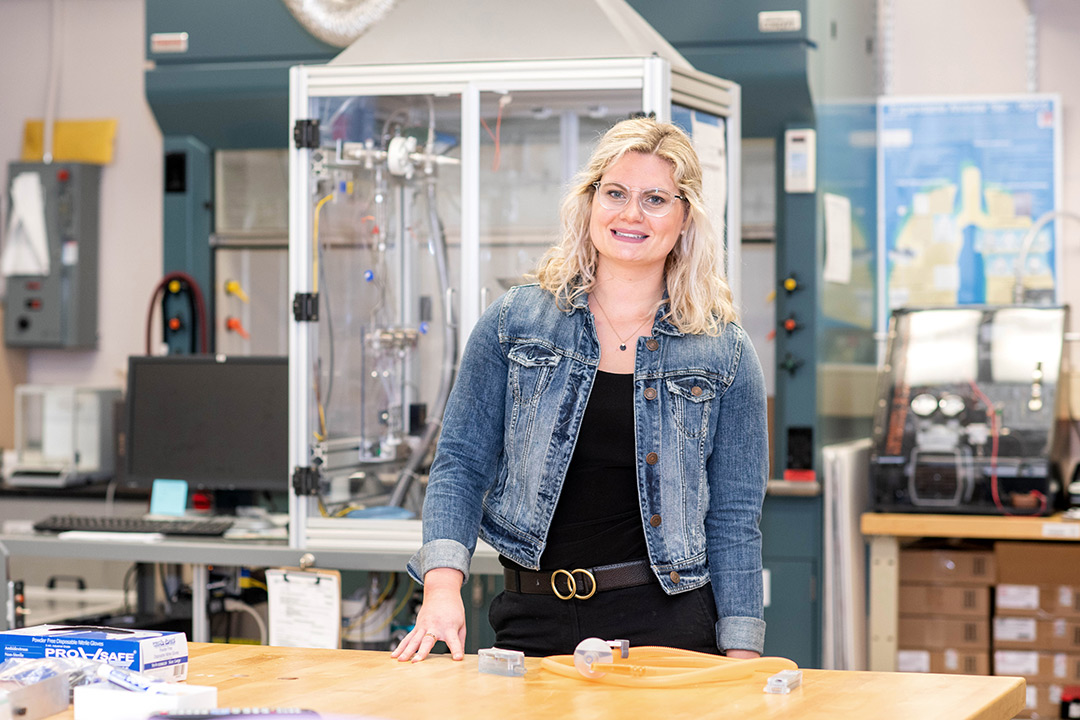 Gabrielle Plucknette-DeVito
Commencement weekend kicks off with Academic Convocation on May 10. Read more about the Class of 2019 at rit.edu/news/commencement-news.
Emma Sarles '17 (industrial design) has taken the road less traveled to become an engineer.
Without ever earning a bachelor's degree in engineering, Sarles has spent the last two years working toward a customized professional studies master's degree that specializes in medical device engineering and applied biomaterials. This May, she is graduating and has become the first person with a Bachelor of Fine Arts (BFA) to be accepted into RIT's engineering Ph.D. program.
"I'm not a traditional engineer, so I contribute a unique perspective to my research group," said Sarles, who is from Orchard Park, N.Y. "I love the way that all my different silos of training come together in my work."
Sarles started college at SUNY Fredonia, focusing on graphic design and softball. She would later transfer to RIT to study industrial design and play softball.
However, her trajectory changed when she visited her brother who had connections at Boeing in Seattle. She was blown away by the large-scale projects and decided to get involved with any engineering she could find at RIT. She did independent studies working with 3D-printed prosthetics, a multidisciplinary senior design project with engineering students and got in touch with Edward Hensel in RIT's Respiratory Technologies Lab.
"Emma is the quintessential renaissance woman," said Hensel, associate dean for research and graduate studies in RIT's Kate Gleason College of Engineering. "From the first day she visited my office, she impressed me as a person with a clear passion for putting her knowledge to practical use in service to others."
She wanted to continue honing her skills and specialize in engineering medical devices, but she didn't have the prerequisites to get into an engineering master's program. Through the Respiratory Technologies Lab, she found the opportunity to create monitors for studying handheld nicotine delivery systems. That research would be part of a customized master's degree program that she could earn in RIT's School of Individualized Study.
 "SOIS gave me the freedom to craft a unique program of study that caters to my unique interests and skillsets," said Sarles. "I could get recommendations from professors who knew my work ethic, so I could take certain courses that I was interested."
Sarles may have lacked the foundations of engineering courses on her transcript, but she wasn't going to let that stop her. She recalled that if her class began a topic and she knew that she didn't have the foundational background, she would stay up all night and learn it or talk it over with Hensel.
"Emma has followed her passion by taking a circuitous path through her academic study at RIT," said Hensel. "I am confident she will make a positive impact on the lives of many people throughout her career."
In the future, Sarles hopes to continue research or possibly to one day teach engineering.
Meanwhile, she has already taken two Ph.D.-level courses as part of her master's degree. She is also continuing her work in the Respiratory Technologies Lab. She hopes that her work helps create a better understanding of the long-term effects of e-cigarettes.
"I'm creating technologies that contribute to scientific discoveries — and I love that," said Sarles.
Topics