Graduates part of growing Brooklyn company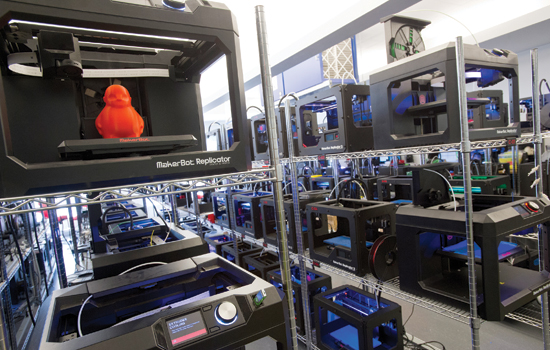 A. Sue Weisler
James Gunipero '11 (mechanical engineering technology) started at MakerBot Industries four years ago when the company had about 40 employees and was 2 years old.
Today, more than 400 people work for MakerBot, which makes desktop 3D printers and scanners and has three offices in Brooklyn. Gunipero is one of a handful of alumni who have been part of that growth.
Gunipero moved to Brooklyn after graduating and was looking for work when his parents suggested he find a hackerspace, a place where people share tools and work on collective projects, to network.
"It was awkward," Gunipero said about the visit. "But I stuck around and talked to a handful of people and two of them had worked at MakerBot and said MakerBot is right downstairs, you should totally apply."
Gunipero was hired in November 2011 to work as a customer service agent but after three months was moved to product development, where he worked on the Replicator 2 Desktop 3D printer and the Replicator 2X. As the company grew, Gunipero's job grew with it. He became a process engineer, quality manager and director of manufacturing quality.
As director, he supervises a group of about 15 people, including Tom Montagliano '04 (electrical engineering technology).
Montagliano was hired as a sustaining engineer in 2013 but moved to the position of test engineer after a week because of his background. He had worked as an engineer for MKS Instruments Inc. in Rochester and for the Centers for Detectors at RIT before moving to Brooklyn. He became the manager of the test engineering department, growing it from nothing to a group of seven.
"There was a lot of electricity in the air," Montagliano said about the time he was hired. "You could sense that something big was happening."
A month later, Montagliano hired Reginald Jean-Brice '12 (electrical/mechanical engineering technology), who applied at MakerBot after a year of working at Leviton Manufacturing in Melville, N.Y., as an applications engineer because he was looking for something more challenging.
Jean-Brice commutes one hour and 45 minutes each way from Long Island to work as an electrical design engineer.
"You learn more here in three months than you could in three years anywhere else," he said.
Mark Palmer '06 (industrial design) and Wallace Patterson '06 (new media publishing) also started elsewhere before coming to MakerBot.
Palmer worked at Symbol Technologies, which became Motorola Solutions, based in Long Island for eight years before he met someone at a party who worked for MakerBot.
Palmer got hooked on 3D printers when he was a student and has always used them in his work. Now as director of industrial design, he plays a role in steering the creative direction of the products. He works in Sunset Park, Brooklyn, in a building across the street from the factory where the products are being made.
"It's not abstract," he said. "We make the decisions here and it shows up at the factory. There's nowhere to hide."
Patterson worked in the printing industry and owned his own company for a short time before he learned about MakerBot by reading TechCrunch.
"It always stuck in my head. Every three to four months I would go on their website and look at the career postings and watch the company grow and read the news articles," he said.
In 2012, he applied and became the first sales person on the team. Today, he is a senior key account and enterprise specialist and works to establish MakerBot Innovation Centers at universities.
All are glad to be part of a company Fast Company named as one of the world's top 10 most innovative companies in consumer electronics.
Said Gunipero: "It has been exciting to have been part of the growth at MakerBot."