Group aims to bridge gender gap in tech fields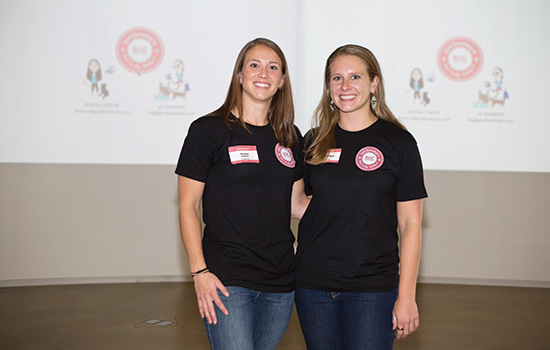 Kristen Curtze '09, '11 (new media interactive development, communication and media technologies) initially didn't think too much about the pink sticker a fellow female developer gave her at a conference in South Carolina this summer.
But after the woman explained to Curtze and college friend Liz Gombert '09 (new media design and imaging) that the sticker represented the organization Girl Develop It, they realized that Rochester could benefit from having a chapter.
"There are women who feel like they missed the tech boat a bit," said Gombert, who is a thesis away from a master's degree in graphic design at RIT and works as the lead user experience designer for Solu Technology Partners at Xerox. "This is a chance to have an organization that can introduce them in a nice, easy way that is not intimidating or overwhelming."
Rochester's Girl Develop It kicked off with a launch party in late September in RIT's Center for Media, Arts, Games, Interaction and Creativity (MAGIC). Both MAGIC and RIT's Women in Computing are supporting the organization.
The goal of the group is to help adults learn Web and software development through classes, workshops and networking. Although the organization is targeted at women who are underrepresented in the Internet technology field, men are welcome.
Curtze and Gombert hope to start introductory to basic coding and Web design classes by the end of this year. Classes could be all in one day or split up into several nights, depending on the teacher. Eventually, they will add more advanced classes and networking events.
Curtze, a Web developer who has never worked with another female in IT, said they are already hearing positive feedback from local start-ups, who think this will help the Rochester workforce get more well-rounded.
Girl Develop It has chapters in more than 35 cities across the country. For Curtze and Gombert, a local chapter is a way to give back to the community. "I know how to build products. I know how to make things work," Curtze said. "But I wanted to do something more than just making things function."
Gombert added that they realize change isn't going to happen overnight, but this organization is a good start.
"We are trying to help women get their foot in the door so the numbers can change in the next five years, the next 10 years," Gombert said. "We want them to be more confident to join the workforce in this field."