High school students learn about career options
Students learned about business, biomed and computer science careers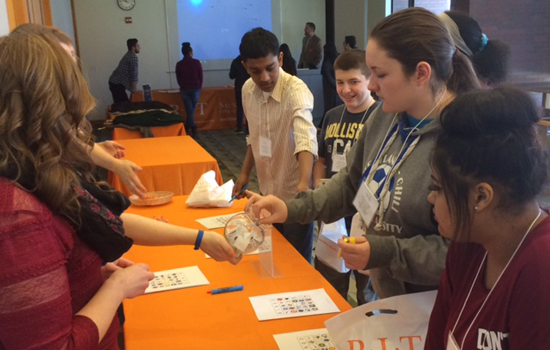 Greg Livadas
More than 100 students from area high schools came to Rochester Institute of Technology on Thursday to learn about area career options that match their interests.
The 2016 Youth Workforce Innovations Conference, hosted by RIT's University Center for Engaging K-12 and the Board of Cooperative Educational Services (BOCES), matched the students with speakers and workshops in biosciences, business management, electrical and microelectronic engineering, electrical, computer and telecom engineering technology, hospitality and tourism management, information sciences and technologies, life sciences and media sciences.
"We have an excellent partnership with BOCES to provide students with a learning opportunity of growing career fields in this region," said Chandra McKenzie, assistant provost for Academic Affairs. This was the seventh year RIT has hosted the conference.
"I got to touch a real-life human heart," said Achutha Ramesh, 15, a freshman at Pittsford-Mendon High School who took workshops in bioscience and business. "And I learned about different types of technology like artificial hearts and stent technology that help saves people's lives."
Sean Hansen, an associate professor of management information systems and director of the MBA program at RIT's Saunders College of Business, led a Jeopardy-style interactive trivia game with students, asking them to fire a Nerf gun on the wall where questions were projected to select their questions.
"It's important for adolescents and young adults to understand how the real world works and to show them the types of things we explore in a business school," Hansen said.
Meanwhile, other students were playing a bingo game with company logos instead of numbers.
"Marketing is all about selling a product or service, creating an awareness and building trust with the consumer," Kristen O'Hara, a Saunders marketing specialist, told the students playing bingo.
Briana Medina, 15, a sophomore from Rochester's Vanguard Collegiate High School, said she attended the conference because she wants to some day start her own business.
"You can start here," said Jenna Lenhardt, assistant director of student services and outreach at Saunders. "We have the No. 1 student incubator in the nation."
Roman St. Croix, 15, a sophomore at Irondequoit High School, was eager to learn more about majors in RIT's B. Thomas Golisano College of Computing and Information Sciences.
"I've always had a knack for math and science, and I want to find out more about this field and if I'd enjoy it," he said.
Keynote speaker was Scott Jonathan Bell '04 (interactive multimedia), a senior development/project manager at Xerox Corp. and technology entrepreneur.
The career fields discussed were originally identified through the Workforce Innovations Regional Economic Development project. Additional career areas have since been added.
The students also got to experience time on a college campus, including lunch at Gracie's.