High school teams get Charged Up! for 2023 FIRST Robotics Finger Lakes Regional March 17-18
University hosts 55 teams from Northeast, Canada, and Taiwan competing in game featuring energy grid challenges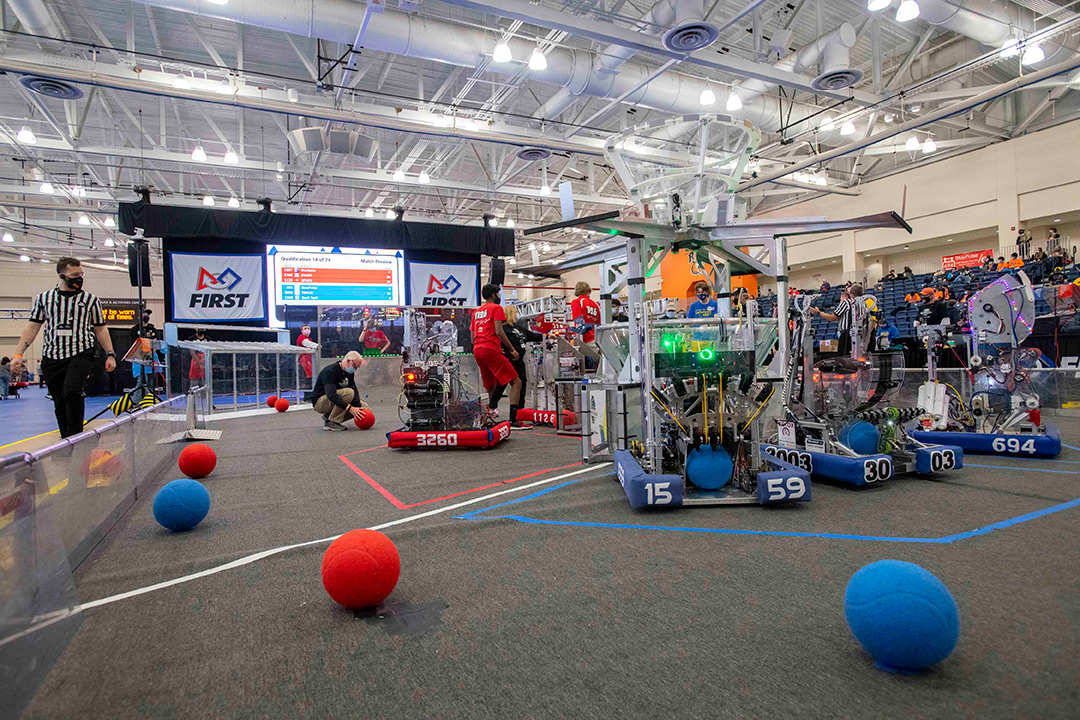 Robotics teams will take on the challenges of bringing energy to their communities in the upcoming FIRST Robotics Finger Lakes Regional competition. The annual student robotics competition opens at the Gordon Field House at Rochester Institute of Technology on Friday, March 17, and Saturday, March 18.
Brief welcome speeches take place 8:30–9 a.m. with competition rounds beginning at 9 a.m. to noon and 1 to 5 p.m. each day.
Fifty-five teams and more than 1,000 students, teachers, and mentors will gather to participate in Charged Up! the newest team game that focuses on how today's global challenges relate to sustainable energy resources and how students will need to innovate solutions to meet these challenges.
The game field includes substations and an energy grid where competitors from the team alliances bring energy to their respective communities by moving game pieces across the field.
"The competition themes and technology challenges continue to be both interesting and real tests of students' abilities to work well together and build robots to compete in this year's challenge," said Rick Bryant, Finger Lakes Regional chairperson. "Powering our future is going to take new and innovative ideas about developing alternative energy resources and applications. These are needs for our communities, but we are seeing the needs across the globe. FIRST Robotics provides an exciting way to start building the kinds of STEM skills they'll need for industries of the future—skills that become the basis for a lifetime career."
Bryant has been involved with FIRST Robotics for nearly 30 years, as event chair, judge advisor, and mentor, and has seen the event grow to include student teams from across New York state to guest teams from China, Taiwan, and Mexico. Some of the first teams involved in FIRST Robotics came from Rochester, including perennial local champions Wilson Magnet, Spencerport, and Penfield high schools.
"The students and mentors were still a part of the FIRST community and practiced gracious professionalism in light of a national challenge. Being able to have an on-site event once again is great. There is nothing like the excitement of the competitions," said Bryant '94 MS (computer science), a program manager with L3Harris' Space and Airborne Systems.
More information about the FIRST Robotics Finger Lakes Regional Competition game video and event can be found at the FIRST Update NY Region website and RIT's FIRST Robotics website.
Topics