Hospitality student receives prestigious award
RIT's Sarah Coleman recognized for strong academics, tourism industry experience and volunteer work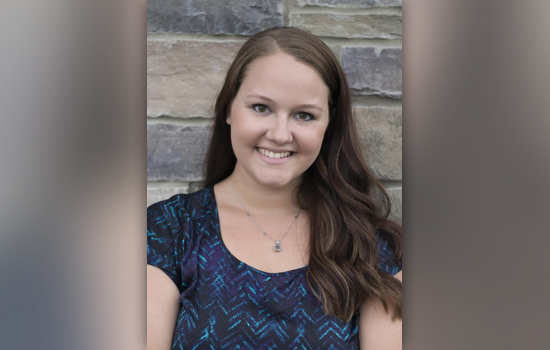 As a teenager, one of Sarah Coleman's first jobs was greeting and checking guests into the hotel her older sister managed in Rome, N.Y. That experience would become an inspiration for the career in hospitality she is now pursuing.
The third-year student at Rochester Institute of Technology will receive the Statler Foundation Scholarship for $15,000 this fall, in recognition of her strong academics while an undergraduate, and her leadership role supporting several of RIT's hospitality and tourism organizations and events, as well as a variety of work experiences in the hospitality industry.
The Statler Foundation, a Buffalo-based nonprofit organization dedicated to advancing the hotel industry and future hospitality professionals, has been a long-time supporter of RIT's international hospitality and service management program, providing support for its study abroad experiences and individual student scholarships.
"When you know they are going to choose only two scholars for the year, you know you are up against some tough competition. I was humbled just getting nominated for this. And winning was huge," said Coleman, who has combined work in hotel operations and event management with her coursework, experiences the foundation took into consideration when selecting the Waterville, N.Y. native for the scholarship.
At RIT, Coleman served as the programming director for the college's student Hospitality Association. She was both the entertainment director and dining room manager at the annual RITz Black Tie Dinner, a student-run gala hosted by the department.
"Sarah has been a strong and motivated leader starting from her first semester," said Rick Lagiewski, lecturer in CAST's School of International Hospitality and Service Innovation. "She demonstrated a great sense of maturity and professionalism that allowed her to serve as a freshman on the executive board of the Putting on the RITz black-tie fundraiser. This is why I have recommended her for several external honors knowing that she represents the hospitality and tourism program so well."
She has worked at several hotels since starting with her sister, Jessica, specifically as a guest services representative at both the Wingate by Wyndham and Home2 Suites by Hilton. Currently, she is on staff at the leasing office at Park Point, the residential and retail community located near the RIT campus.
Coleman said she is anxious to start her career and plans to graduate this May, one year early. Until then, she as a few more classes and a couple of countries she'll be visiting.
She will be spending the 2015 fall semester at RIT Croatia, one of the university's overseas campus sites in Dubrovnik, taking classes and completing research on how tourists and natives interact in a tourist setting and blogging about her field studies, she said.
"Being able to fully understand how a tourist acts and what they desire compared to what the locals want and desire will be good information to have and use in my work with people," she said.
Upon her return, Coleman plans to travel with classmates as part of the department's annual study abroad trip to Dubai and Abu Dhabi during RIT's intersession in January 2016. Over 10 days, the students meet with business leaders, general managers, human resource professionals and hospitality coordinators to discuss day-to-day operational responsibilities, academic and professional preparation required to attain leadership roles at the different properties and customer service expectations at luxury properties as well as popular leisure locations.
Both international trips will be Coleman's first outside of the U.S. "This is a way to push myself forward, to learn how to problem-solve and to study tourism in another country."