Hospitality students visit Dubai
Annual study abroad trip includes meetings with Dubai's top business and tourism managers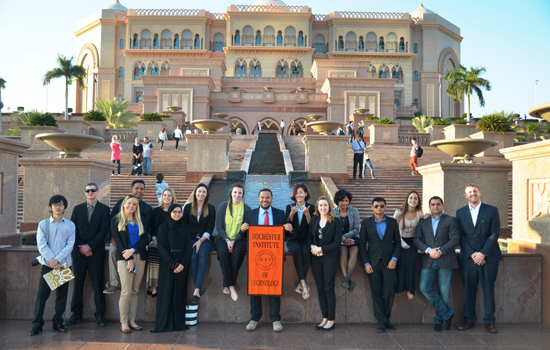 provided by Rick Lagiewski
Zack Trombley learned the importance of the "elevator speech."
During his study abroad trip with classmates to Dubai, he found himself in the elevator of luxury hotel Burj Al Arab, standing next to Heinrich Morio, the general manager. Trombley started up a conversation that he thought might make an impression on an industry leader. Instead, Morio made an impression on Trombley that would change the course of his goals to work in international hospitality.
After some small talk about his classes, impressions of Dubai and hotel experience, Morio asked Trombley if he spoke any different languages. Unfortunately, he answered, he did not, and heard from the general manager of how that is the edge in international tourism.
"It was something I had not seriously considered before this, but that changed for me on this trip. I was determined to learn another language and changed my minor to Chinese immersion," said the second-year hospitality major from North Adams, Mass.
Trombley was one of 14 students who traveled during RIT's intersession in January to Dubai and Abu Dhabi, an annual trip led by faculty member Rick Lagiewski from RIT's School of International Hospitality and Service Innovation to meet general mangers of some of the top hotels, businesses and tourist destinations in the United Arab Emirates. It is a chance to learn from leaders about how to manage one's self before managing one of the top hotels in the luxury business.
Over 10 days, the students toured prominent hotels, such as the Emirates Palace, regional business centers, as well as popular tourist destinations. Meeting with the general managers of each of the locations, the students learned how the properties were developed, the connections to international corporations and their financial impact on the region, and each company's approach to providing exceptional customer service.
"The hospitality industry is not an easy one. You need patience and experience; you have to listen and observe," said Ruobing Kong, a hospitality and tourism graduate student from China. The sophisticated real estate development in the region impressed him and his classmates almost as much as the Ski Dubai facility. "It was my first time skiing and snowboarding," he said.
For some students, it was their first time out of the country. This year, more than half of the student-travelers were from international countries, such as China and Saudi Arabia. Only a handful had been to Dubai before but chose to go for the access to professional leaders and a behind-the-scenes look at a world-class destination.
"It was on my bucket list to see Dubai," said Zelma Collazo, a fourth-year student from Puerto Rico. "It was my first 14-hour plane ride. But we saw anything and everything in 10 days."
Travel also includes cultural experiences—from visiting the souks, or marketplaces among the communities, to learning more about the region's religions, arts, business community and sports. Upon their return, the students presented their travel impressions to CAST classmates, as well as faculty and staff.
Students prepare for their trip through a semester-long course that focuses on the culture, history and development of tourism in the United Arab Emirates, said Lagiewski. "I find that students often complain about having to do so much reading and writing prior to the trip. However they always tell me afterwards that their trip was much more rewarding having had a deeper understanding of the country and tourism sector before going."
The meetings, "inside access" and hospitality provided at some of the world's most iconic tourism sites has been a culmination of Lagiewski's visits to Dubai since 2006.
"I was very fortunate to be sent to Dubai in 2006 at the height of the building boom for a resort symposium. There I stayed with the family of one my former students, Nadine Habayeb. Her father, Nabil, was the head of General Electric in the Middle East and Africa and provided me the initial introductions to industry leaders in the region that have grown into today's cadre of speakers and hosts for this course."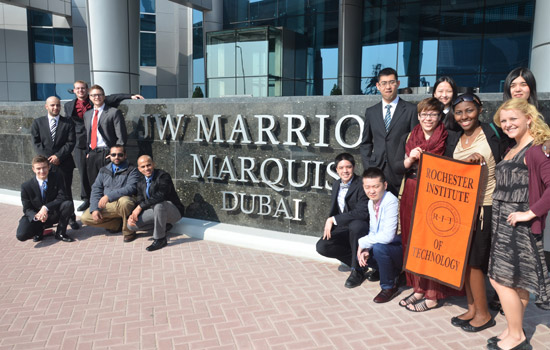 provided by Rick Lagiewski