Hundreds take part in Kids on Campus summer camps
Twenty tech camps offered to fifth to 12th graders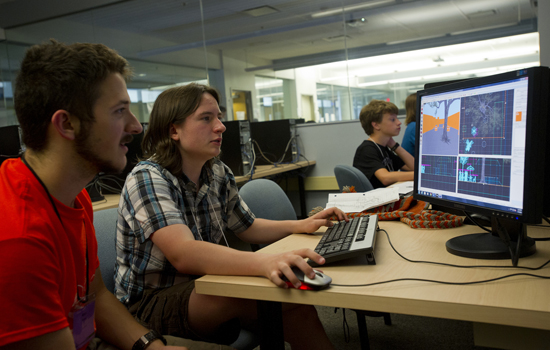 A. Sue Weisler
It may be summer, but some 870 students in grades 5 through 12 are spending part of their vacation in classrooms on the Rochester Institute of Technology campus this month.
They're enrolled in a one- or two-week workshop learning about computer technology, digital arts, videography and more, working with the same software and technology that RIT students use.
In its 32nd year, Kids on Campus offers 20 workshops that will not only interest and engage students but also offer subjects focused on potential demands for careers offered in those fields.
"We're all about inspiring the students and helping them think how the skills they learn here can lead into a career," said Rose Khan, program coordinator.
The sessions are taught by RIT faculty, graduates or current undergraduates.
One instructor is Mitch Dehond, 19, of Gates, N.Y. He's currently an industrial design major who plans to graduate in 2018. He attended Kids on Campus for seven years before enrolling at RIT.
"My mother saw the summer classes were being offered and thought they'd be a good fit for me," Dehond said. "Now, I see the students in my class and they're just a few years younger than I am."
Chandra McKenzie, assistant provost for Academic Affairs, said this camp gives students something academic to do in the summer where they can learn and have fun.
"We have some technology expertise here and there's a definite market for it," McKenzie said. "Equally as important, it allows us to build relationships with students and their parents in the community to give them a chance to experience RIT before they are college age."
McKenzie said the subjects of the camps are always changing to meet the interests of students and future demands in the job force. This year, in addition to the very popular computing and coding classes, digital arts classes, video production, 3D digital graphics classes and traditional art classes were offered, "not necessarily things you'd expect at traditional tech workshops," she said.
They're also working on circuit boards, creating apps and building websites.
And the students are given time each day to socialize with other campers during activities including Quidditch, kickball and swimming.
"I think it's important for RIT to open its doors to kids who want to explore these skills and topics," McKenzie said. "There are very few other places in this region that offer the opportunity for these experiences."
Nolan Morris, 11, of Perinton, N.Y., enrolled in an app class after hearing good things about Kids on Campus from a friend who attended last year.
"I like it a lot. And I'm learning a lot," he said after his third day, making a computer game. He said he plans to work with computers for his career.
"He's already taking computers apart. He wants to learn and he was interested in coming, so we signed him up," said his father, John Morris.