Ice rink reconfigured for dining, studying, and socializing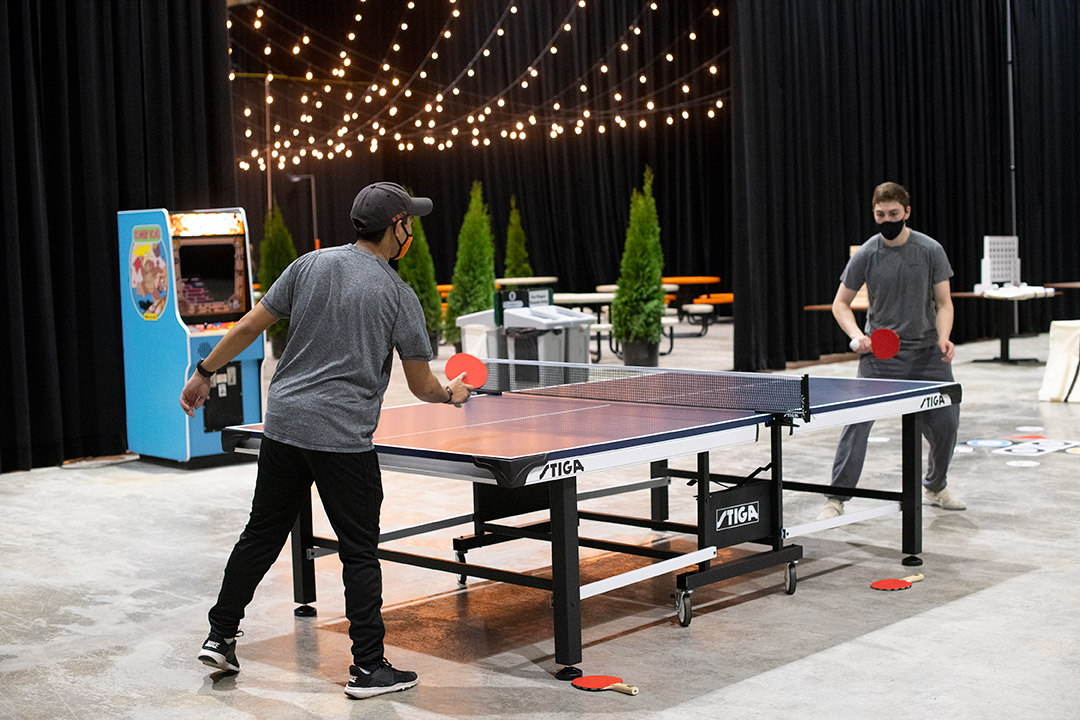 A. Sue Weisler
Reimagining the Frank Ritter Ice Arena as a student center during the COVID-19 pandemic has transformed a typically chilly building into a place where students can drop in between classes and after hours to study, eat, and relax.
Seating in the rink area, along the perimeter and the mezzanine will give students options for quiet or more social spaces. Tall drapery is used to section off different "rooms" on the rink floor—a lounge/dining area, stage, large study space, and gaming area. Plants, lighting, and new furniture create a comfortable environment that also reinforces safe social distancing protocols. RIT Dining and food trucks will also offer students dining options.
"President Munson and Dr. Watters urged us to see what we could do with Ritter," said Howard Ward, RIT associate vice president of Auxiliary Services. "With drapery we've been able to take this box and create different venues for students."
Input from Student Government helped customize the space, with video games, pinball machines, and cornhole boards for playing the popular beanbag toss game. In the warmer weather, the Ritter space will extend to outdoor dining and lounge areas.
While COVID alert levels will determine seating capacity in the different student spaces within Ritter Arena, Ward anticipates a steady stream of students coming and going throughout the day.
"We want to draw students to Ritter," Ward said. "We hope students will enjoy what we've been able to do."
Students can check hours of operation and COVID capacity for Ritter Arena on RIT Campus Map.