IdeaLab, RRHS partner to solve healthcare issues
Student teams devise some workable concepts that will be further developed in RIT's 'IdeaMake'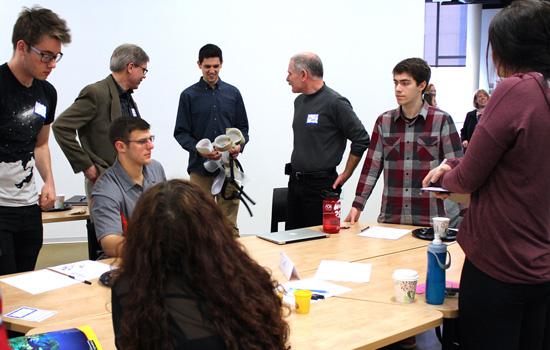 Katelyn Block
The spring IdeaLab@RIT featured a two-day brainstorming marathon where four teams of Rochester Institute of Technology students and their coaches had a common goal—to work on problem-solving solutions for Rochester Regional Health System.
Below are their solutions to the following problems identified by RRHS:
Urgent Care Efficiency: Team recommended several changes to streamline check in and reduce wait time with smartphone and kiosk access.
Stroke Patient Body Position Correction: Team devised high- and low-tech solutions including a prototype vest with a sensor that would warn the patient favoring a body side with an audible or vibrational device.
Bi-Directional Interpreting Solutions: Team proposed a training kiosk for patients new to the U.S. medical system to pre-screen and reduce the uncertainty of the process for patients.
Custom Ankle-Foot Orthosis: Team offered multiple prototype designs personalized for patients at various phases of their rehabilitation.
According to Dana Wolcott, innovation coach at RIT's Simone Center for Student Innovation and Entrepreneurship, IdeaLab is both an interdisciplinary and collaborative effort involving 30 RIT students in fields such as health sciences, technology, business, engineering, computing and industrial design.
"The healthcare idea lab is a valuable experience for our students in that they get hands-on experience in solving real-world challenges for our alliance partner," said Cynthia Gray, assistant vice president, RIT and RRHS Alliance and Institute of Health Sciences and Technology. "It is also an excellent way for our Rochester Regional partners to witness the high caliber of our students as these interdisciplinary teams use their expertise, innovation and creativity to develop solutions that could ultimately impact the cost, quality and safety of delivering care."
According to Richard DeMartino, endowed chair and director of the Simone Center, after a project is conceptualized and in prototype form, students continue to work on it the following semester in the next stage called IdeaMake.
"That's where it can be tested for functionality to see if it's a viable business," said DeMartino. "At that point the business plan, marketing and distribution channels come into play. The goal is to turn the student ideas into commercialized opportunities."
Related Video: In a previous IdeaLab, students worked to solve a blood transportation issue for RRHS. See the video at http://bit.ly/RITIdeaLab.
Topics