Imaging science student promotes photonics funding
Amanda Ziemann attended national conferences, won best student poster award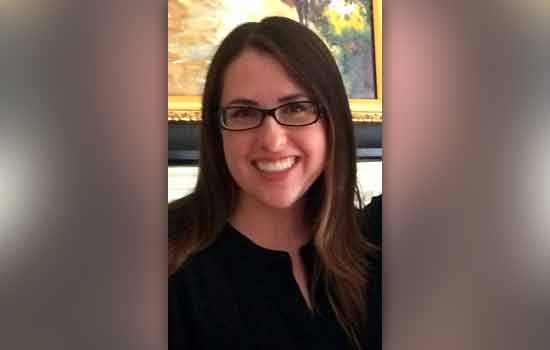 Rochester Institute of Technology graduate student Amanda Ziemann participated in the National Photonics Initiative Congressional Visits Day in Washington, D.C., on May 9 to promote government funding and investment in photonics-driven technology critical to the nation's competitiveness and security.
Ziemann, a Ph.D. student at RIT's Chester F. Carlson Center for Imaging Science and native of Getzville, N.Y., and a resident of South Burlington, Vt., represented the professional organization SPIE (the International Society for Optics and Photonics) in support of the National Photonics Initiative, an alliance of industry, academia and government. The initiative lobbies to develop photonics—or scientific applications using light—in advanced manufacturing, communications and information technology, defense and national security, energy and health and medicine.
The congressional visit coincided with the SPIE annual conference in Baltimore on May 5–9, where Ziemann presented her paper, "Hyperspectral target detection using graph theory models and manifold geometry via an adaptive implementation of locally linear embedding." She spent the day following her presentation meeting with congressional staffers representing Vermont, Maryland and New Mexico with SPIE members from the National Oceanic and Atmospheric Administration and a defense contractor from Albuquerque, N.M.
"In participating in the congressional visits, I provided the perspective of current STEM graduate students that will be entering the photonics workforce," said Ziemann, who expects to graduate in May 2015. "My graduate research is funded through the Department of Defense, and one of our concerns moving forward is the decrease in government allocated funding for academic research. There is a well-documented graying of the scientific and technical workforce in the aerospace community, and without stable academic funding the U.S. will continue to fall behind in these areas."
SPIE leadership invited Ziemann on the congressional visit at the suggestion of David Messinger, the director of the Digital Imaging and Remote Sensing Laboratory at RIT's Center for Imaging Science.
"Amanda's research is helping to develop and implement the next generation of approaches to how we analyze these complex data sets," Messinger said. "Interestingly, because of the nature of the data and her approaches, we may ultimately be able to use these methods in other areas besides imaging. Her work in this area only further underscores the need for the development of the next generation of scientists and engineers in these fields related to optics and imaging."
Earlier this spring, Ziemann also attended a U.S. Department of Energy Conference on Data Analysis in Sante Fe, N.M., March 5–7, where she won first prize in the Statistics in Defense and National Security student poster award and $400 for her research, "Using Graph Theory Models and Manifold Learning to Analyze Cluttered Hyperspectral Scenes."
"My research focuses on applying advanced mathematical concepts, taken from the fields of data mining and computational graph theory, to analyze complex imagery," Ziemann said. "This imagery can be collected from airborne platforms or satellites and is called 'hyperspectral imaging'—images collected not in three colors, such as red, green and blue, but in hundreds of colors. The sensors that collect these images capture information beyond what the human eye can see, allowing researchers to better differentiate materials within the scene for applications including mapping natural disasters, tracking the spread of diseased crops and monitoring urban development."
The Statistical Sciences Group at Los Alamos National Laboratory hosted the conference highlighting collaborative research conducted by scientists, statisticians and data analysts across the Department of Energy. Topics included data-intensive applied science, uncertainty quantification, national security, big data and exascale computing, energy and the environment, and signature discovery.