Information Regarding Credits and Refunds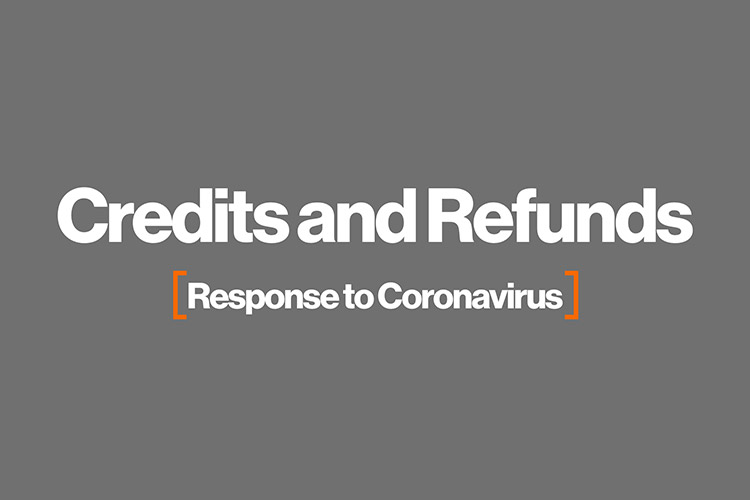 There are many consequences to this global pandemic and a confluence of challenges. With this in mind, RIT has developed a student account adjustment process and guidelines relating to the impact of COVID-19. Please be patient as we work through the details of this complex process that must be reviewed for each student.
Below is information regarding Housing, Meal Plans, and Parking credit. Please note, Housing and Meal Plan expenses are included in a student's financial aid determination. Potential credit for these services will be adjusted by the need-based financial aid provided to students. Students will receive a separate communication from the Office of Student Financial Services outlining the impact on their individual student accounts and the next steps necessary to complete refund/credit processes.
See information below about an established Call Center dedicated to your questions. Not all situations can be detailed here. We are aware of exceptions and special circumstances and will address them in a timely fashion.
Housing
RIT will issue a credit to the Student Account for those students who live in university-owned housing based upon the following schedule:
Checkout by April 5—credit of 50% of the Housing charge for the Spring term. For information about the checkout process go to: https://mylife.rit.edu
Note: Students who have checked out but left belongings, will also be issued a credit.
Credit for these services will be adjusted by the need-based financial aid provided to students.
Meal Plans
For students who have RIT meal plans, RIT will issue a credit to the Student Account based on the following:
50% of the meals/meal exchanges plan you selected.
The actual remaining balance of the students' Dining Dollars for Spring semester.
Credit for these services will be adjusted by the need-based financial aid provided to students.
Parking
With the variety of parking plans offered, RIT will provide a pro-rated credit to the Student Account for student parking permits.
Refunds
The available refundable amount of these credits will be calculated for each student, taking into consideration all other activity on the Student Account—both payments and credits. 
Students will have the option to request a refund if applicable or leave the credit on their Student Account, with an additional 15% institutional contribution, which will be applied to charges for the 2020-2021 fall semester. For those returning students (Fall 2020) who wish to apply the credit on their student account, the additional contribution will be 15% of the pro-rated refund up to a maximum of $500.
For students who wish to receive a cash refund, RIT will process checks or Automated Clearing House (ACH payments ) — if set up — to individual student bank accounts. To expedite receipt of refunds, students are encouraged to sign up for direct deposit in eServices. Students who plan to receive their refund via check should update their address in SIS to ensure that checks are mailed to the appropriate, current residence.
To maintain academic continuity and progress toward degrees, RIT is delivering courses via alternative delivery modes.  Because academic courses are available, and we are past the tuition refund policy due date, the university will not be adjusting tuition and required fees which fund instruction and support of the university's academic mission.
Call Center Activated and RIT Coronavirus website
A Call Center is available to answer your questions. The Call Center number is 585-475-3500 or 1-833-323-0002. It will be open from 9 a.m. – 9 p.m. EST, seven days per week.
Additionally, a dedicated email address is available at coronavirusresponse@rit.edu.
A set of Frequently Asked Questions is also available at our dedicated RIT Coronavirus website.
Federal government legislation related to COVID-19 Relief
Congress is currently considering legislation that may provide some relief to students and institutions impacted by COVID-19, and which may provide support for students living in off-campus housing. RIT is actively engaged in advocacy efforts on this legislation on your behalf. We urge you to contact your Federal representatives to ask them to include relief for students in this legislation.
(A sign language interpreted version of this message is available on YouTube.)