Innovation Square invites college students to downtown living
RIT students among the first to occupy downtown's repurposed high-rise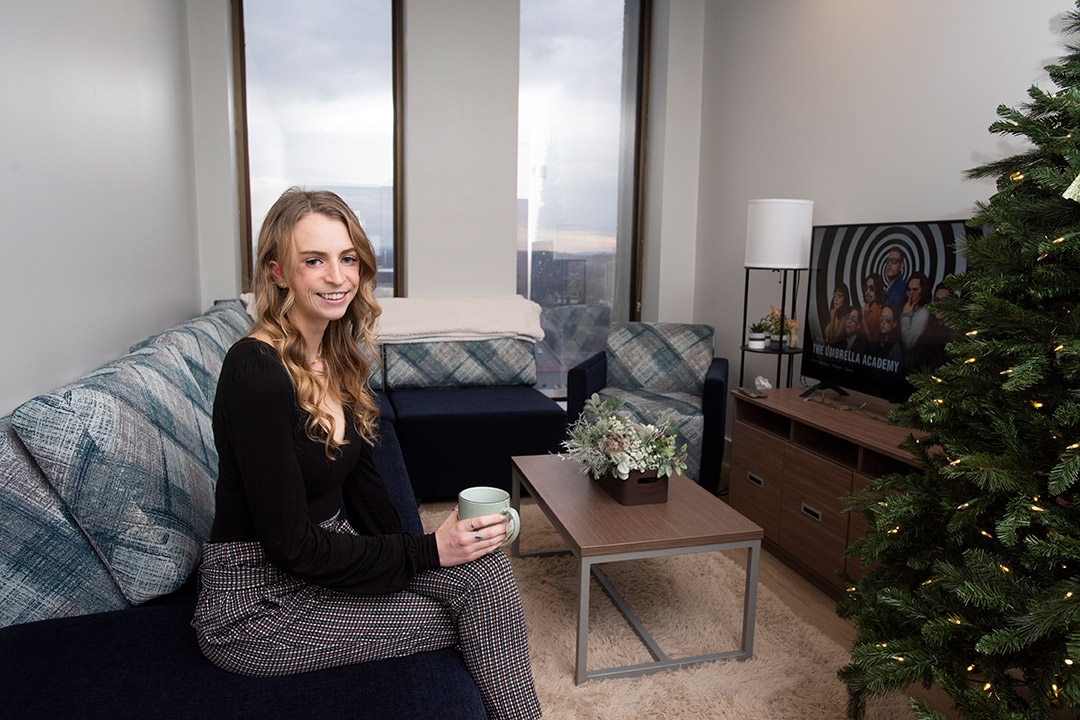 Some communities are known as college towns, but developers are hoping downtown Rochester becomes a college city, as they offer high-rise housing for students from several area colleges, including Rochester Institute of Technology.
At 443-feet tall with 30 floors, Innovation Square, formerly Xerox Tower at 100 S. Clinton Ave., is the tallest building in Rochester.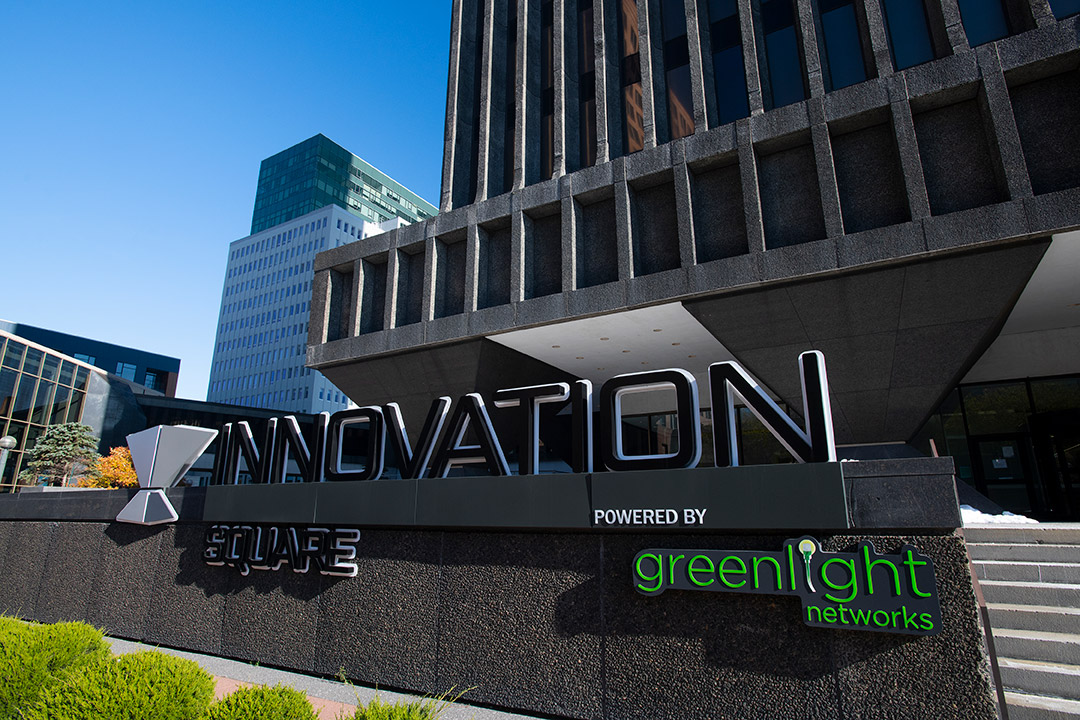 A. Sue Weisler
Evan Gallina, manager for Gallina Development Corporation, which purchased the building in September 2020, wants college students eager for an urban lifestyle to occupy a good portion of the building, allowing them to meet others their age and live close to where they may find employment.
"This was always the intention when we bought this building," Gallina said.
Innovation Square currently has five floors of housing, each with a dozen two- and three-bedroom apartments. Most of the apartments are already occupied with 112 students.
There's plenty of construction going on in and around the building – it's been on a slower pace than Gallina would have liked due to supply chain issues. But they are making progress and plan to have 15 floors of student housing ready for the start of the 2022 fall semester.
"We're hoping to have 450 students here by then. That's our aim," Gallina said. "We're targeting upperclassmen and graduate students."
All of the apartments are fully furnished, which make them an attractive option for students wanting to live off campus, especially for international students.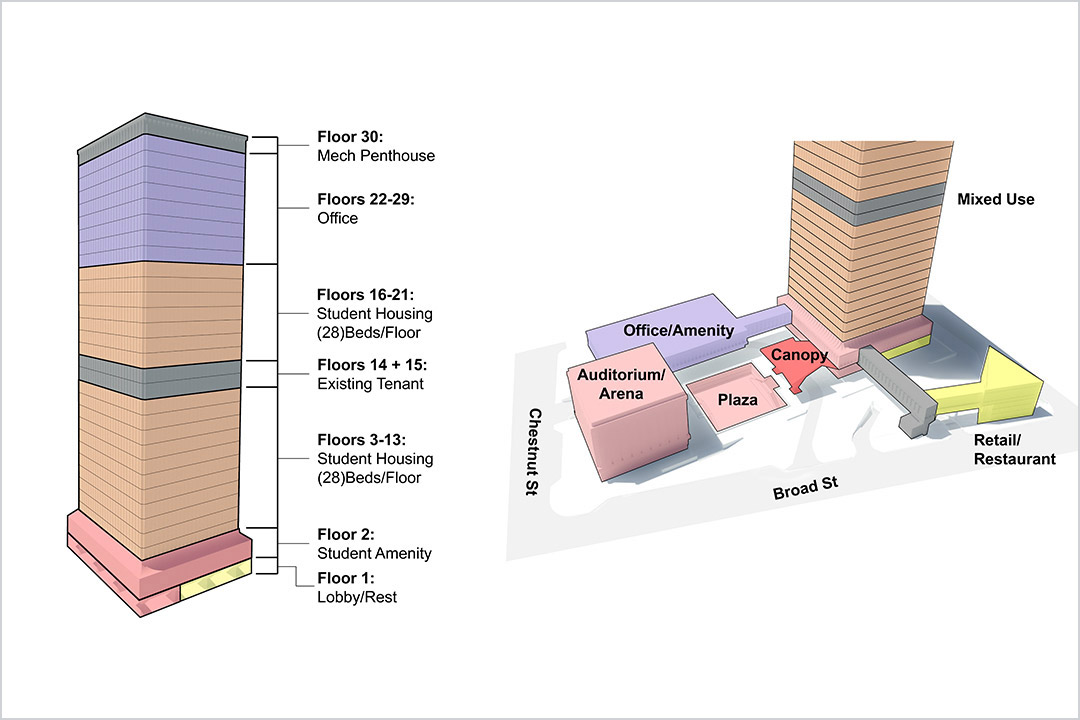 Although similar projects have been done in other cities by a single, large university offering urban housing, Gallina said this project is unique in that it will engage students primarily from six area colleges: RIT, University of Rochester, St. John Fisher, Nazareth, SUNY Brockport, and SUNY Geneseo.
"This really promotes collaboration and it's important to have diverse approaches for student projects," he said. "We're calling it a creative academic collision. You could have an engineering student from RIT working with a UR student in business working with a Nazareth student in marketing."
Amenities include 24-hour security, a café, 24-hour fitness center, a 24-hour lounge with pool tables, shuffleboard, and large-screen televisions. And there are plans for a gaming lounge on the 22nd floor.
The property's former skating rink is being transformed into a sunken outdoor lounge, where yoga classes can be held to promote calmness in the heart of the city.
There is easy access to bus lines and an underground parking garage is offered for residents with cars.
An accounting firm occupies two floors of the building, and Gallina said there are several prospects for other business to move there. The built-in proximity to hundreds of students, many who will be looking for work, is one incentive for the businesses, he said.
Heidi Zimmer-Meyer, president of the Rochester Downtown Development Corporation, said Innovation Square is unique in two ways: the fact that they are looking into collaboration among students from various colleges, and the entrepreneurship element on site.
By the numbers
Facts about downtown Rochester:
48,000 people worked downtown prior to COVID. Many remain working at home.
There are currently 8,860 residents living downtown.
52 downtown commercial buildings are being or have been converted to residential and mixed-use since 2000, and 13 new residential projects have been built.
Eight business incubators and accelerators have 99 businesses operating on-site.
$2.5 billion has been invested in downtown since 2000.
$750 million in projects were planned, underway or completed in 2021.
$50 million from the state is being used for a dozen brick and mortar ROC the Riverway projects.
"Innovation Square is right in the middle of the Downtown Innovation Zone. The opportunities for a co-op or a permanent job on the other end is very direct," she said.
RIT President David Munson toured Innovation Square in November with other area college presidents.
"This concept is an outstanding opportunity for students wanting a more urban lifestyle and will easily enable collaborating with students from other colleges," Munson said. He said RIT students were surveyed about this concept, and more than 2,000 responded with a very high level of interest.
"More than half of our students live off campus already, but it's generally in apartments near campus," he said. "We have students from major cities and they'd probably be even more comfortable living downtown."
There has been a 35 percent increase in full-time enrollment at RIT's main campus since 2000, including record enrollment this year. Some 6,800 students live in RIT-owned housing, while more than 8,000 students live off campus.
Emma Foster was one of the first RIT students to move in to Innovation Square at the end of August. It is the first off-campus apartment the fourth-year interior design major from Amherst, Maine, has had.
"It's quite the treat," Foster said. "I honestly didn't even come to downtown before now. You can live anywhere off campus you want, but this is only for students. There are quite a few international students who have been awesome who live here now, and I've made some friends. If didn't live here, I wouldn't have made any friends from other colleges."
Foster and her roommate split the $1,800 monthly rent, which includes utilities.
"With the security and all the amenities they offer, I would say it's worth it," she said.
She's explored the numerous stores, parks, and restaurants within walking distance and enjoys doing her homework at nearby coffee shops.
"Bite Rochester (restaurant) just opened up," she said. "It has really cool vibes and is attached so we don't have to go outside."
With more companies opening in downtown, urban housing is an attractive option for students getting co-ops to work for them, and the access to a talent pool of potential workers is also an attraction for companies. Innovation Square hosted a job fair in September, with 10 companies seeking co-op or permanent employees. Gallina said about 500 students from area colleges attended, and about a dozen were hired as a result.
"It appears there's proof of our concept," he said.
Gallina foresees having classes for students in Innovation Square at some point.
"What if there's a photography class on urban landscapes? We could have it here and utilize the assets we already have," he said.
And Gallina believes getting younger people engaged in downtown activities will help the city's urban revival, as well as encourage more of them to stay in the region after they graduate.
"Everyone talks about the brain drain in Rochester, graduating students leaving the area," Gallina said. "I think we have a great thing going for us that will help with that problem. People want to be downtown where things are happening. They discover things to do and the parks and fall in love with the area and that gets people to stay."
Robert Duffy '93 (applied arts and sciences), president and CEO of the Greater Rochester Chamber of Commerce, agrees.
"Our young students are our future," Duffy said. "Their energy coming downtown, they are going to stop in restaurants and go to concerts. They may look to Rochester to stay once they have that connection to the city, experience the vibe downtown and the things we have here, and they are afforded opportunities. We're hoping more and more grads decide to stay here and keep that talent in Rochester."
Duffy said there have been discussions about colleges bringing students downtown for years, but this is the first manifestation of that.
"A lot of great things are happening downtown," he said. "You have corporate headquarters moving in, there's an increase of business in the former Sibley Building on Main Street. These are all huge game changers for downtown. You can start to see a change happening already before your very eyes. And taking a mostly empty Xerox Tower and making it a hub of education and innovation and growth, it's going to be very exciting to watch."
Duffy predicts when Innovation Square is fully developed, "it will be like a five-star hotel, knowing the Gallinas," he said. "I think students will be fighting to get rooms there at some point. I guarantee you, in two or three years, they will be turning students away. It will be at capacity."
Topics