International students flock to RIT
RIT's International Student Services helps them adjust to the U.S. with advice, activities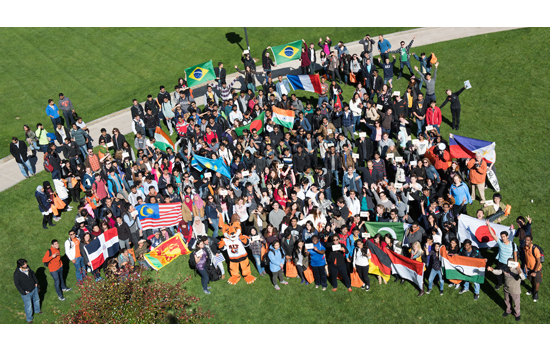 Lloyd McCullough
Rochester Institute of Technology continues to have a global impact as it welcomes a record 2,635 international students from 102 foreign countries to its Rochester campus this fall.
The foreign countries represented by the most RIT students in Rochester this year are India (1,259), China (409), Saudi Arabia (151), Brazil (101), Dominican Republic (88) and Canada (82).
On Friday, hundreds of international students gathered on the Kodak Quad to have a group photo. Many stood behind flags from their country and posed with Ritchie, the RIT mascot.
"I like it. It's really great here, and the campus is 10 times bigger than RIT Dubai," said Prince Rex, an electrical engineering major from United Arab Emirates.
"It's very cool here," said Marit Ouwehand, a sign language interpreting student from The Netherlands. "And the campus is really big."
RIT's International Student Services works closely with Global Union and several international student clubs. The staff helps international students on campus adjust to life in the United States, offers advice on immigration and employment and plans numerous social activities throughout the year to make students feel welcome and at home, said Susan Joseph, program coordinator.
Off-campus programs are often run with the RIT English Language Center as well as with Rochester Global Connections, she said.