It's all fun and games for designer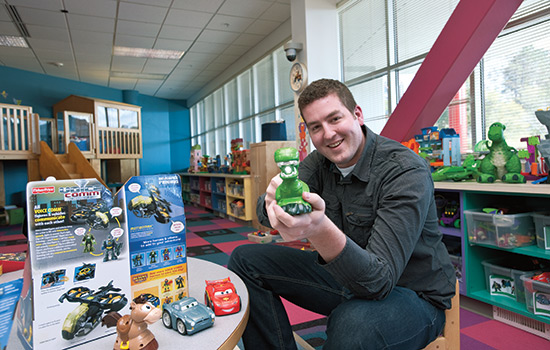 A. Sue Weisler
Next time you're in the toy aisle, you might see packages designed by an RIT alumnus.
Nicholas Langswager '12 (graphic design) started working at Fisher-Price Inc. in East Aurora, N.Y., full time in March. He was offered the job after working there as a student last summer in content design and this fall and winter in packaging design.
Langswager designs packages for toys and battery-operated vehicles for kids and illustrations in instruction manuals. "I have always loved toys and it seemed like the perfect fit for me," Langswager says.
Irma Tyszko, a recruiter with Fisher-Price, says the company employs between 60 and 80 students from various universities, depending on the time of year. Fisher-Price has had a relationship with RIT for at least 10 years.
"We wish we could hire every student," says Jan Brown, manager of recruitment. "If we can't hire them, we know the experience they get here will help them land a job somewhere else."