Jade Myers recognized as recipient of 2023 Bruce R. James '64 Distinguished Public Service Award
Work locally and internationally in prosthetic designs helps to improve lives of those in need of mobility and accessibility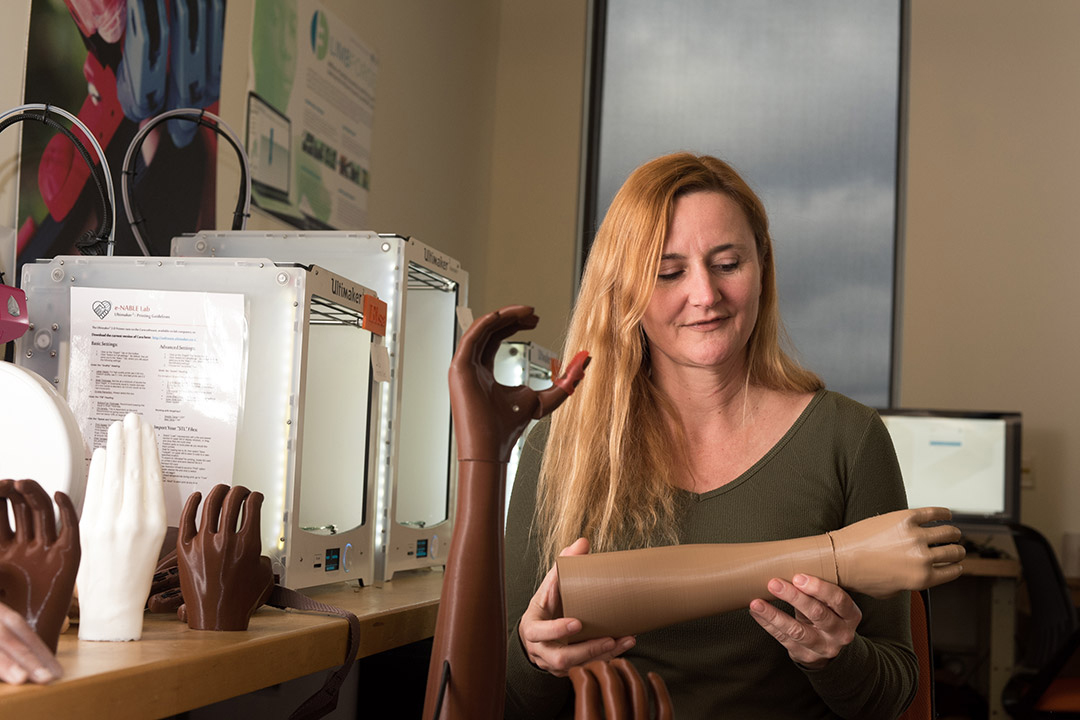 Prosthetic devices can be symbolic of loss or they can represent challenges being overcome.
Jade Myers' focus on designing prosthetics for individuals who have lost limbs is a way to give them the second chance that can make all the difference in the world.
For this life-changing work, Myers, a mechanical and industrial engineering doctoral student in RIT's Kate Gleason College of Engineering, was honored with the 2023 Bruce R. James '64 Distinguished Public Service Award.
Given annually to an RIT student for their extensive commitment to public service at the university and in the wider community, Myers' international experiences years ago left an impression that continues to inspire her work today as a researcher, mentor, advocate, and teacher.
When Myers started at RIT, she was part of a nonprofit health organization associated with the university helping clinicians in Haiti after a devastating earthquake in 2010. Work entailed adding 3D-printed prostheses into their practice. She helped refugees, including Danie, a young woman who lost her arm at that time, and saw the young woman encountering hardships and socio-cultural stigma in her community because of her amputation.
"Danie inspired me. In Haiti it is very hard for a person to not only afford a prosthesis, but to get to a clinic. Some people are spending the night outside of the clinic waiting for them to create this device that takes several days for them to make," Myers said. "The faster it happens, the sooner people like Danie can have the opportunity to wear these. It not only impacts them—it can have a ripple effect on families and their opportunities too."
The two have remained in contact, now co-designing devices together. Visiting on several occasions over the years, Myers has seen her friend re-build her life.
"I have had the opportunity to see with my own eyes what a real difference it has potential to make for people," she said. "I can never imagine doing anything else with my life."
Myers' work extends beyond Haiti.
With her international connections, Myers helped provide both research and co-op experiences at medical facilities and other nonprofits to several RIT undergraduates. She also became involved with international organization Doctors Without Borders—advising them on prosthetic/3D printing related to humanitarian work in Jordan and Haiti—and, as a member of the International Society for Prosthetics and Orthotics, she serves on the U.S. research branch of its research board.
Myers is also a teacher and mentor. Her friends and colleagues describe her as selfless and passionate. 
Before beginning her doctoral studies, she started a new special topics credit course on designing and building prosthetics. Her mentorship work extends to community college students as well as those in undergraduate programs at RIT, including with campus project teams.
Outside of the university she has taken a special interest in the Rochester community where she has involved students at the Vertus High School, a local school that aims to provide educational opportunities for young men of color, and encourage those same students to understand the many ways 3D printing is being used in various industries. Myers has also been sought out locally by the various veterans organizations in the region to develop assistive devices necessary to those here at home.
In her award nomination she stated, "What can I say, I love what I have had the opportunity to learn and I am excited to share it with others — the more people with an education in the field, the great positive impact we can all have together."
Myers expects to graduate with her doctoral degree in 2023. Standing ready to receive her Ph.D. is not only a personal milestone, it is part of a personal aim to continue helping others. Myers has not forgotten the journey to get there – some of it harrowing and much of it hopeful and affirming.
The Bruce R. James '64 Distinguished Public Service Award was established by Alfred L. Davis, university vice president emeritus. His aim was to commemorate the distinguished public service of Bruce James, alumnus and chairman emeritus of the RIT Board of Trustees who served from 2002-2005. He is best known for his business acumen, leadership, philanthropy, and community service, as well as his distinguished role as the 24th Public Printer of the United States and CEO of the U.S. Government Printing Office.
Topics