Jo Ellen Pinkham to lead RIT human resources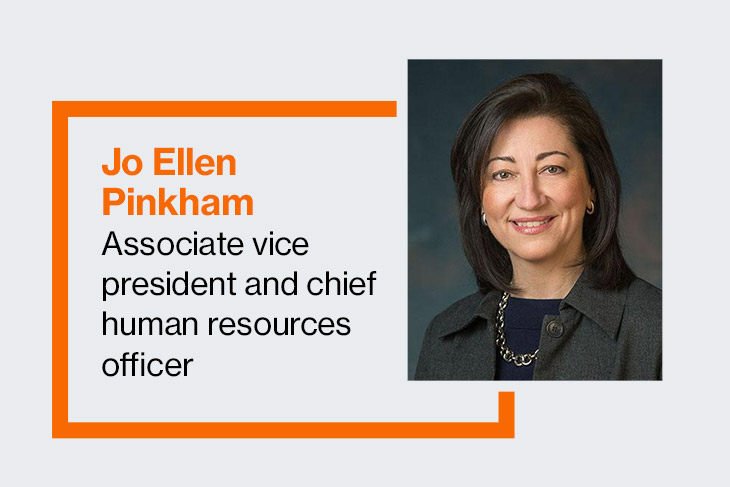 Jo Ellen Pinkham has been named associate vice president and chief human resource officer at Rochester Institute of Technology. She will join the university in August.
Pinkham comes to RIT from Nazareth College. She most recently served as associate to the president and coordinated Nazareth's presidential search, COVID-19 response and fall planning task force.
"Jo Ellen is highly regarded among human resource professionals in the region and will lend RIT a new perspective as we move forward," said James Watters, RIT senior vice president of Finance and Administration.
Pinkham joined Nazareth in 2007 as associate vice president for human resources. Prior to transitioning to higher education, she held leadership positions at HR Works Inc., Constellation Brands Inc. and Mercer Consulting.
"I've run HR in an educational setting for 12 years, and I'm committed to the idea of collaborative planning and decision making, and the shared governance model," Pinkham said. "It's a powerful institutional construct."
Pinkham is also passionate about talent development across the university and working collaboratively to enhance programming related to diversity and inclusion. The creative element in human resources appeals to her most.
"To me, human resources is an opportunity to put in place structures, systems and programs that improve the organization as a whole and allow individual faculty and staff to focus on their work and function well in their jobs."
Pinkham sits on the Common Ground Health Board of Directors and is a member of the audit committee. She is a former board member for the Mary Cariola Children's Center. She was a finalist for the 2014 executive of the year award from the National Human Resources Association's Rochester chapter.
Pinkham holds an MBA with a concentration in human resource management from University at Buffalo and a BA with a concentration in music from Hamilton College.
She lives in Pittsford with her husband, Tom, and sons Thomas and Andrew. Pinkham, a flute player, performs with the Perinton Community Concert Band and the Eastman Music Educators' Wind Ensemble.
Pinkham replaces Judy Bender, who is retiring from RIT after nine years of service.
Watters noted Bender's positive influence helped shape RIT's work environment. "We will miss Judy's dedication to RIT and her commitment to making the university a great place to work," Watters said. "We wish her the best in her retirement."