Jugglers convene for 40th Spring Juggle-In
Free workshops and shows for beginners to pros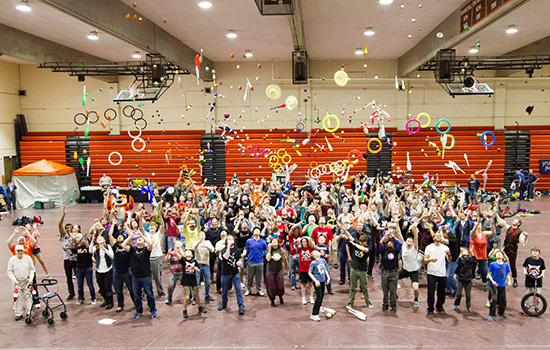 Jason Paul
More than 700 jugglers from beginners to world champions are expected on the Rochester Institute of Technology campus this weekend to celebrate the 40th annual RIT Spring Juggle-In.
"It's the largest gathering of jugglers in the area each year," said Jeff Peden, the event coordinator.
Events begin Friday with "The Big Open" at 9 p.m. in Clark Gym, which includes free entertainment and "hard-core juggling and other amazing acts," Peden said.
A free family show will begin at 10:30 a.m. Saturday in Clark Gym.
Workshops for beginners through experts will be offered Saturday starting at 11:30 a.m. in the Clark Gym. They, too, are free and open to the public. No registration is required.
At 2 p.m. Saturday, juggling games will begin in Clark Gym. They include competitions such as seeing how long you can juggle with your eyes closed, juggling quarters, five balls, or the best trick of the convention. Show up to enter or watch.
At 7:30 p.m. Saturday, the public show will be held in Ingle Auditorium. This year's acts include three professional international jugglers, Patrik Elmnert, Tony Pezzo and Wes Peden, who will perform "Water on Mars," a new circus performance which promises tricks as physical as break dance and as stylized as Japanese pop art.
Tickets for the Saturday night show are free for RIT students, $15 for RIT faculty, staff and alumni, and $20 for the public. Tickets can be purchased in advance at www.rittickets.com or on the day of the show in Clark Gym, while supplies last. The show is routinely sold out.
Free workshops continue Sunday, from 11:30 a.m. to 3 p.m., with a workshop with Elmnert, Pezzo and Wes Peden at 12:30 p.m. in Clark Gym.
The event is sponsored by RIT Student Government, RIT Center for Recreation and Intramurals and the RIT Juggling Club.
Juggling has been in the blood of RIT Juggling Club President Sebastian Ferlo, a third-year biology major from Rome, N.Y., since he was born. His mother and father performed for Ringling Brothers for 10 years.
"When you're on stage and in front of an audience, the feeling you get, you can't get anywhere else," Ferlo said. "We encourage everyone to come out, whether you are 4 or 99 and even if you've never juggled before. There are plenty of beginner workshops being led by people who have taught thousands of people to juggle."