Kathy Carcaci named RIT's 2018 Volunteer of the Year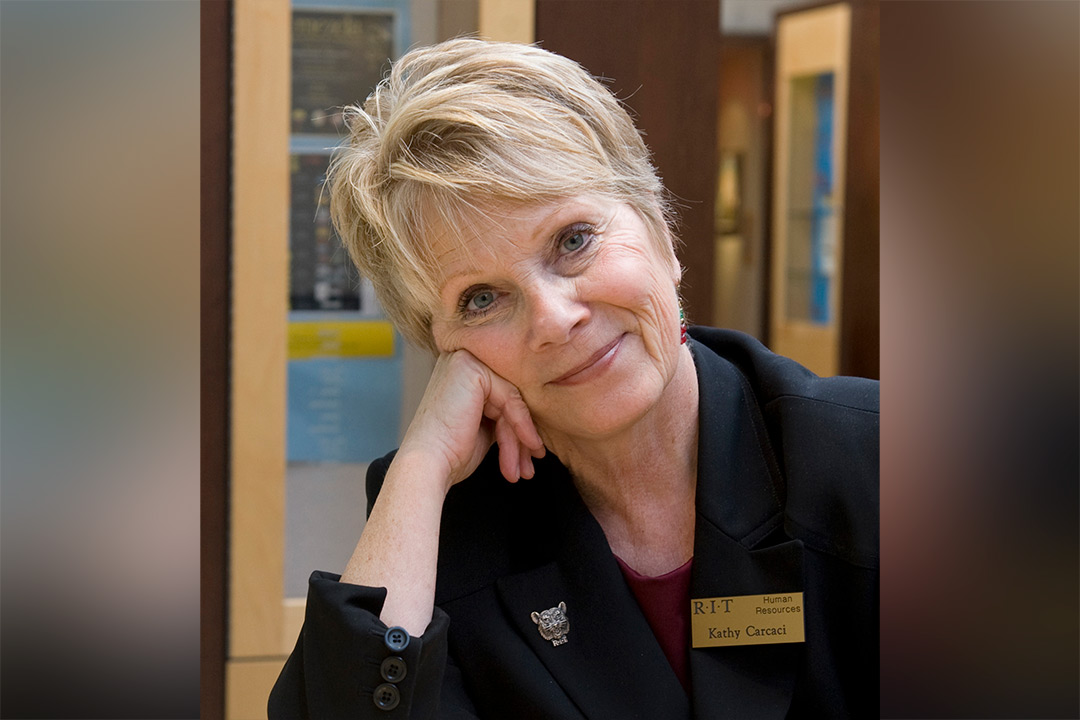 One of RIT's longest serving staff members now has a new title: RIT's 2018 Volunteer of the Year.
Kathy Carcaci '95 (applied arts and sciences), who retired as manager of staff recruitment and a senior human resources representative in January after 52 ½ years, will accept the award on Oct. 19 at the Presidents' Alumni Ball during Brick City Homecoming & Family Weekend.
Carcaci began her career at RIT in 1965, when she was 18, working in the administration building on Plymouth Avenue in downtown Rochester.
She worked for six RIT presidents and witnessed the construction of every new building on RIT's current campus. She watched RIT transform from a close-knit downtown campus into the sprawling, state-of-the-art community that it is today.
During her more than 52 years at RIT, Carcaci has a long list of volunteer activities.
"I thought, I am in a higher education organization, I want to get involved with the students," she said. "I started volunteering outside of my job."
She served as a Greek advisor for many years and was named Outstanding Advisor of the Year.
She co-chaired or chaired several campus committees, including the 175th anniversary celebration planning committee, the 2002-2006 Faculty/Staff Capital Campaign and the Campus Security Committee.
Carcaci said chairing the Capital Campaign was especially meaningful to her because she learned about fundraising and the importance of engagement. She also enjoyed working as a Greek advisor and getting to know the students.
She volunteered at the Puttin' on the RITz Dinner, commencement, ROAR Day, Tiger Walk, RIT United Way Day of Caring and served on the Institute Hearing Board regarding student discipline issues. She also served on the Beautification Committee and was the first to approach artist Albert Paley about donating a large piece of artwork to campus, which resulted in The Sentinel.
Carcaci said she is thankful she was given the opportunity to work in an environment where she met people from around the world and could grow as a person. She expects she will continue to stay involved with RIT in some way.
"I retired from RIT the employer but I did not retire from my friendships at RIT," she said. "That will be forever."
Related News
Topics