Lacrosse captain finds student-athlete balance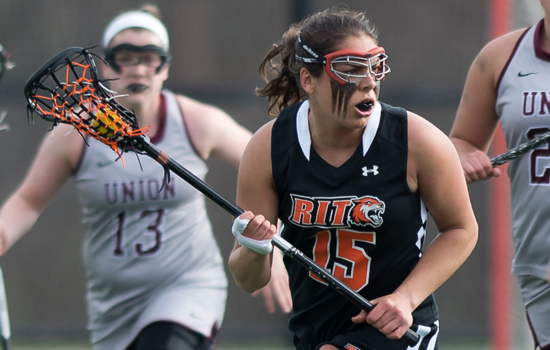 Jenn March
Not every student-athlete wants to go on and play big-time Division I Sports after high school. They don't want to be defined by the sports they played and miss out on some of the other experiences that colleges can offer.
Senior women's lacrosse captain Holly Leone said that thinking played in to her decision five years ago to attend RIT.
"Coming out of high school, sports were my main focus," said Leone. "I did not want sports to define me as a person. I wanted to have other experiences in college, not just sports, and I felt RIT gave me the best chance to have those experiences."
Leone, a fourth-year industrial design student from Centerpoint, N.Y., wears several hats at RIT, taking full advantage of the university's opportunities to branch out as a student. Along with lacrosse, she is president of RIT's Student-Athlete Advisory Committee and is highly involved in clubs and organizations within her major.
"I like that I can be involved in the things that interest me besides sports," said Leone. "These experiences have enhanced not only my college experience, but has helped me to enjoy playing lacrosse more."
Leone was asked to get involved with SAAC her sophomore season. She started out as a student representative for women's lacrosse. She moved on to financial director and onto the Executive Board. From the moment she got involved with SAAC, Leone was hooked.
"As soon as I got involved with SAAC, I loved it," said Leone. "I love meeting new people, and being involved with SAAC I have had the chance to meet so many new and interesting people. I can only hope that I have helped others see what a great opportunity it is to be a student-athlete at RIT."
Leone, a two-year team captain, has excelled both on the field and in the classroom. She is a two-time Liberty League All-Academic Team selection, and was a first team All-Liberty League pick as a defender in 2015. On March 5, Leone helped lead the Tigers to their first win over a nationally ranked team, defeating No. 16 SUNY Geneseo, 7-6.
"Holly exhibits all the traits of a great leader," said RIT head coach Jeff McGuigan. "She prepares herself for whatever she does, she is sensitive to others' feelings and makes them feel important."
Leone feels that her time at RIT has given her a wealth of experiences that she can use after graduation. Leone's experiences also prepared her to pursue her goals after college.
"I would define my time here at RIT as well-rounded," said Leone. "I have time to be with my friends, play sports, and be involved in organizations within my major. I have found that I can connect the experiences I have had and learn from those experiences."