LaVerne McQuiller Williams named COLA interim dean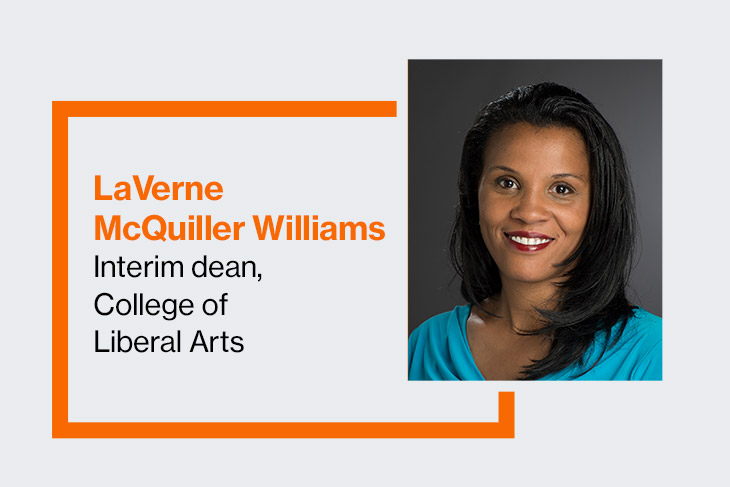 LaVerne McQuiller Williams, senior associate dean of Rochester Institute of Technology's College of Liberal Arts, has been named interim COLA dean effective June 1.
"LaVerne is an accomplished academic leader who has risen through the ranks at RIT and will continue to serve her college and the university well. I am delighted she agreed to serve in this new role," said Ellen Granberg, RIT's provost and senior vice president for Academic Affairs. McQuiller Williams's appointment follows an internal search for the position that included input from faculty and staff in the college.
"I'm very excited and grateful for the opportunity to work as interim dean with the fantastic faculty and staff of the College of Liberal Arts," McQuiller Williams said. "I appreciate the confidence Provost Granberg and others have shown in me, and I look forward to a great year ahead."
McQuiller Williams started at RIT in 1996 as a visiting assistant professor and field experience director in the Department of Criminal Justice. She was awarded tenure in the College of Liberal Arts in 2004, was promoted to full professor in 2015, and is a recipient of RIT's Eisenhart Award for Outstanding Teaching.
As an accomplished teacher and scholar, McQuiller Williams has authored or co-authored more than 30 publications and has received more than $1 million in external funding to conduct research. She holds a bachelor's degree in criminal justice from RIT, a master's degree in criminal justice from Buffalo State College, a doctorate law degree from Albany Law School, and a Ph.D. in sociology from State University of New York at Buffalo.
McQuiller Williams has held numerous leadership positions, including Graduate Director and Chair of the Department of Criminal Justice and Acting Director of the University Writing Program.
McQuiller Williams succeeds Dean James Winebrake, who is leaving RIT on June 30 to become provost and vice chancellor of Academic Affairs at the University of North Carolina Wilmington.
Topics