Lazarus Project director to speak Feb. 20
Gregory Heyworth will discuss the recovery and restoration of damaged manuscripts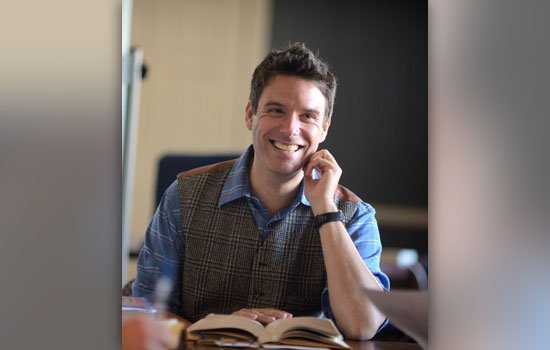 Rochester Institute of Technology's "Where Text and Code Collide: Digital Humanities Distinguished Speaker Series" continues with a talk by Gregory Heyworth, director of The Lazarus Project, at 8 p.m. Feb. 20 in the Chester F. Carlson Center for Imaging Science auditorium. Heyworth will present "Textual Science and the Future of the Past," an examination of spectral imaging used to restore illegible documents that were formerly thought to be lost to history.
Heyworth's Lazarus Project applies new tools for image processing, allowing imagery to be generated from texts that have been damaged or erased, including palimpsests and documents that have been charred by fire, faded to invisibility, stained or washed by water. Some examples of high-profile projects include the Archimedes Palimpsest project, a possible seventh genuine signature of William Shakespeare and The Skipwith Revolutionary War Letters.
Heyworth, associate professor of English at the University of Mississippi, is a medievalist and expert in textual studies. He has written several books and is currently recovering and editing the oldest translation of the Gospels into Latin. His research includes continental literature of the 12th through 14th centuries, philosophy of language, poetic and cultural theory, vernacularity and the relationship of the graphic to the textual, manuscript recovery, and history of the book.
Roger Easton, professor of imaging science in RIT's Chester F. Carlson Center for Imaging Science, has worked with Heyworth on several projects to image historical manuscripts since 2009.
"Greg and I first met in Dresden, Germany, to apply a new spectral imaging system to Les Eschéz d'Amours, a 14th-century, 30,000-line Middle French epic poem heavily damaged during the Allied bombings of Dresden during World War II," said Easton. "The success of this project has led to other fruitful collaborations. During his presentation at RIT, Greg will demonstrate how modern technology can help us better understand the information technology of the past."
More information on The Lazarus Project can be found at www.honors.olemiss.edu/lazarus-project.
The presentation—free and open to the public—is sponsored by the RIT Project for the Digital Humanities, College of Liberal Arts and the Gannett Endowment for the Humanities.
For more information about the speaker series, go to rit.edu/cla/speakerseries.php.