Making a Living at Martha Stewart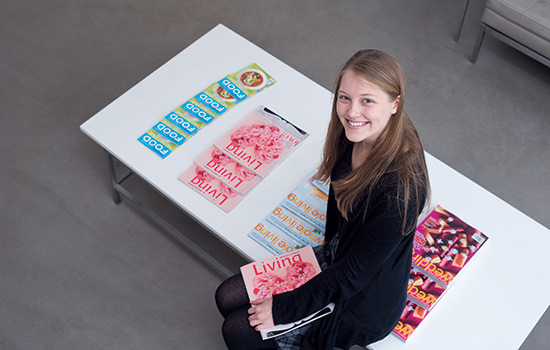 A. Sue Weisler
Anna Ross '10 (advertising photography) had three stressful weeks in the fall of 2010.
She had just finished working at Martha Stewart Living Omnimedia as a photography intern and had graduated from RIT. She was living in New York City and didn't have a job.
But then she got a call from the director of photography at Martha Stewart and was asked to return on a trial basis. A few weeks later, she was offered the job as a photography department assistant, managing the photo studio schedule.
"There's no way I would be where I am today without having that internship," says Ross, who is now an assistant of photo research and special issues photo editor.
RIT doesn't require a co-op in the Bachelor of Fine Arts programs in the schools of American Crafts, Art, Design, Film and Animation or Photographic Arts and Sciences. But internships are highly recommended.
Ross got course credit and a $20 a week stipend for her internship, which she worked hard to get. She started networking when visiting friend Emily Roemer '09 (advertising photography), who got her job at Martha Stewart Living Omnimedia after an internship in 2009. She visited again with classmates during an annual photography trip RIT students make each spring to learn about different job options after graduation. By the time she applied, managers recognized her name.
During the internship, Ross assisted photographer Johnny Miller with lights and equipment on photo shoots for Martha Stewart Living, Martha Stewart Weddings, Whole Living and Everyday Food.
"Every day there's a different publication," Ross says. "You would get to meet different art directors, different stylists. It was amazing to see everyone working together as a team."
Her most memorable experience as an intern was helping Miller photograph a wedding at Martha Stewart's farm in Bedford, N.Y. Those photos later appeared in the Winter 2011 issue of Martha Stewart Weddings.
Ross now finds stock art for Whole Living and is a photo editor for special issues. And she continues to work closely with Roemer, who is a digital photography technician.
"I had always wanted to work for a magazine," Ross says. "It's an amazing experience."