MBA grad will take leadership skills back to Egypt
Dalia Rehab is a pharmacist who wants to open her own business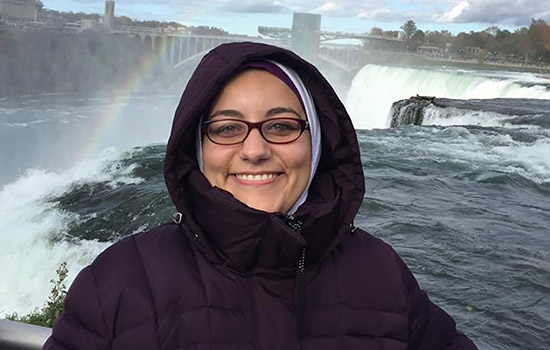 Dalia Rehab is a pharmacist from Egypt who wants to open her own business—and offer a "safe place where people can come in and discuss their medications and treatments."
"I want to change the reality of poverty that is huge back home," she said. "I want to open a new kind of pharmacy, one that adds to people's lives."
Rehab graduated with a pharmaceutical sciences degree in 2009 from Tanta University, Tanta, Egypt. She worked for five years at Tanta Chest Hospital before coming to the U.S. two years ago as part of an international exchange program through the USAID/U.S.-Egypt Higher Education Initiative.
RIT has proved to be an immersive experience for Rehab, who graduates this May with an MBA degree in entrepreneurship from RIT's Saunders College of Business. She says she was particularly drawn to educational experiences that could help her gain confidence in communication, public speaking and leadership.
She accomplished all three by participating in RIT's Diversity Theater program, serving as President of Tiger Tales Toastmasters International at RIT, and executing a marketing plan for a "Gandhi Deck Cards" fundraiser during her six-month internship at the M.K. Gandhi Institute for Nonviolence in Rochester.
"As far as higher education in Egypt, part of our culture is to become an engineer or a doctor," said Rehab. "I didn't want either, so pharmacy was kind of the safe area for me to study where I could have a good career. I wanted to be able to meet people, learn their history and offer medical support about treatments that could affect their lives.
Rehab has two brothers, one a civil engineer, the other a naval officer. She is the first in the family to attend graduate school in the U.S.
As far as culture shock, it was Wegmans, she said with a laugh. "I haven't been sick and have had no need to fill out a prescription here, but am amazed by the over-the-counter medicine you can get on the aisles near the pharmacy. If someone needs something they just pick it up and go. Back home, a pharmacist like myself would be dispensing all the drugs."
Rehab said she's learned valuable entrepreneurial skills through the MBA program, particularly "enjoyed the case-study approach and problem-solving"—and also classes on "leadership and negotiation." She believes she has also benefited from her extracurricular involvement at RIT.
"Public speaking with Toastmasters gave me the self-confidence to express myself and Diversity Theater taught me how energy and passion can be liberating and powerful in communicating ideas. If you don't have these natural assets, you'll struggle as an entrepreneur."