Melisza Campos named 2016 Minett Professor
RIT appoints Dale Carnegie leader to prestigious campus position to mentor female students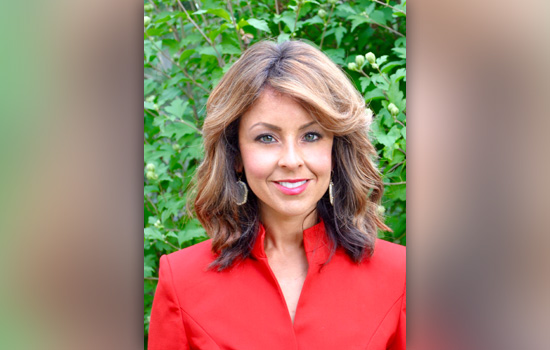 Melisza Campos, a nationally recognized Dale Carnegie master trainer and workforce leader, was appointed the 2016-17 Frederick H. Minett Professor at Rochester Institute of Technology. Campos, the vice president of instruction for Dale Carnegie's Rochester office, began this fall at the university.
Campos has served as a performance-based business coach and trainer for more than 12 years and specializes in employee engagement, communications, leadership development, motivation, customer service and performance improvement practices. She has been recognized as one of Rochester's Up and Coming Businesswomen and been awarded for her professional and community services as a Rochester Business Journal 40 under 40 awardee. She received the Latinas Unidas Leadership Award in 2011 and the Girl Scouts Woman of Distinction Award in 2016.
The Minett Professorship brings distinguished Rochester-area multicultural professionals to the RIT campus to share their professional knowledge and experience with RIT's students, faculty and staff for one academic year. Minett Professors are appointed by RIT President Bill Destler and Keith Jenkins, RIT's interim vice president and associate provost for Diversity and Inclusion.
"Melisza Campos will be a strong role model and positive force for our students," said Jenkins. "Her experience as a motivational leader and thoughtful coach and mentor will help individuals find balance and focus for their lives, whether it is challenging coursework or demands in the workplace. We're glad to have her as part of the RIT campus."
In her role as Minett Professor, Campos will work with RIT's Women of Color Honor and Ambition program, acting as mentor and career coach, providing formal and informal workshops about empowerment and self-esteem. She will be a guest lecturer in student classes and provide workshops through RIT's Center for Professional Development for faculty and staff primarily in the area of building skills of empathy and collaboration as part of RIT's focus on innovation and the T-shaped individual—a reference to the combination of academic and subject matter expertise coupled with skills sets in communication, critical thinking and problem-solving.
"This is a phenomenal opportunity for me to be able to pay-it-forward and impact the next generation of leadership before they are in the workforce," said Campos. "Equipping students with skills in communication, collaboration and empathy will give them a competitive advantage."
Campos also served as commissioner on Rochester's Board of Education for two four-year terms. She worked on the implementation of the City School District's wellness policies, customer service initiatives, and to improve teacher and administrative tenure oversight processes. She is involved on the boards of WXXI and the United Way as well as other local task forces and committees.
Campos is the 26th Minett Professor at RIT, and those who have served in the position include many of Rochester's most prominent business, academic, medical and law enforcement professionals such as Jerome Underwood, senior director of Youth Development and Family Services for the Rochester City School District (2015-16 Minett Professor); Essie Calhoun, retired chief diversity officer and director of community affairs, Eastman Kodak, and member, RIT Board of Trustees; Augustin Melendez, president of Hillside's Work-Scholarship Connection at Hillside Family of Agencies; G. Peter Jemison, manager of the Ganondagan National Historic Site, central to the Seneca Nation; James Norman, president and CEO, Action for a Better Community; Teresa Johnson, Rochester City Court Judge; Pete Otero, executive dean, Monroe Community College, Damon City Campus, and Randy Henderson, president and CEO, Henderson Ford.