MOCHA students recognized for leadership
RIT undergraduate students Mohammed Alakil, Bernard Rodgers and Aaron Pagan are honored for academic, community and leadership endeavors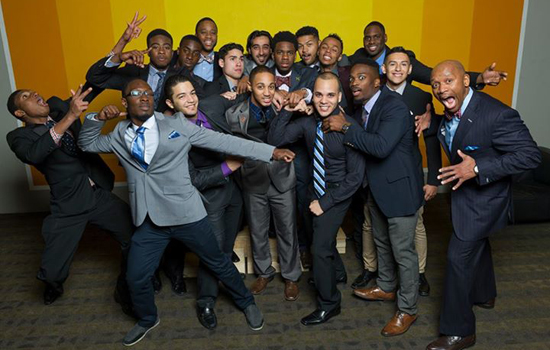 Office for Diversity and Inclusion
The 18 MOCHA scholars have substance and style.
At a ceremony on May 11, the young men in the 2014-2015 class of Rochester Institute of Technology's MOCHA Program—Men of Color, Honor and Ambition—were recognized for their academic, community and leadership initiatives. The program enabled them to build the "substance" of social, professional and cultural networks as many graduate this May and embark on careers.
It also launched the young men in well-dressed style.
Each new class of students is outfitted with a custom-made business suit, dress shirt, necktie and a pair of shoes from Adrian Jules Custom Clothiers. They were wearing those stylish suits at the event, as Kevin McDonald, founder of the program, announced that Adrian Jules had established a new line named after the MOCHA program. A percentage of the proceeds from anyone purchasing the tailor-made suits from the line would go toward the program.
"The program has exceeded expectations," said McDonald, RIT's vice president and associate provost for diversity and inclusion. "I really felt that the program was needed as another supportive pillar on campus, and I was hopeful that there would be interest in it. But interest has grown exponentially, and these men have fully embraced and committed themselves to the developmental process that this experience offers and have expressed strong sentiments regarding the transformational impact that MOCHA has had on their lives."
MOCHA began as a way to address retention and success rates for young men of color. More than half don't graduate from U.S. colleges and universities, according to the U.S. Department of Education. Additionally, the national college graduation rate for African American men is just over 33.1 percent; for Latino men it is 41 percent and for Native Americans and Alaska natives the rate is 33.8 percent, compared to the graduation rate for white males at 54.5 percent.
RIT's MOCHA students are defying the odds. Three of the program's student leaders received awards for exemplifying the foundational pillars of MOCHA—academic excellence, ambition, achievement, integrity and community service.
Mohammed Alakil was named the MOCHA Man of the Year. The fifth-year student in the environmental sustainability, health and safety program in RIT's College of Applied Science and Technology is the treasurer and historian of RIT's Phi Kappa Psi fraternity and was instrumental in organizing and participating in several campus and community charity events, including the highly successful Mud Tug event in the fall. He is also a campus orientation assistant and just completed an internship with SABIC Corp.'s Carbon Disclosure Project's Supply Chain Program. Alakil will graduate this May.
Bernard Rodgers, a second-year communications student who McDonald described as "on fire for RIT," was presented the Helping Hands Award for his strong commitment to service as a MOCHA member. Aaron Pagan, a fourth-year advertising and public relations student, won the Breakthrough Award for his marketable personal growth throughout his year of participation in the program. Pagan will also be graduating this May. Both are part of RIT's College of Liberal Arts.
"This program has been transformational," said Rodgers, who added that the experience showed him the value of relationships, stepping out of one's comfort zone and having personal confidence. "It is important to be your authentic self, not what others want or expect you to be. This program has allowed me to find my direction and to gain the vision to set me up for success."
Sebastian Ospino, a fourth-year student in the Saunders College of Business at RIT and another 2015 graduate, agreed, thanking the community mentors and RIT faculty he worked with throughout the program. "Who am I to be standing on the shoulders of giants? Without you we would not be here today. We are learning how to win in the serious game of life."
Members of the 2014-2015 class of MOCHA include: Alakil, Rodgers, Ospina, Kenton Connors, Yasmini Aguiar, Jerence Campbell, Emmanuel Odume, Lennard Streat, Timothy Reed, Elliot Boyce, Ryan Nieves, Ian Scott, Cory Ilo, Aaron Pagan, Isaiah Smith, Jaquan Outlaw, Devren Purdie, Mike Valentin, Christian Soto and Prosper Igboeli.
Over the past year, these young men participated in monthly workshops on academic success, networking, personal finance, personal branding, interpersonal communication skills, public speaking, health and wellness, cooking, and dinner etiquette, and led community service projects. This second class of undergraduates worked with adult mentors from RIT faculty and staff, and from Rochester area business and community organizations as part of a leadership development program to positively impact academic success and increase retention at the university. Program partners included Dale Carnegie of Rochester, the American Heart Association of Rochester, Bikram Yoga of Rochester, and the New York Wine and Culinary Center. Several of the men representing these partner programs signed on to become full-time mentors to the young men this year. New affiliates also joined the program including Cross Fit Chili, Big Oak Golf Club, the M. K. Gandhi Institute for Non-Violence, Teen Empowerment, Geva Theatre, United Way of Rochester, and Hillside Work Scholarship Connection.