November 1, 2019
by Luke Auburn
MSNBC political analyst Joy-Ann Reid to keynote RIT's Expressions of King's Legacy
Host of 'AM Joy' to present talk titled 'We are the Change We Seek' on Jan. 30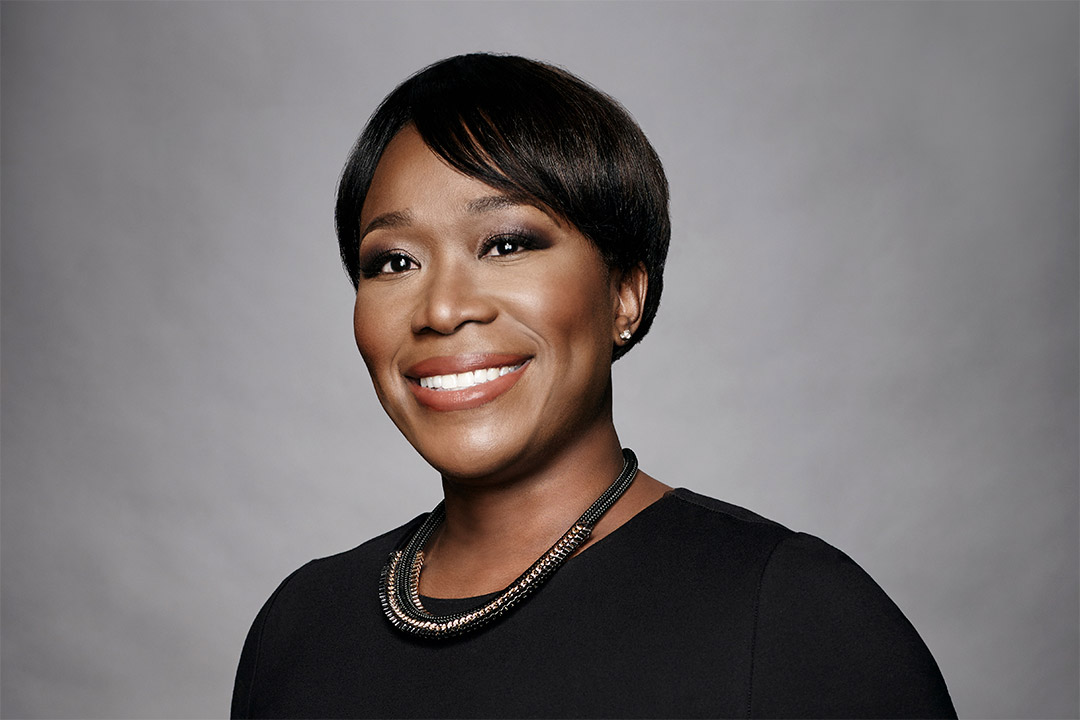 An acclaimed political analyst, TV host and author will headline Rochester Institute of Technology's annual celebration of the life and work of Martin Luther King Jr. Joy-Ann Reid will deliver the keynote address, titled "We are the Change We Seek," at the 38th Expressions of King's Legacy. The event takes place 12-2 p.m. on Thursday, Jan. 30, in RIT's Ingle Auditorium.
Reid is a political analyst at MSNBC and host of AM Joy, which airs Saturdays and Sundays from 10 a.m. to noon. Her latest book, The Man Who Sold America: Trump and the Unraveling of the American Story, was published in June and is a New York Times best seller. She is also the author of Fracture: Barack Obama, the Clintons and the Racial Divide and the co-editor, with Washington Post columnist E.J. Dionne, of We Are the Change We Seek: The Speeches of Barack Obama. Reid's columns and articles have appeared in The New York Times, The Guardian, The Miami Herald, New York Magazine and The Daily Beast.
"We invite the entire Rochester and RIT communities to join us for this thought-provoking program," said Keith Jenkins, RIT's vice president and associate provost for diversity and inclusion. "We are delighted to welcome Joy-Ann Reid to campus and look forward to hearing her reflect on King's lessons and how they continue to resonate today."
Reid has previously worked in local TV news, as a talk radio producer and host, and in politics as a Florida press secretary for America Coming Together (2004) and a Florida press aide for the Barack Obama campaign (2008). As the former managing editor of TheGrio.com, Reid led a staff of 12 young journalists in exploring stories and issues of importance to African Americans. After a stint with TheGrio from 2011 to 2014, she was tapped to host her first branded cable news show, The Reid Report, a daily news program on MSNBC. In 2014, she took the helm of the Saturday 10 a.m. to noon block with AM Joy.
Reid, whose mother was a college professor, taught a course on race, gender and media at Syracuse University's Newhouse School of Communications' New York City annex from 2017 through 2018. Reid graduated from Harvard University with a concentration in film in 1991. She and her husband, Jason, own a documentary film production company.
For 38 years at RIT, Expressions of King's Legacy programming has been dedicated to celebrating the life and impact of Dr. Martin Luther King Jr. The university has hosted many dignitaries and national performers such as CNN anchor Fredricka Whitfield, former U.S. Ambassador and acclaimed civil rights activist Andrew Young, poet Nikki Giovanni, philosopher Cornel West and human rights activist Nontombi Naomi Tutu, the daughter of South African bishop and apartheid opponent Desmond Tutu.
The event is free and open to the public. Information about additional performers appearing at the Jan. 30 event will be announced later this fall. For information about the program, registration and other associated events, go to the RIT Division of Diversity and Inclusion website.
RIT adds poet and one-woman play to Expressions of King's Legacy program
Slam and spoken word poetry and a unique one-woman play have been added to the program for RIT's 38th annual Expressions of King's Legacy. Poet Javon Johnson and actress Mzuri Moyo Aimbaye will perform before keynote speaker Joy-Ann Reid. Read more about the performers.
Topics