RIT adds poet and one-woman play to Expressions of King's Legacy program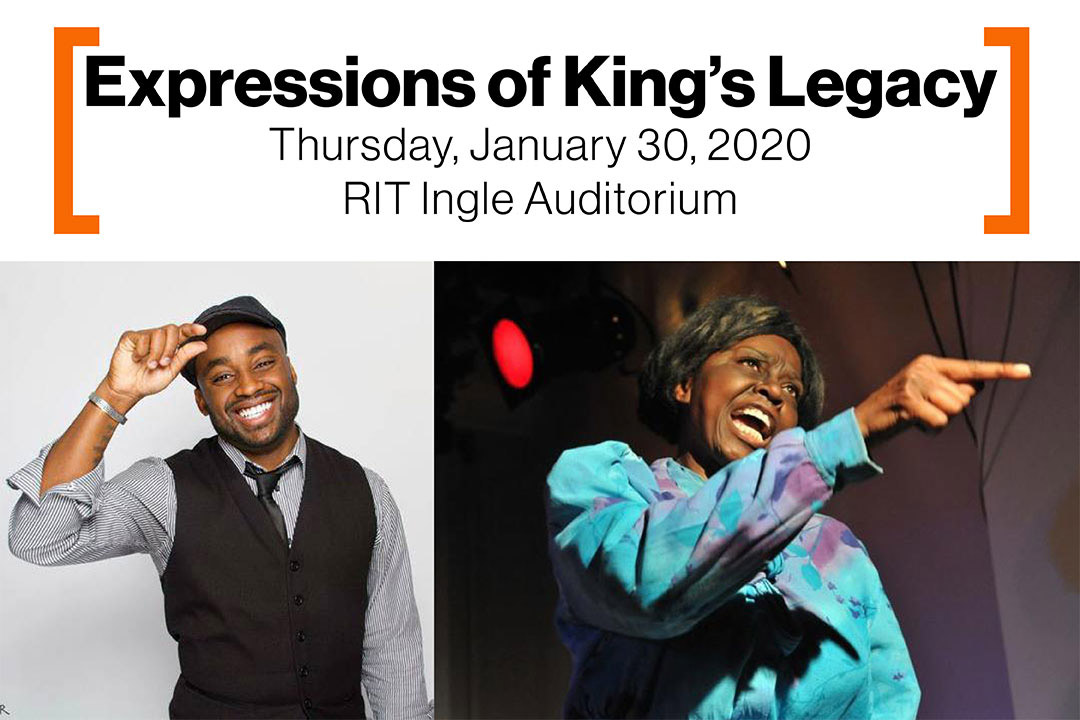 Slam and spoken word poetry and a unique one-woman play have been added to the program for Rochester Institute of Technology's 38th annual Expressions of King's Legacy. Poet Javon Johnson and actress Mzuri Moyo Aimbaye will perform before keynote speaker and MSNBC political analyst Joy-Ann Reid.
Johnson is an award-winning poet who discusses race and gender theory with comedy, lyricism and rhyme schemes. He has appeared on HBO's Def Poetry Jam, BET's Lyric Café, TV One's Verses and Flow, and co-wrote a documentary titled Crossover, which aired on Showtime, in collaboration with the NBA and Nike. Johnson is an assistant professor and director of African American & African Diaspora studies and holds an appointment in Gender & Sexuality Studies in the Interdisciplinary, Gender, and Ethnic Studies Department at the University of Nevada, Las Vegas. He is the author of Killing Poetry: Blackness and the Making of Slam and Spoken Word Communities (Rutgers University Press 2017) and co-edited The End of Chiraq: A Literary Mixtape (Northwestern University Press (2018).
Mzuri Moyo Aimbaye will perform an excerpt from the one-woman play titled The Fannie Lou Hamer Story. The play is based on the life of civil rights activist Fannie Lou Hamer, a leader in the civil rights movement and co-founder and vice-chair of the Freedom Democratic Party, which she represented at the 1964 Democratic National Convention. The production uses songs and video montage to show Hamer's remarkable journey from her humble beginnings as a Mississippi sharecropper to one of the leading voices for the civil rights and voting rights movements.
Expressions of King's Legacy takes place from noon to 2 p.m. on Thursday, Jan. 30, in RIT's Ingle Auditorium. The event is free and open to the public, but registration is encouraged. For registration and more information, go to the Expressions of King's Legacy website.
The Expressions Centerstage event from 6-8 p.m. the same night in Ingle Auditorium will feature the full performance of The Fannie Lou Hamer Story as well as an extended poetry set by Johnson. Doors open at 5:30 p.m. and the event is also free to attend.
For 38 years at RIT, Expressions of King's Legacy programming has been dedicated to celebrating the life and impact of Dr. Martin Luther King Jr. The university has hosted many dignitaries and national performers such as CNN political commentator Tara Setmayer, former U.S. Ambassador and acclaimed civil rights activist Andrew Young, poet Nikki Giovanni, philosopher Cornel West and human rights activist Nontombi Naomi Tutu, the daughter of South African bishop and apartheid opponent Desmond Tutu.
Topics