Multicultural Center honors its STARS
Jordanae Smith named Rochester City Scholar of the Year, Alyssa Alleyne-Atherly receives 'Shining Light' award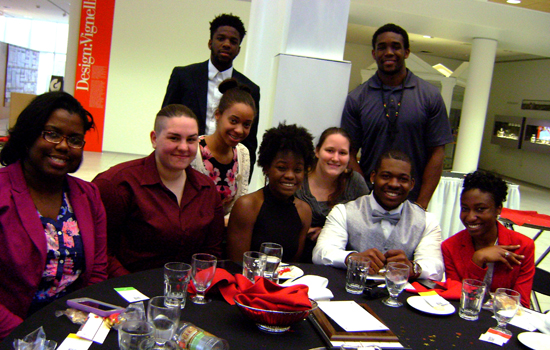 Michelle Cometa
RIT's female a cappella group, Vocal Accent, opened this year's STAR Awards with the tune "What Now?" But many of the students gathered for the dinner and awards ceremony have that question answered as they prepare for graduation and careers, several already hired by local and regional companies.
Members of the Multicultural Center for Academic Success at RIT recognized student, faculty and staff leaders on April 28 at the center's annual "Celebration of STARS." The awards program and dinner was highlighted by an evening of music, awards and inspiration from guest speaker Peter Otero, former executive dean of Monroe Community College's Damon City Campus, and RIT Minett Professor (2013).
The STAR Awards are given by MCAS to campus and community members who have provided support to the center, its programs and students. But the main focus of the evening is on the student-awardees, particularly those graduating from RIT with 3.0 grade point averages or better, those who participate in the center's programs and many influential student-leaders.
Jordanae Smith, one of those student-leaders, was named the Rochester City Scholar of the Year. She is a second-year interior design major in RIT's College of Imaging Arts and Sciences. Smith was recognized for her academic achievements and campus leadership activities on the MCAS group DIVAS—Determined Individuals Victoriously Achieving Success—and as a representative for the Rochester City Scholars program on and off campus.
Alyssa Alleyne-Atherly, a fourth-year information technology major, received the center's "Shining Light" award for her contributions to the center's team and fellow students. The award, named after former RIT student Gabrielle Oberti, who lost her life in a car accident in February 2014, is given to the MCAS student who best exemplifies her warmth and community spirit. Alleyne-Atherly is the president of the Chi Lambda chapter of Zeta Phi Beta Sorority Inc., an MCAS Scholar and a member of DIVAS. She has worked as a student employee in MCAS for four years. She completed a co-op with Xerox Corp. last summer and will spend this summer participating in another co-op at Cannistraro, a mechanical construction firm based in Boston.
Otero talked about his experiences growing up and highlighted some similarities in his upbringing and educational career that aligned with the students, particularly being the first in his family to attend college and finding a community network that continues to provide encouragement and be a support system. He also talked about how his early experiences as a teenager and, later, in the Army influenced his connections to social justice issues.
"My parents came to this country with me, my brother and my sister to find the American Dream," said Otero, who grew up in a working class neighborhood of Buffalo after his parents emigrated to the U.S. from Puerto Rico. He recalled advice from his parents to pursue interests and education and not let prejudice stand in the way of his achievements. "Sometimes the reaction to my ethnicity made me feel like an outsider. But my treatment as 'other' became the impetus for me to champion others."
In 1967 he was part of a National Guard presence in Detroit during race riots. "It was a week surrounded by gunfire and death all around me," he said, "but the experience sobered my perspective on war and it was a coming of age experience on racial issues for me."
After completing his military service, he entered college using the G.I. Bill, graduating from St. John Fisher College in 1976. He worked at Bausch and Lomb, volunteered as a bilingual educator and counselor at the Educational Opportunity Center in Rochester, and went on to get both a master's and doctoral degree in counselor education and higher education administration, respectively. He just recently retired from MCC after 31 years in numerous academic and administrative leadership roles.
In closing, Otero asked the students to reflect on their own experiences and the people who have influenced their lives as many in the audience were preparing to graduate this May. "Support for you came from people who cared. You are responsible now to provide that same support and care to others."
The 2015 STAR awardees are:
Multicultural Center for Academic Success Awards: Students
Gabby Oberti "Shining Light" Award: Alyssa Alleyne-Atherly
Rochester City Scholar of the Year: Jordanae Smith
MCAS Scholar of the Year: Maria Smith
Summer Bridge Student of the Year: Erinn Molina
Unsung Hero Award: Dimple Joseph
Multicultural Center for Academic Success Awards: Faculty/Staff
Partner of the Year: Reginald Rogers, faculty, chemical engineering, Kate Gleason College of Engineering
AALANA Collegiate Association Awards
Staff Member of the Year: Darci Lane-Williams
Executive Board Member of the Year: Delilah S. Bowman and Rosetta Lediard
Affiliates of the Year: National Society of Black Engineers and Latin American Student Association
Event of the Year: Delta Sigma Theta Sorority Inc.
Phoenix Award: Native American Student Association
Club/Organization Awards
Alpha Phi Alpha Fraternity Inc.: Kim DeLardge
Black Awareness Coordinating Committee: Cory Ilo and Lydia Moore
Caribbean Student Association: Dante Harris and Avanelle St. Bernard
Chi Upsilon Sigma, National Latin Sorority Inc.: Margurita Rincon
Delta Sigma Theta Sorority Inc.: Camilla Pierre-Pierre
Determined Individuals Victoriously Achieving Success (DIVAS): Christa Harvey and Olivia Harrison
Lambda Alpha Upsilon Latino Fraternity Inc.: Joseph Garcia
Lambda Sigma Upsilon Latino Fraternity: Ernesto Soltero
Latin American Student Association: Jonathan Sanchez
Latin Rhythm Dance Club: Katelyn Meier
Men of Color, Honor and Ambition (MOCHA): Thomas Sosa
National Society of Black Engineers: Denisha Brown
Saunders Multicultural Business Association: Lori Sze
Unity House: Olufunmilola Babalola
Zeta Phi Beta Sorority Inc.: Catherine "CiCi" Turner