Networking trips expose students to opportunities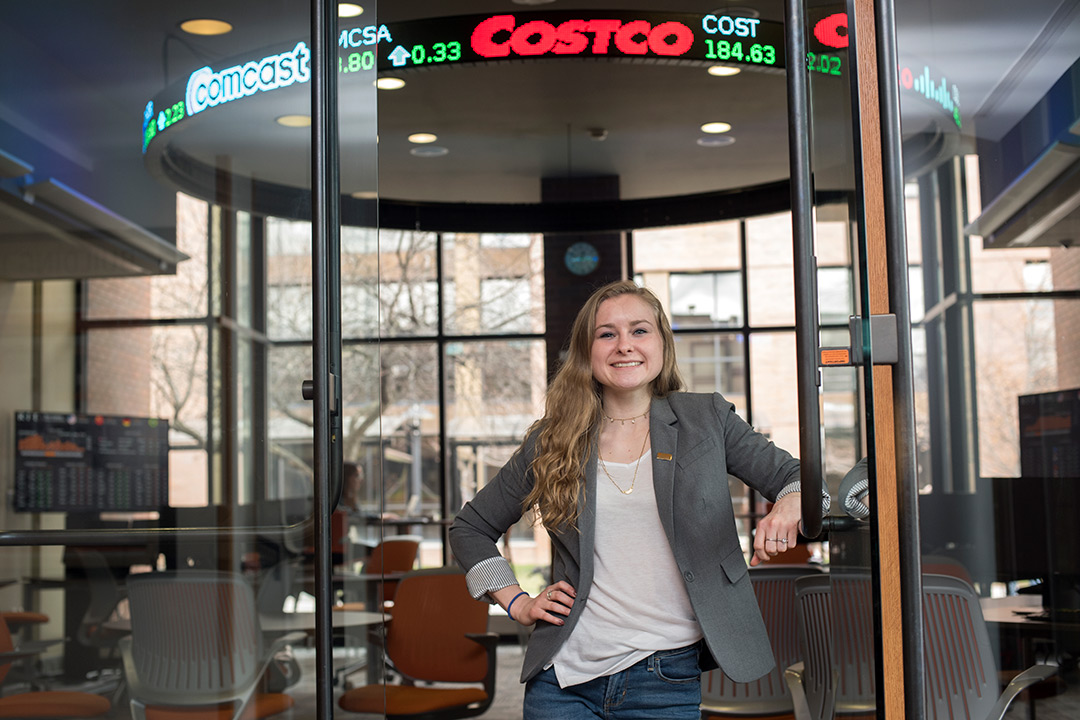 A. Sue Weisler
To get a position in the financial leadership development program with aerospace company BAE Systems, Emily Young '18 (finance) had to stand out in two days of interviews.
The first activity was a dinner, where she had to talk to people in the program in a social setting. "I had done that social networking multiple times before," said Young, who was offered the full-time position six months before she graduated.
Young learned how to network on three trips she took with other Saunders College of Business Honors students. Each spring break, Honors students spend a week visiting companies and alumni in different cities. Young, a Buffalo, N.Y., native, went to Chicago, Seattle and Dallas and estimates she visited a total of 18 companies to learn about different industries.
The trips are paid for by a fund set up by RIT Trustee Charles Brown Jr. '79 (MBA) and his wife, Renee Brown. The Browns set up the fund in 2006 to give students an experiential opportunity and endowed it last year so it will continue to benefit students into the future.
The idea for the fund emanated from an experience Charles Brown had as part of the MIT Sloan Fellows Program in 1992. That graduate program for mid-career managers included an international and domestic trip, which Brown said was the highlight of the one-year program.
Brown took a year sabbatical from his job as manufacturing materials manager at Eastman Kodak to participate. He retired from Kodak in 2006 as a senior vice president.
The RIT students not only research the companies in advance, but they present that research, along with what they learned during the visit, to Brown when they return.
"My hope is that the trip gives Honors students an opportunity to engage in a well-run experiential trip that exposes them to a broad range of career opportunities and further allows them to mature in their business acumen," Brown said.
That certainly was the case for Young, who began to think about working for an aerospace company after visiting Boeing in Seattle.
"You go to the other cities, you are like, 'I could go to a museum. I could work for a nonprofit,'" she said. "The trips definitely show you there is a lot of opportunity out there."
RIT publicly launched a $1 billion campaign in July. Young is one example of how students are already benefiting from Transforming RIT: The Campaign for Greatness. To learn more, go to rit.edu/transformingrit.