New RIT president shares vision for the future
David Munson cites university's unique strength in connecting technology, the arts and design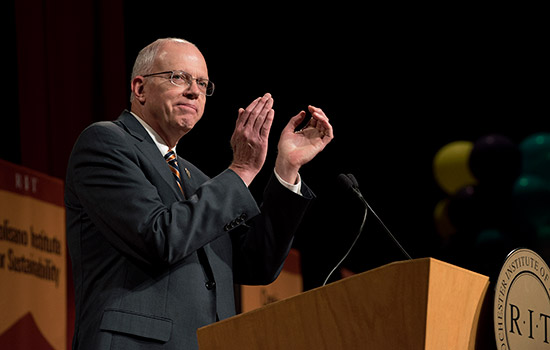 Rochester Institute of Technology is "truly unique in American higher education, shaping the world through creativity and innovation," President David Munson told the audience gathered in Gordon Field House for the annual presidential welcoming address.
Munson, who became RIT president July 1, said he's been "in the listening and learning mode over the past few months."
"Accordingly, please know that I don't have any intention of trying to make RIT just like any other university," he said, adding that he is "energized by the cutting-edge nature of RIT, including its talented and ambitious students, faculty, staff and alumni."
"RIT is now one of the top few universities that is working at the intersection of technology, the arts and design. We can leverage these strengths—the core of the university—to continue building important and unique programs in all disciplines, including business, the health sciences and the liberal arts. We have many important disciplines that radiate out from that core. We can lead the nation, if not the world, in taking this approach."
Munson's address was part of a 90-minute program that included remarks by Provost and Senior Vice President of Academic Affairs Jeremy Haefner, Interim Vice President for Diversity and Inclusion Keith Jenkins, Academic Senate Chair Christopher Collison, Staff Council Chair Kathleen Schreier Rudgers and Student Government President Farid Barquet.
In his remarks, Munson said he's focused on specific areas, including programs, people, facilities and resources.
Regarding academic programs, Munson said he wants "to build the unique core of RIT, namely technology, to become even more distinctive and attractive to students." He said RIT will continue a strong focus on experiential learning, including its celebrated co-op program ("under my presidency, it's going to remain huge"), as well as internships, entrepreneurial experiences and community service opportunities.
"A biggie on my list is international experience involving study, work, research or service overseas," he said. "These experiences often are described as eye-opening and life-changing by our students, and their parents."
He lauded the university for its "huge focus on diversity and inclusion. In this day and age, and especially with what has taken place over the last couple of weeks, this is a critical topic at every university in the nation. I'm very pleased with the work that I see here and I'll be privileged to be part of that. We will continue to promote civil discourse, create community, and keep each other safe."
He said RIT will continue to emphasize its research capabilities, including undergraduate research.
RIT will be focused on attracting the best students and faculty, he said. "In terms of faculty, it's critically important that we look not just for outstanding teachers, not even just teachers and researchers, but also people who display leadership capability. We need to hire people who are better than we are. And that's hard because we're really good!"
The class of first-year students entering RIT this week is the most academically talented and diverse group in the university's history, "yet we must continually improve student quality each year via effective marketing and communications, expanded summer programs, special recruitment weekends, and increased scholarship aid from donors." He also called upon RIT to "create a more favorable gender balance and increase minority populations. To do this, we're going to need to improve STEM recruitment and also grow some of our existing non-STEM disciplines. And we may need to add some new programs that disproportionally attract women and minority students."
Munson said he looks forward to completion of the MAGIC Spell Studios in Fall 2018 and anticipates changes to campus, such as flexible, high-tech classrooms and upgraded and expanded research facilities that will enhance what he called "the campus vibe."
"Part of what's really important is how the campus appears, both to visitors and to us," he said. "I think our campus should look and feel like creativity and innovation, because that's what we're about. Our landscaping, sculpture and art galleries are terrific, and they provide a great backdrop for what I'm talking about. But there are other campuses that have nice sculptures, beautiful landscaping and art galleries. RIT needs to somehow feel different so that, when you arrive, you know you're at a different kind of place. We need to have a transparent campus so when you're wandering through RIT you almost can't miss the creation happening right before your eyes."
Munson said he will work with university leadership to identify and acquire the resources needed to move forward, including increasing research revenue, enhancing alumni giving and building even more relationships with industry with a goal of raising funds for endowed scholarships, professorships, program support and facilities.
"I am so pleased to have joined you," he said in conclusion. "I look forward to working with everyone in this room to keep us rising toward preeminence. As we pursue that task, I urge that we think of ourselves as a global university that is changing the world. We have lots of work in front of us, but it will be invigorating and I promise that we will have much fun along the way."
Video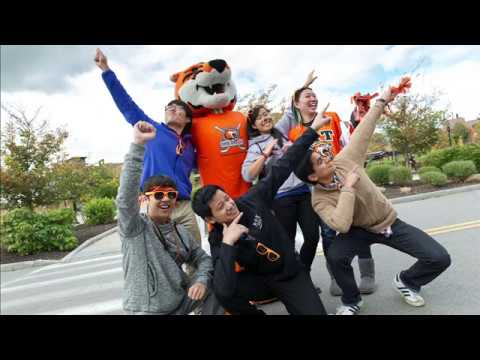 Topics