NTID professor first U.S. scientist in EACH program
Todd Pagano taught in Sweden as part of internationally recognized analytical chemistry program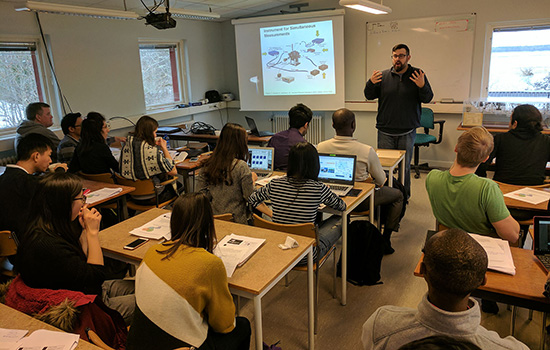 Rochester Institute of Technology continues to broaden its reach across the globe, formalizing an agreement to become an associate partner with the Excellence in Analytical CHemistry (EACH) program. The goal is to further facilitate cultural exchanges for analytical chemistry faculty and students with Europe.
Todd Pagano, professor of chemistry and associate dean for Teaching and Scholarship Excellence at RIT's National Technical Institute for the Deaf, was the first faculty member from RIT—and the first U.S. scientist—to participate in the EACH program as a visiting scholar last month at Uppsala University in Sweden.
The EACH program—which educates specialists in analytical chemistry who are qualified to work in laboratories and industry in fields such as food, pharmacy, environment, health, materials and chemical technology—is a joint graduate endeavor among universities in Estonia, Finland, Sweden and France. Pagano said EACH, which is co-funded by the European Union and the Erasmus Mundus program, admits some of the world's brightest analytical chemistry students.
During his weeklong academic visit, Pagano spent time at an environmental field station on Lake Erken in Northern Europe teaching graduate students about fluorescence spectroscopy and his work in advancing the understanding and the quality of reported fluorescence data in fields from biomedical to environmental analyses. He also discussed analytical chemistry techniques that he developed to measure specific chemical species in water.
"The brilliant students with whom I worked during my time in Sweden were from Estonia, Ukraine, China, Vietnam, Sri Lanka, Pakistan, India, Jordan, Greece and Nepal, among others," said Pagano. "This is a great example of how teaching has a dual focus. It's crucial to consider both our extensive knowledge of a particular subject, chemistry in this case, in addition to how we communicate that material to different audiences."
According to the EACH website, the program invites a few international visiting scholars each year who are "outstanding experts in their respective fields." Selection is competition based and prospective scholars must submit an application focusing on their expertise and research in analytical chemistry.
In 2012, Pagano was named "U.S. Professor of the Year" by the Council for Advancement and Support of Education and the Carnegie Foundation for the Advancement of Teaching.
"The formalization of this agreement between RIT and EACH will hopefully continue the exchange of scholars and scientists, and continue to encourage RIT students to take advantage of the tremendous opportunities that come with international travel and study—one of the hallmarks of the RIT brand," added Pagano.
Topics